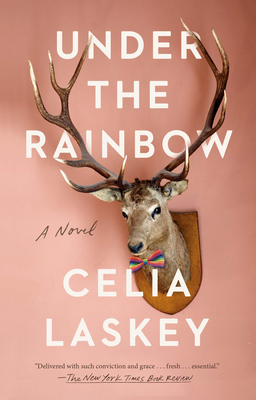 Under the Rainbow
A Novel
Paperback

* Individual store prices may vary.
Other Editions of This Title:
Hardcover (3/3/2020)
Description
When a group of social activists arrives in a small town, the lives and beliefs of residents and outsiders alike are upended, in this wry, embracing novel.

Big Burr, Kansas, is the kind of place where everyone seems to know everyone, and everyone shares the same values—or keeps their opinions to themselves. But when a national nonprofit labels Big Burr "the most homophobic town in the US" and sends in a task force of queer volunteers as an experiment—they'll live and work in the community for two years in an attempt to broaden hearts and minds—no one is truly prepared for what will ensue.

Furious at being uprooted from her life in Los Angeles and desperate to fit in at her new high school, Avery fears that it's only a matter of time before her "gay crusader" mom outs her. Still grieving the death of her son, Linda welcomes the arrivals, who know mercifully little about her past. And for Christine, the newcomers are not only a threat to the comforting rhythms of Big Burr life, but a call to action. As tensions roil the town, cratering relationships and forcing closely guarded secrets into the light, everyone must consider what it really means to belong. Told with warmth and wit, Under the Rainbow is a poignant, hopeful articulation of our complicated humanity that reminds us we are more alike than we'd like to admit.
Praise For Under the Rainbow: A Novel…
"Laskey composes elegant portraits of each character, drawing us into intimate worlds that pulse with light and sound…these individuals will come together in ways that leave them forever altered; a few will even grow to recognize the humanity in people they've long reviled. In Laskey's artful hands this moral is delivered with such conviction and grace that it somehow feels fresh, and thus, essential." —The New York Times Book Review

"Prismatic. . .intimate and psychologically keen. . .Laskey's vision of inclusion is all-encompassing." —Los Angeles Times

"Under the Rainbow will ring true for a wide audience, regardless of gender expression and sexuality, for its wry humor and universal truths." —Lambda Literary

"Celia Laskey's Under the Rainbow is a timely look into what it means to be queer in spaces that aggressively refuse you. Smart and compulsively readable, Laskey has woven together narratives that seek to embrace each other through the hurt. There is love and loss alike sandwiched in its pages; pain and pleasure. Laskey is a talented, sharp writer and her debut novel has its fingers on the pulse of the human condition." —Kristen Arnett, author of The New York Times-bestseller Mostly Dead Things
 
"Celia Laskey has written an excellent, big-hearted, and very funny novel about our contemporary divisions and grievances.  Under the Rainbow is wonderfully current, yet it refuses to sacrifice love or empathy to politics, it refuses despair and destruction. Those of us who moved away from the rural places where we were born will recognize every one of her remarkable characters, and find in their braided stories incredible pathos and joy." —Shannon Pufahl, author of On Swift Horses
 
"Under the Rainbow marks the arrival of a wildly talented, observant, political, feminist writer to the literary ranks. Celia Laskey is a true original, and she's here to stay." —Emily Rapp Black, author of The New York Times-bestseller The Still Point of the Turning World
 
"I absolutely love this book. With wit and empathy, Celia Laskey has written a kaleidoscopic portrait of queer, rural life at a crossroads. . .The result is a novel that made my heart feel full." —Joseph Cassara, author of The House of Impossible Beauties
 
"The best sort of novel, one that leaves you sad it's over but already looking forward to the author's next." —Lori Ostlund, author of After the Parade

"Laskey inhabits each of these characters with skill and grace in a tour de force of first-person narration...Energetic and compelling, a promising first book from a writer to watch." —Kirkus Reviews

Riverhead Books, 9780525536178, 288pp.
Publication Date: March 2, 2021
About the Author
Celia Laskey's work has appeared in Guernica, The Minnesota Review, and other places. She has an MFA from the University of New Mexico and was a finalist in Glimmer Train's Short Story Award for New Writers. She lives with her wife in Los Angeles, where she writes for ad agencies.