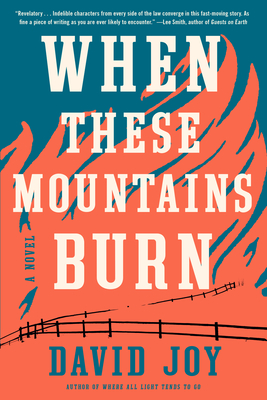 When These Mountains Burn
Hardcover

* Individual store prices may vary.
Other Editions of This Title:
Digital Audiobook (8/17/2020)
Description
Winner of the 2020 Dashiell Hammett Award for Literary Excellence in Crime Writing

Acclaimed author and "remarkably gifted storyteller" (The Charlotte Observer) David Joy returns with a fierce and tender tale of a father, an addict, a lawman, and the explosive events that come to unite them.

When his addict son gets in deep with his dealer, it takes everything Raymond Mathis has to bail him out of trouble one last time. Frustrated by the slow pace and limitations of the law, Raymond decides to take matters into his own hands.

After a workplace accident left him out of a job and in pain, Denny Rattler has spent years chasing his next high. He supports his habit through careful theft, following strict rules that keep him under the radar and out of jail. But when faced with opportunities too easy to resist, Denny makes two choices that change everything.

For months, the DEA has been chasing the drug supply in the mountains to no avail, when a lead--just one word--sets one agent on a path to crack the case wide open . . . but he'll need help from the most unexpected quarter.

As chance brings together these men from different sides of a relentless epidemic, each may come to find that his opportunity for redemption lies with the others.
Praise For When These Mountains Burn…
One of Publishers Weekly 2020 Summer Reads

"Slow-burning. . . With memorable characters, deft plotting, and an attention to detail, Joy has written a powerful work of crime fiction."—Kirkus Reviews (starred review)

"Visceral...Joy makes it tougher to judge these characters by allowing the least likely of them to be the hero...in this nervewracking thriller."—Shelf Awareness (starred review)

"Unforgettably powerful. . . What stands out here isn't the story [but] rather Joy's unflinching and gritty depiction of his fully realized characters, from their raw loss to their helplessness and rage to their final acceptance. Joy has thoroughly captured their experiences in vivid, memorable prose that burns to be read."—BookPage

"Joy portrays his characters with unflinching realism. Creative turns of phrase and creative colloquialisms move the story forward and keep the otherwise disheartening subject matter full of thrilling surprises. As Southern noir-tinged fiction gains a well-deserved audience, Joy is one voice that never disappoints."—Booklist

"[An] engrossing drama of violence and vengeance. . . Joy's razor-sharp prose details disturbing, graphic images of brutality that begin when Raymond resolves to protect his son. . .  Joy handles everything with ease, proving himself to be one hell of a writer."—Publishers Weekly

"Outstanding. . . When These Mountains Burn is a crime novel, surely – and a damn good one – but it's also a snapshot of small-town America at a fracture point, when the least of the concerns is the fire that could consume everyone, all at once."—USA Today

"Joy is a master of prose...If you are after a beautifully written dark addition story—[When These Mountains Burn] is your best bet."—Criminal Element

"Appalachian noir at its finest...Joy's storytelling is top-notch (and not for the faint of heart), and you'll find yourself turning pages deep into the night. But it's his knack for capturing a sense of place that really brings the hammer down."—Garden & Gun

"The story is fast-moving, the characters are richly fleshed out, and despite its gritty settings and subject matter, wraps up with a sense of redemption and hope for the possibility of better days ahead. Simply put, Joy is at the top of his game."—Sylva Herald

"Revelatory . . . Indelible characters from every side of the law converge in this fast-moving story. As fine a piece of writing as you are ever likely to encounter."—Lee Smith, author of Guests on Earth

"This is the sort of novel I love. No world wide conspiracies, or super crimes. Just flawed folks making bad choices, then having to live with the deadly consequences. David Joy has quickly become one of my favorite authors in the tradition of such fine novelist as Larry Brown and William Gay. Highly recommended."—Joe R. Lansdale, author of The Elephant of Surprise
G.P. Putnam's Sons, 9780525536888, 272pp.
Publication Date: August 18, 2020
About the Author
David Joy is the author of The Line That Held Us (winner of the 2018 SIBA Book Prize), The Weight of This World, and Where All Light Tends to Go (Edgar finalist for Best First Novel). His stories and creative nonfiction have appeared in a number of publications, and he is the author of the memoir Growing Gills: A Fly Fisherman's Journey and a co-editor for Gather at the River: Twenty-Five Authors on Fishing. Joy lives in Tuckasegee, North Carolina.