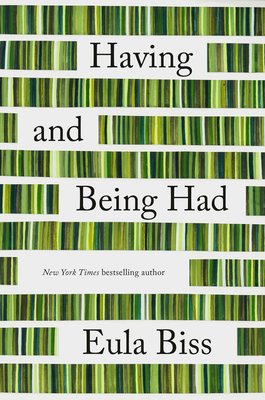 Having and Being Had (Hardcover)
Riverhead Books, 9780525537458, 336pp.
Publication Date: September 1, 2020
* Individual store prices may vary.
Description
A timely and arresting new look at affluence by a consistently surprising writer

"My adult life can be divided into two distinct parts," Eula Biss writes, "the time before I owned a washing machine and the time after." Having just purchased her first home, she now embarks on a roguish and risky self-audit of the value system she has bought into. The result is a radical interrogation of work, leisure, and capitalism. Described by The New York Times as a writer who "advances from all sides, like a chess player," Biss brings her approach to the lived experience of capitalism. Playfully ranging from IKEA to Beyoncé to Pokemon, across bars and laundromats and universities, she asks, of both herself and her class, "In what have we invested?"
About the Author
Eula Biss is the author of four books, including The New York Times bestseller On Immunity: An Inoculation, which was named one of the 10 Best Books of 2014 by The New York Times Book Review, and Notes from No Man's Land: American Essays, which won the National Book Critics Circle Award for criticism. Her work has appeared in Harper's, The New York Times, The Believer, and elsewhere, and has been supported by an NEA Literature Fellowship, a Howard Foundation Fellowship, and a Guggenheim Fellowship.
Praise For Having and Being Had…
Advance praise for Having and Being Had:

"[A] strong new meditation on buying and owning in a society as a white woman where some people descend from Americans once considered property themselves. . . . This is an essential book for our out-of-control times." —LitHub

"A stylish, meditative inquiry into the function and meaning of 21st-century capitalism. . . . Biss doesn't shy away from acknowledging her own privilege, and laces her reflections with unexpected insights and a sharp yet ingratiating sense of humor. . . . this eloquent, well-informed account recasts the everyday world in a sharp new light." —Publishers Weekly

"A major achievement. Having and Being Had, rather than leading through narrative, turns individual words and phrases, like capitalism, consumers, great America, husbandry, art, and work, into fields of inquiry in order to frame a life. With astute consideration, this expansive and intimate accumulation asks the questions that touch all our lives." —Claudia Rankine
 
"Eula Biss is known for stepping off the plank into turbulent waters that others might fear or avoid, armed with wry wit and a radical lucidity. Having and Being Had continues this journey, offering us a probing tour of capitalism and class that sidesteps posturing and jargon in favor of clarity, humility, and incitement." —Maggie Nelson 
 
"No contemporary writer I know explores and confronts her own societal responsibilities better than Eula Biss. In Having and Being Had she unpacks capitalism as a lived practice of a thinking person. She makes you surprised and delighted by the way she extracts complex ideas from mundane situations." —Aleksandar Hemon
 
"In this witty, genre-bending book, Eula Biss smashes the taboo against talking about money with exhilarating results. Her investigation ranges from the strictly financial to the broadly philosophical as she accounts for her life with disarming honesty and grace."  —Jenny Offill 
 
"Eula Biss's prescient new book gave me new language for things I didn't know I felt about money, capitalism, and my place inside of an economy that always requires so much of me and gives back so little. A brilliant, lacerating re-examination of our relationship to what we own and why, and who in turn might own us in ways we didn't know we consented to—what could be more necessary now?" —Alexander Chee