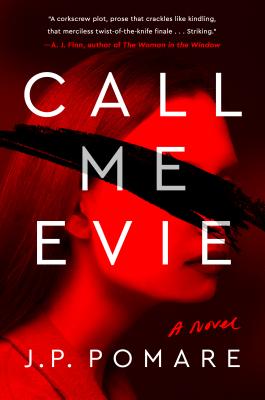 Call Me Evie (Hardcover)
G.P. Putnam's Sons, 9780525538141, 368pp.
Publication Date: March 5, 2019
Other Editions of This Title:
Paperback (2/18/2020)
* Individual store prices may vary.
Description
A seventeen-year-old struggles to remember the tragic night that changed her life forever in this twist-filled debut novel of psychological suspense for fans of Sharp Objects and The Last Time I Lied.

Evie and her uncle Jim have just moved to an isolated cabin in a remote beach town--a far cry from their hometown of Melbourne. But Evie isn't her real name. And Jim isn't really her uncle.

Jim tells Evie she did something terrible back home, that he's hiding her to protect her. But Evie can't remember anything about that night--for all she knows, he's lying. As fragments of her memory return, she starts to wonder if Jim is really her savior...or her captor.

In a riveting novel that fearlessly plumbs the darkest recesses of the mind, J.P. Pomare explores the fragility of memory and the potential in everyone to hide the truth--even from themselves.
About the Author
Twenty-six-year-old J.P. Pomare has been short- and long-listed for a number of writing prizes, including the KYD Unpublished Manuscript Award, Ellen Kemp Memorial Writer's Prize, the Sheila Malady Prize, and The Kingi Mckinnon Scholarship for Emerging Writers. He produces a literary podcast called On Writing, for which he has interviewed bestselling authors including Joyce Carol Oates and E. Lockhart. CALL ME EVIE, his first novel, will be published by Hachette Australia, Little Brown/Sphere in the UK, and Putnam in North America. Pomare lives with his wife in Melbourne, Australia.
Praise For Call Me Evie…
"Absorbing, engrossing, and intriguing are just a few descriptors for this book. Pomare keeps readers on the edge of their seats right up to the surprising conclusion…With a story line that hooks readers immediately and twists and turns galore, this impressive debut is highly recommended for fans of Gillian Flynn and those who enjoy well-written psychological suspense tales."—Library Journal (starred review)

"[An] outstanding debut...the final pages stun with their gallows-drop plot surprises. Almost nothing will turn out as it initially appears in this devastating novel of psychological suspense."—Publishers Weekly (starred review)

"This debut novel by Pomare sets him up as a writer to watch…Pomare's writing is so crisp and his characterizations so spot-on…Readers looking for a page-turner will be happy, but so, too, will those looking for a work with deeper resonances, in this case about gaslighting and the ruthless world of teenagers. Read this one with the lights on, and keep Pomare on your radar."—Kirkus Reviews

"Literary psychological suspense as dark and fresh as midnight in winter. A corkscrew plot, prose that crackles like kindling, that merciless twist-of-the-knife finale — one of the most striking debuts I've read in years and years."—A. J. Finn, author of The Woman in the Window

"A tight, compulsive, beautifully written thriller with echoes of Gillian Flynn, with characters that keep you guessing and a plot that keeps you turning the page."—Christian White, author of The Nowhere Child

"I felt pure dread reading this book. Enjoyable, exquisite dread. A great read. There are so many layers and twists to this story and they are revealed in the most masterful way."—Sarah Bailey, author of The Dark Lake

"Call Me Evie is more than a taut, intelligent psychological thriller: at its core is the story about the way family, control, and love shapes our choices and who we are. Pomare has written a mesmerizing and heart-stopping novel."—Sarah Schmidt, bestselling author of See What I Have Done