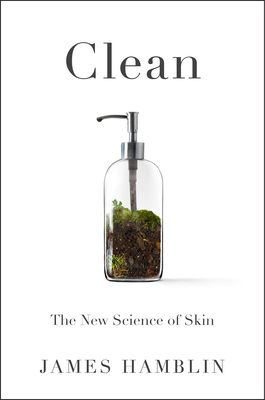 Clean
The New Science of Skin
Hardcover

* Individual store prices may vary.
Other Editions of This Title:
Digital Audiobook (7/20/2020)
Paperback (7/20/2021)
Description
Named a Best Book of 2020 by NPR and Vanity Fair

One of Smithsonian's Ten Best Science Books of 2020

"A searching and vital explication of germ theory, social norms, and what the modern era is really doing to our bodies and our psyches." —Vanity Fair

A preventative medicine physician and staff writer for The Atlantic explains the surprising and unintended effects of our hygiene practices in this informative and entertaining introduction to the new science of skin microbes and probiotics.
 
Keeping skin healthy is a booming industry, and yet it seems like almost no one agrees on what actually works. Confusing messages from health authorities and ineffective treatments have left many people desperate for reliable solutions. An enormous alternative industry is filling the void, selling products that are often of questionable safety and totally unknown effectiveness.

In Clean, doctor and journalist James Hamblin explores how we got here, examining the science and culture of how we care for our skin today. He talks to dermatologists, microbiologists, allergists, immunologists, aestheticians, bar-soap enthusiasts, venture capitalists, Amish people, theologians, and straight-up scam artists, trying to figure out what it really means to be clean. He even experiments with giving up showers entirely, and discovers that he is not alone.

Along the way, he realizes that most of our standards of cleanliness are less related to health than most people think. A major part of the picture has been missing: a little-known ecosystem known as the skin microbiome—the trillions of microbes that live on our skin and in our pores. These microbes are not dangerous; they're more like an outer layer of skin that no one knew we had, and they influence everything from acne, eczema, and dry skin, to how we smell. The new goal of skin care will be to cultivate a healthy biome—and to embrace the meaning of "clean" in the natural sense. This can mean doing much less, saving time, money, energy, water, and plastic bottles in the process.

Lucid, accessible, and deeply researched, Clean explores the ongoing, radical change in the way we think about our skin, introducing readers to the emerging science that will be at the forefront of health and wellness conversations in coming years.
Praise For Clean: The New Science of Skin…
"Fun, interesting and credible." —The New York Times Book Review

"A searching and vital explication of germ theory, social norms, and what the modern era is really doing to our bodies and our psyches." —Vanity Fair

"A breezy social history with a health angle. . . . the science writing is accessible and articulate—graceful even—and there are some wonderful surprises" —The Wall Street Journal

"Deeply researched. . . . James Hamblin explores the history behind the human obsession with cleanliness and the colossal industry driving our current desire to scrub every inch of our bodies." —Smithsonian

"There's a line. . . between how we lather up to avoid disease and how we scrub down to feel clean. Where you draw it may help or harm the microscopic creatures living on your body's largest organ. Who better to investigate than a doctor and journalist who hasn't showered in years? —NPR
 
"A fascinating, rich mix of science, marketing and culture that will have you questioning everything you think you know about your daily skincare routine." —BookPage
 
"Fascinating . . . Hamblin takes us on a slippery ride through the soap marketing of the twentieth century, sharing some of the racial, class, and gender undertones many of us probably missed, and introduces us to fascinating people." —Spirituality & Health

"Clean is a thought-provoking and deeply-researched investigation into the life and times of our skin. From unraveling the history of soap to profiling our many microbes, Hamblin's analysis is anything but skin deep." —Bianca Bosker, author of Cork Dork

"James Hamblin's characteristic mix of clarity and levity shine through every single page. You'll never think about your largest organ the same way again." —David Epstein, author of Range and The Sports Gene

"A wide-ranging study that shows how cleanliness was not always next to godliness." —Kirkus Reviews

Riverhead Books, 9780525538318, 288pp.
Publication Date: July 21, 2020
About the Author
James Hamblin, MD, MPH, is a staff writer at The Atlantic, a lecturer at the Yale School of Public Health, and a specialist in preventive medicine. He is the author of If Our Bodies Could Talk and hosted a video series of the same name. He's based in Brooklyn, New York. He only uses soap on his hands.