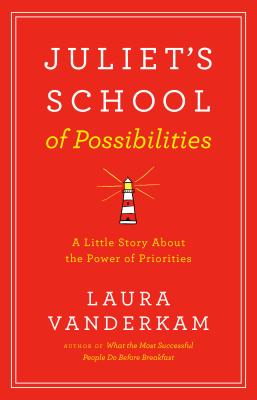 Juliet's School of Possibilities
A Little Story About the Power of Priorities
Hardcover

* Individual store prices may vary.
Other Editions of This Title:
Digital Audiobook (3/11/2019)
Description
A charming, life-changing fable that will help you rethink your whole approach to time, priorities, and possibilities.

Riley Jenkins is in trouble. An ambitious, hardworking consultant in her late twenties, she's used to a lifetime of nearly perfect evaluations - until she gets a terrible performance review from her boss. How is that possible when Riley does everything her clients want - including answering emails 24/7 - faster than they expect it?

That's precisely the problem: she's spread too thin. Despite her insane hours and attention to detail, Riley can't produce the thoughtful work her clients expect. Now she's been given thirty days to close a major deal, or she's out. Meanwhile, her personal life is also on the edge of disaster, with her boyfriend and close friends losing patience with her chronic unavailability.

The last thing Riley wants, at a stressful time like this, is to attend a women's leadership retreat with some of her colleagues. But she can't get out of her commitment: a weekend in New Jersey at some silly-sounding place called Juliet's School of Possibilities.

Yet before long, Riley is surprised to find herself intrigued by Juliet, the lifestyle maven who hosts the conference. How does a single mother of two run a successful business while acting as if she has all the time in the world? The answer may lie in one of Juliet's Zen-like comments: "Expectations are infinite. Time is finite. You are always choosing. Choose well."

By the end of this story, you'll join Riley in rethinking the balance between your present and your future, between the things you have to do and the things you want to do. Like Riley, you can free yourself from feeling overwhelmed and pursue your highest possibilities.
Praise For Juliet's School of Possibilities: A Little Story About the Power of Priorities…
"Laura is my go-to expert for time management and Juliet's School of Possibilities is a delightful book. You can read it in a couple of short sittings, then go away with a lifetime of application." 
 —Chris Guillebeau, Author of Side Hustle and The $100 Startup 
 
"Thousands of books explain how we should set priorities, stay focused, and make time for what truly matters—but that advice, however sound, is all too easy to ignore. Laura Vanderkam takes a different approach. By harnessing the irresistible power of story-telling, she makes those aims vivid and compelling in an entirely new way, to show us how and why we can make room for possibilities."
—Gretchen Rubin, author of The Four Tendencies and Better Than Before
 
Volumes have been written about abundance versus lack mentality, typically as they relate to money. But who among hasn't lamented, "I don't have enough time!"? Ah, but you do—and Laura Vanderkam's sweet-and-sage parable will show you exactly how to find it, use it wisely, and revel in it richly. Read Juliet's School and you too will find yourself saying, "Oh, the possibilities!"
—John David Mann, coauthor of The Go-Giver
Portfolio, 9780525538943, 144pp.
Publication Date: March 12, 2019
About the Author
Laura Vanderkam is the bestselling author of What the Most Successful People Do Before Breakfast and Off The Clock, among others. Her 2016 TED talk, "How to Gain Control of Your Free Time," has been viewed more than 5 million times. Her work has appeared in The Wall Street Journal, The New York Times, Fortune, and other publications. She is the host of the "Before Breakfast" podcast, which has over 1 million downloads. She lives with her husband and their four children outside Philadelphia.
or
Not Currently Available for Direct Purchase