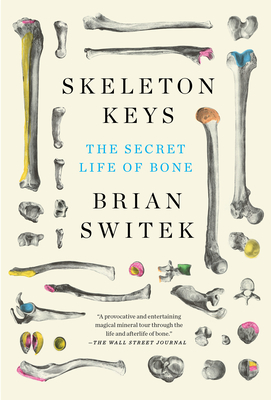 Skeleton Keys
The Secret Life of Bone
Paperback

* Individual store prices may vary.
Other Editions of This Title:
Digital Audiobook (3/4/2019)
Hardcover (3/5/2019)
Description
"A provocative and entertaining magical mineral tour through the life and afterlife of bone." —Wall Street Journal

Our bones have many stories to tell, if you know how to listen.

Bone is a marvel, an adaptable and resilient building material developed over more than four hundred million years of evolutionary history. It gives your body its shape and the ability to move. It grows and changes with you, an undeniable document of who you are and how you lived. Arguably, no other part of the human anatomy has such rich scientific and cultural significance, both brimming with life and a potent symbol of death.

In this delightful natural and cultural history of bone, Brian Switek explains where our skeletons came from, what they do inside us, and what others can learn about us when these artifacts of mineral and protein are all we've left behind.

Bone is as embedded in our culture as it is in our bodies. Our species has made instruments and jewelry from bone, treated the dead like collectors' items, put our faith in skull bumps as guides to human behavior, and arranged skeletons into macabre tributes to the afterlife. Switek makes a compelling case for getting better acquainted with our skeletons, in all their surprising roles. Bridging the worlds of paleontology, anthropology, medicine, and forensics, Skeleton Keys illuminates the complex life of bones inside our bodies and out.
Praise For Skeleton Keys: The Secret Life of Bone…
"I sit here now crossing my extraordinary kneecaps... I can see them better thanks to Switek's keys." —Rose George, The New York Times Book Review

"Smart, lively, and hugely informative, Skeleton Keys is the ideal guide to the bones around us and in us." —Elizabeth Kolbert, author of The Sixth Extinction   

"A thoughtful, engaging meditation on the origins of the human skeleton, how it functions (or malfunctions) and how we come to terms with our essential but unsettling osseous framework." —Nature

"Brian Switek writes with remarkable grace about the natural world. In Skeleton Keys, he looks inward, making us keenly aware of the marvels of the bones that give us the scaffolding we need to survive. Every chapter has some surprise, told in elegant tales, that you will repeat to your friends." —Carl Zimmer, author of She Has Her Mother's Laugh: The Powers, Perversions, and Potential of Heredity

"[Switek] compellingly evokes the sheer wonder and complexity of the supporting framework inside you—and the murky human responses it arouses." —Science

"From touring the famed Mutter Museum and London ossuaries, to ferreting out what really happened to Richard III, Skeleton Keys is a lyrical love letter to the 206 or so bones in the human skeleton and the colorful figures who have studied them over the centuries."—Jennifer Ouellette, author of Me, Myself, and Why and The Calculus Diaries  

"Skeleton Keys is an absorbing tour through the world of bones and the bones of the world. Considering in turn dinosaurs, saints, kings, and our own possible future, it is an assured and revelatory book." —Maryn McKenna, author of Big Chicken and Superbug

"A cheerful popular-science romp through the matter that makes up our skeleton.... leaves the beaten path to deliver a fun explanation of the history, function, and cultural meaning of bone." —Kirkus Reviews

"Informative, contemplative, and even lyrical, Switek's work is popular-science writing at its best." —Booklist
Riverhead Books, 9780525539124, 288pp.
Publication Date: March 3, 2020
About the Author
Brian Switek is the pen name of Riley Black, a collection of 206-some-odd bones and associated soft tissues. She is also the author of the books My Beloved Brontosaurus and Written in Stone, as well as the Scientific American blog Laelaps. Her bylines have appeared in National Geographic, Smithsonian, Wired, Slate, The Wall Street Journal, Nature, and other publications. She lives in Salt Lake City, Utah.
or
Not Currently Available for Direct Purchase