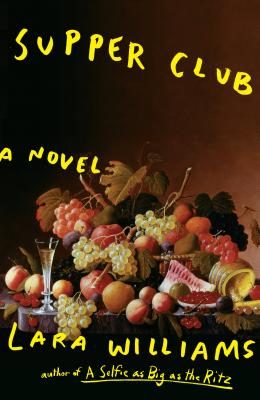 Supper Club
Hardcover

* Individual store prices may vary.
Other Editions of This Title:
Digital Audiobook (7/8/2019)
Paperback (9/1/2020)
Description
Named a Best Book of the Year:
Vogue * TIME * Real Simple * Kirkus Reviews

A New York Times Book Review Editors' Choice

For fans of Sally Rooney's Normal People: A sharply intelligent and intimate debut novel about a secret society of hungry young women who meet after dark and feast to reclaim their appetites--and their physical spaces--that posits the question: If you feed a starving woman, what will she grow into?

Roberta spends her life trying not to take up space. At almost thirty, she is adrift and alienated from life. Stuck in a mindless job and reluctant to pursue her passion for food, she suppresses her appetite and recedes to the corners of rooms. But when she meets Stevie, a spirited and effervescent artist, their intense friendship sparks a change in Roberta, a shift in her desire for more. Together, they invent the Supper Club, a transgressive and joyous collective of women who gather to celebrate, rather than admonish, their hungers. They gather after dark and feast until they are sick; they break into private buildings and leave carnage in their wake; they embrace their changing bodies; they stop apologizing. For these women, each extraordinary yet unfulfilled, the club is a way to explore, discover, and push the boundaries of the space they take up in the world. Yet as the club expands, growing in both size and rebellion, Roberta is forced to reconcile herself to the desire and vulnerabilities of the body--and the past she has worked so hard to repress. Devastatingly perceptive and savagely funny, Supper Club is an essential coming-of-age story for our times.
Praise For Supper Club…
A New York Times Book Review Paperback Row Pick 

"[Williams] decants her first novel into flights, like wine....Confer[s] dignity on the small, quotidian self-adjustments that women are always making in order to survive....This is one of Williams's strengths: an exquisite patience with the emerging texture of emotion. As a stylist, she is subtle and superbly attentive....But where Williams truly shines is, if you'll forgive me, in the kitchen. The food in the book eats you. (It literally changed my dinner plans.)...These interludes perfume the narrative, like aromatics in a stock, imparting a depth of flavor that resurfaces stylishly when you least expect it."—The New York Times Book Review 

"The conceit of [Supper Club] is a bold and aggressively indelicate one that challenges society's expectations of women's appetites — for food, sex, pleasure, all of it....Delectable...Bursting with deep meditations on the lives of women and how they're shaped and distorted by men who are careless, monstrous and all points in between...Supper Club fascinates as an unflinching embrace of women and their many appetites and smashes the patriarchy with heaping plates of pasta."—USA Today

"[A] deliciously anarchic first novel about an ever-growing group of women who gather to indulge in the hedonistic freedom of acting unladylike. Topless feasts and Prosecco-soaked dancing abound."—O, The Oprah Magazine 

"A riotous still life-turned-food fight…Williams's writing is decadent and lush, and the narrative avoids any pat resolutions for women frustrated by the way our bodies have been commodified by chocolate pushers and fitness gurus alike."—Vulture

"Stephanie Danler's Sweetbitter meets Donna Tartt's The Secret History in this story of female desire, friendship, lust, and, above all, hunger....This novel will alternately make you laugh, tear up, and text your group chat begging to start a wayward dining committee."—Vogue  

"[A] daring debut...Williams' descriptions of consumption are at turns mouth-waternig, stomach-turning and lyrical. Yet it's less a novel about food than it is a document of how far we'll go to find more profound forms of sustenance in a world that's intent on starving us out."—TIME

"Lara Williams's debut...will leave you panting and ravenous....In its unselfconscious splendor, [Supper Club] tackles age-old questions about the female form with a delightfully 21st-century voice."—New York Magazine

"A wholly original look at literal and figurative hunger, female friendship, and finding yourself."—Real Simple

"[Williams's] voice feels akin to Sally Rooney's: colloquial, precise, at once uneasy about its place in the world and determined to stand up for itself. The supper club of the title could be read as a feminist take on the anarchic men's group in Chuck Palahniuk's Fight Club....The central theme here is women's oppression by men, and Williams's take on it is powerful and original....The joy of food--its capacity to be so pleasurable that it can subvert niceness--is well described, as is the complexity of cooking....Williams [takes] the material of the domestic novel and turn[s] it into something more explosive."—The Guardian 

"Like Fight Club but with food…Morphs into something that is less about food and more about rebellion and power and all the desires women have suppressed for so, so long."—Bustle
 
"Supper Club will speak to parts of you that you didn't know were yearning. A thought-provoking read that will make you hungry for Roberta's cooking and more of Williams' insights on women at crossroads."—Refinery29
 
"Totally invigorating...Williams proves herself to be a talented food writer....With elements of Stephanie Danler's Sweetbitter, Ottessa Moshfegh's My Year of Rest and Relaxation and Phoebe Waller-Bridge's series Fleabag, Supper Club is a succulent, unapologetic celebration of female friendship, female rage, and female appetite."—PureWow

"You'll want to feast on this book....It's truly that delicious."—Cosmopolitan
 
"For your friend who loves playing hostess with the mostess. . . [A] female-only dinner club where women embrace their love of food, life, womanhood, and connection. Topics of supper club conversations include: not apologizing, ending the patriarchy, taking up literal and metaphorical space as a woman, and of course, food. As delicious of a read as it sounds."—theSkimm

"Supper Club will resonate with any woman who has ever tried to pare herself down to fit society's ideals....Williams embraces a range of timely issues from sexual assault to female friendship with engaging openness and humor."—Electric Lit

"Supper Club is the ravenous read we all need....A darkly funny coming-of-age story like no other."—Read It Forward

"[A] really sensual and bold exploration of female love and pain and appetite. It's beautiful prose, really good insight on relationships, especially family and friendships, and a very satisfying and empowering denouement." —Minnesota Public Radio, "The Thread" 

"A solid read—the highlight reel includes food, a secret society, and a coming-of-age plot rooted in female friendship. Take it to the beach and feel good about it on your nightstand."—Domino
 
"Supper Club is not afraid to show the punishments, risks, and ultimate rewards of being a woman who spends her life alone." –Bookforum

"There's no other book to read this month than Lara Williams' debut, in which two women start an underground supper club devoted to indulging all sorts of earthly desires. For reading while eating in the bath, and licking your lips."—LitHub

"[An] assured debut...Williams wields her svelte poetic prose like a knife....Supper Club is a love letter to those friends, both retained and lost, who have an irrevocable influence on who we are and how we understand ourselves....It is also a provocation to demand more, a challenge to hold each other to account, and an enticement to celebrate the vibrancy of women's lives with the raucous abandon they deserve. It's the country fairy tale: biting the apple brought wisdom and confidence, not a loss of consciousness. No prince necessary." —Women's Review of Books

"I love the old-world decadence of the chosen artwork--which is also perfect for the novel--combined with that modern, bright yellow scrawl, which itself is barely contained by the constraints of the physical book. You almost get a sense of vandalism--the present scribbling its mark on the past."—LitHub, "10 Best Book Covers of July" 

"Funny, astute and timely, this novel is as satisfying as a great meal with friends."—Elle (UK)

"A celebration of female power and friendship, with some wonderful food writing, this is darkly delicious."—The Sunday Mirror (UK)
 
"Like Conversations with Friends...[A] smart, zeitgeisty, but genuinely affecting, coming-of-age tale."—The Daily Mail (UK)

"Bold, wild and witty...Spills over with rage and revelry, giving voice to silent women who feel belittled by a hostile world."—The Sunday Express (UK)

"[A] delicious first novel...Mixing together insights about food and friendship, hunger and happiness, and the space women allot themselves in the world today, Williams writes with warmth, wit, and wisdom, serving up distinctive characters and a delectably unusual story. [Supper Club] will satisfy your craving for terrific writing and leave you hungry for more from this talented writer."—Kirkus Reviews (starred review) 

"[An] engrossing, rollicking tale...William's humorous and candid exploration of a woman on the verge of finding herself makes for an enthralling novel."—Publishers Weekly (starred review) 

"Poignant... An homage to female rage and the bonds of friendship, [Supper Club] will entice readers like a gourmet feast and leave them just as satisfied."—Library Journal 

"[Williams is] a keen chronicler of contemporary women's lives; her sly, perceptive first novel...offers food for thought on the sorts of love (and sorts of women) that society doesn't accommodate....Dive right into the soothing-cooking-show-meets-Fight-Club-concept."—Booklist

"For fans of Ottessa Moshfegh, this book spans a decade and is a story of identity and finding your place in the world."—She Reads

"[Supper Club] is SO GREAT. Utterly perfect on loneliness, isolation, friendship, love, appetite, body image. It's about millennial women but I'm reading and nodding, 'Whole. Mood.'"—Marian Keyes

"Supper Club is outrageously good—an exploration of female appetites and friendships that is dark, funny, and joyful. From the first page to the last, it's a delight."—Sophie Mackintosh, author of The Water Cure

"Supper Club is a genuine pleasure to read."—Jami Attenberg, author of The Middlesteins and All Grown Up

"A visceral and dangerous celebration of feminine appetite and agency. Dark, vivid and infinitely compelling, Williams boldly explores what happens when women dare to cross lines and take up space with their bodies, the hungers and delights to be found in transgression, and the anger and pain we are afraid to claim."—Mona Awad, author of Bunny and 13 Ways of Looking at a Fat Girl  

"A bacchanalian homage to women's rage and the healing balm of female friendship, Supper Club is an enticing feast for the heart and mind."—Courtney Maum, author of Touch and I Am Having So Much Fun Here Without You

"I ADORED Supper Club. It's the most visceral, satisfying, wildly indulgent thing I've read in years—clever and subtle about growing up and learning how to embody conflicting desires, as a woman and an animal. I wanted to stand on the roof, beat my chest and bellow like some kind of mad dinner gong for repressed women. I was hungry for this book, and I know many other women will be too."—Emma Jane Unsworth, author of Animal

G.P. Putnam's Sons, 9780525539582, 304pp.
Publication Date: July 9, 2019
About the Author
Lara Williams is the author of the short story collection A Selfie as Big as the Ritz, and her writing has been featured in The Guardian, The Independent, Vice, the Times Literary Supplement, McSweeney's, and elsewhere. She has been nominated for a Pushcart Prize and is featured in Best British Short Stories 2017. She writes and teaches creative writing at Manchester Metropolitan University. She lives in Manchester, England.
or
Not Currently Available for Direct Purchase