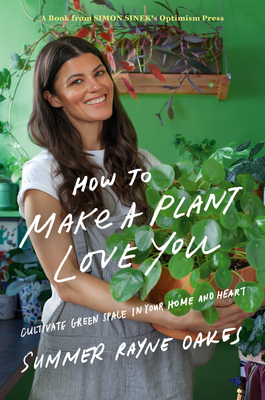 How to Make a Plant Love You
Cultivate Green Space in Your Home and Heart
Hardcover

* Individual store prices may vary.
Other Editions of This Title:
Digital Audiobook (7/8/2019)
Description
Summer Rayne Oakes, an urban houseplant expert and environmental scientist, is the icon of wellness-minded millennials who want to bring nature indoors, according to a New York Times profile. Summer has managed to grow 1,000 houseplants in her Brooklyn apartment (and they're thriving!) Her secret? She approaches her relationships with plants as intentionally as if they were people.

Everyone deserves to feel the inner peace that comes from taking care of greenery. Beyond the obvious benefits--beauty and cleaner air--there's a strong psychological benefit to nurturing plants as a path to mindfulness. They can reduce our stress level, lower our blood pressure, and improve our overall outlook. And they offer a rare opportunity to find joy by caring for another living being.

When Summer Rayne Oakes moved to Brooklyn from the Pennsylvania countryside, she knew that bringing nature indoors was her only chance to stay sane. She found them by the side of the road, in long-forgotten window boxes, at farmers' markets, and in local garden shops. She found ways to shelve, hang, tuck, anchor, secure, and suspend them. She even installed a 150-foot expandable hose that connects to pipes under her kitchen sink, so she only has to spend about a half-hour a day tending to her plants--an activity that she describes as a "moving meditation."

This is Summer's guidebook for cultivating an entirely new relationship with your plant children. Inside, you'll learn to:



Pause for the flowers and greenery all around you, even the ones sprouting bravely between cracked pavement
Trust that your apartment jungle offers you far more than pretty décor
See the world from a plant's perspective, trading modern consumerism for sustainability
Serve your chlorophyllic friends by learning to identify the right species for your home and to recreate their natural habitat (Bonus: your indoor garden won't die!)

When we become plant parents, we also become better caretakers of ourselves, the people around us, and our planet. So, let's step inside the world of plants and discover how we can begin cultivating our own personal green space--in our homes, in our minds, and in our hearts.
Praise For How to Make a Plant Love You: Cultivate Green Space in Your Home and Heart…
"In her book, Summer Rayne will upend so much more than your approach to plant care. You'll learn how to better care for and treat people—starting with yourself. Highly recommended for anyone who struggles with the emptiness of modern living."
--Hannah Bronfman, author of Do What Feels Good

"I don't care what color your thumbs are —Summer Rayne Oakes will not only inspire you to connect with nature by taking care of plants but open your eyes to how even the humblest of them takes care of us."
--Michael Brune, Executive Director, Sierra Club
 
"A beautiful, deeply researched celebration of the power that plants have to change our lives. In this compelling book, Summer Rayne Oakes invites us into a greener, more connected world, and gives us the tools to cultivate an unbreakable bond with nature, wherever we are."
--Ingrid Fetell Lee, author of Joyful and Founder of The Aesthetics of Joy
 
"My perspective was changed when I saw our planet from space. I felt connected to the rivers, forests, people and plants as I orbited our Blue Marble every ninety minutes. In How to Make a Plant Love You, Summer Rayne expertly tells the story of connecting to terra firma through her lifelong love and perspective of plants.  A must read for even the not so green thumbers."
--Leland Melvin, astronaut and author of Chasing Space

"So many of us are far removed from the outdoors. As Summer Rayne Oakes notes, gardening has not kept pace with society's gravitation from the suburbs to the city. How To Make a Plant Love You is written as a relationship guide for bringing plants and plant knowledge into your world and discovering their wonderful ways. It's not a "place this plant in this light condition book." Instead it digs deep into how you can have a relationship with plants–and how you'll be a better person for it."
--Jim Peterson, publisher of Garden Design Magazine

"Find the perfect plant for your home and all the advice you need to help it thrive with Summer Rayne Oakes's passionate and timely love letter to houseplants. Less practical plant directory, more mindfully observed and scientifically founded relationship manual between plants and people to help nurture an intuitively green thumb and get the best out of your plant family. Putting houseplants back into the context of their natural habitats and the environment, and the onus on the many wonders of the Plant Kingdom–that's how to make a plant love you, and you fall more deeply in love with it."
--Sonya Patel Ellis, author of The Botanical Bible 

"The world's first gardeners were women, and in this remarkable book Summer Rayne Oakes shares their centuries of wisdom. In addition to being a love story about one woman's collection of over a thousand houseplants in a Brooklyn apartment, it's a guide the rest of us can use to get closer to nature in the modern world."
--Michelle Slatalla, editor-in-chief of Gardenista

"I already feel more in tune with my little windowsill garden of houseplants and with the earth's wider ecosystem. It's incredibly grounding to be reminded of how we come from nature and are a part of it, constantly interacting with it, dancing to its tune."
--Aine Campbell, co-founder of Model Mafia

"You will be irresistibly drawn into the world of plants through the power and beauty of Summer Rayne Oakes's prose. Whether describing the myriad houseplants in her Brooklyn apartment or retelling stories of the great but fragile rainforests of the north, Summer Rayne's writing makes you feel you're right by her side in this journey towards a more beautiful, more observant way of being." 
--Marianne Krasny, Professor and Director of Civic Ecology Lab, Cornell University

"Summer Rayne Oakes beautifully captures the essential role that plants play in our lives and the world at large. We may not all end up with 1,000 living plants inside our homes, but she shows us how we can take small steps toward a stronger connection with nature and a greener future.  This is something we think about a lot at Timberland, so I particularly enjoyed this book!" 
-- Colleen Vien, sustainability director, Timberland
Optimism Press, 9780525540281, 208pp.
Publication Date: July 9, 2019
About the Author
Summer Rayne Oakes is an environmental scientist and entrepreneur whose work focuses on health, wellness and sustainability. She founded Homestead Brooklyn, a website and YouTube channel, to help people become more attuned to nature in the city. Her work has been featured by many media outlets, including CNN, The New York Times, Vanity Fair, and Inc.