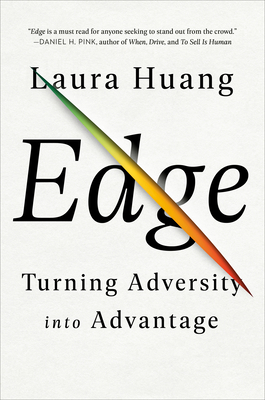 Edge
Turning Adversity into Advantage
Hardcover

* Individual store prices may vary.
Other Editions of This Title:
Digital Audiobook (1/27/2020)
Description
Laura Huang, an award-winning Harvard Business School professor, shows that success is about gaining an edge: that elusive quality that gives you an upper hand and attracts attention and support. Some people seem to naturally have it. Now, Huang teaches the rest of us how to create our own from the challenges and biases we think hold us back, and turning them to work in our favor.

How do you find a competitive edge when the obstacles feel insurmountable? How do you get people to take you seriously when they're predisposed not to, and perhaps have already written you off?

Laura Huang has come up against that problem many times--and so has anyone who's ever felt out of place or underestimated. Many of us sit back quietly, hoping that our hard work and effort will speak for itself. Or we try to force ourselves into the mold of who we think is "successful," stifling the creativity and charm that makes us unique and memorable.

In Edge, Huang offers a different approach. She argues that success is rarely just about the quality of our ideas, credentials, and skills, or our effort. Instead, achieving success hinges on how well we shape others' perceptions--of our strengths, certainly, but also our flaws. It's about creating our own edge by confronting the factors that seem like shortcomings and turning them into assets that make others take notice.

Huang draws from her groundbreaking research on entrepreneurial intuition, persuasion, and implicit decision-making, to impart her profound findings and share stories of previously-overlooked Olympians, assistants-turned-executives, and flailing companies that made momentous turnarounds. Through her deeply-researched framework, Huang shows how we can turn weaknesses into strengths and create an edge in any situation. She explains how an entrepreneur scored a massive investment despite initially being disparaged for his foreign accent, and how a first-time political candidate overcame voters' doubts about his physical disabilities.

Edge shows that success is about knowing who you are and using that knowledge unapologetically and strategically. This book will teach you how to find your unique edge and keep it sharp.
Praise For Edge: Turning Adversity into Advantage…
"We're all looking for an edge. But where does it come from? In this insightful and accessible book, Laura Huang provides the answers. Be authentic and distinct. Provide value to others. And turn adversity into advantage. Packed with fascinating stories and counterintuitive principles, Edge is a must read for anyone seeking to stand out from the crowd."
—Daniel H. Pink, author of When, Drive, and To Sell Is Human
 
"This book will change how you navigate your career and overcome obstacles along the way. Do yourself, and those you work with, a favor and read it now!"
—Marie Forleo, author of Everything is Figureoutable and founder of B-School
 
"Edge is for anyone who has found themselves feeling underestimated and unequipped to deal with a tough situation—so, all of us. Huang melds her groundbreaking research with heartfelt stories to show how all of us can—and indeed, must—create our own advantage."
—Arlan Hamilton, founder and managing partner of Backstage Capital
 
"Edge is fun to read, beautifully written and resonant—a worthy addition to every entrepreneur's toolbox. Laura Huang is a powerful new voice for those that seek to make a ruckus."
—Seth Godin, author of This Is Marketing
 
"When hard work alone isn't enough, what do you do? Edge is an invaluable guide to decoding the biases and harmful perceptions about you and your work that might be standing in your way. Huang masterfully weaves together original research and powerful stories that will leave you newly inspired and empowered to take charge of your biggest challenges."
—Susan David, Harvard Medical School psychologist, author of Emotional Agility
 
"Edge is a superbly researched, deeply insightful, and persuasive book that is destined to be a guidebook for self-empowerment and success. It's truly out of this world."
—Terry Virts, former NASA astronaut, International Space Station Commander,
U.S. Air Force Fighter Pilot
 
"Laura Huang's research on bias and gut feeling has moved the field forward significantly. Not only is she an incredible researcher, she has written a compelling, crucial book that will help readers take control of their toughest challenges with poise and authenticity."
—Seth Stephens-Davidowitz, New York Times-bestselling author of Everybody Lies
 
"An exhilarating read.  Harvard Business School professor Laura Huang upends our notions of how to get ahead with advice that is evidence-based, authentic, and hopeful."
—Dolly Chugh, Author of The Person You Mean to Be and Associate Professor at NYU Stern School of Business
Portfolio, 9780525540816, 272pp.
Publication Date: January 28, 2020
About the Author
Laura Huang is an associate professor at Harvard Business School; previously, she was an assistant professor at the Wharton School, University of Pennsylvania. Her research has been featured in the Financial Times, The Wall Street Journal, USA Today, Forbes, and Nature. Her research has won awards including a 2016 Kauffman Foundation Fellowship; Huang was named one of the 40 Best Business School Professors Under the Age of 40 by Poets & Quants. Her speaking and consulting clients include Google, Uber, BlackRock, Keystone, Bionic, and the Level Playing Field Institute. This is her first book.