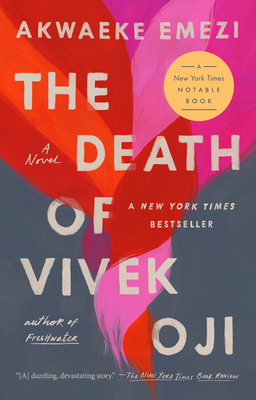 The Death of Vivek Oji
A Novel
Paperback

* Individual store prices may vary.
Other Editions of This Title:
Digital Audiobook (8/3/2020)
Digital Audiobook (8/3/2020)
Hardcover (8/4/2020)
Paperback, Large Print (8/18/2020)
August 2020 Indie Next List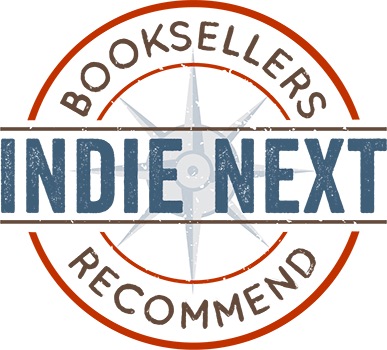 "I am staggered by the immersive, fluid, irresistible prose Emezi has perfected in their third novel,
The Death of Vivek Oji
. This tale follows the captivating, curious Vivek through the aftermath of his mysterious death, while simultaneously examining the people and relationships closest to him. Vivek, his cousin Osita, and a distant third-person narrator lead the reader through a grounded, lively picture of Nigeria, family and friendship bonds stretched to their breaking points, and the passing of this unique, complex young boy. Through addictive, multifaceted characters and a simply beautiful story, Emezi inspects masculinity, otherness, and love. This is one of the most magical, compelling, exciting, thought-provoking, and important books of our time."
— Margy Adams, Loganberry Books, Shaker Heights, OH
View the List
Description
A Good Morning America Buzz Pick

INSTANT NEW YORK TIMES BESTSELLER

"Electrifying." — O: The Oprah Magazine

Named a Best Book of 2020 by The New York Times, The Washington Post, NPR, USA TODAY, Vanity Fair, Elle, Harper's Bazaar, Marie Claire, Shondaland, Teen Vogue, Vulture, Lit Hub, Bustle, Electric Literature, and BookPage

What does it mean for a family to lose a child they never really knew?

One afternoon, in a town in southeastern Nigeria, a mother opens her front door to discover her son's body, wrapped in colorful fabric, at her feet. What follows is the tumultuous, heart-wrenching story of one family's struggle to understand a child whose spirit is both gentle and mysterious. Raised by a distant father and an understanding but overprotective mother, Vivek suffers disorienting blackouts, moments of disconnection between self and surroundings. As adolescence gives way to adulthood, Vivek finds solace in friendships with the warm, boisterous daughters of the Nigerwives, foreign-born women married to Nigerian men. But Vivek's closest bond is with Osita, the worldly, high-spirited cousin whose teasing confidence masks a guarded private life. As their relationship deepens—and Osita struggles to understand Vivek's escalating crisis—the mystery gives way to a heart-stopping act of violence in a moment of exhilarating freedom. 

Propulsively readable, teeming with unforgettable characters, The Death of Vivek Oji is a novel of family and friendship that challenges expectations—a dramatic story of loss and transcendence that will move every reader.
Praise For The Death of Vivek Oji: A Novel…
Praise for The Death of Vivek Oji:

"[A] dazzling, devastating story . . . A puzzle wrapped in beautiful language, raising questions of identity and loyalty that are as unanswerable as they are important." —The New York Times Book Review

"Electrifying" —O: The Oprah Magazine

"Brilliant . . . This is a book full of line-level beauty; a book of multiple perspectives, each rendered organically and fully; a book of mystery and community and love. . . . A special read that will not soon be forgotten." —Nana Kwame Adjei-Brenyah, author of Friday Black

"Remarkably assured and graceful. . . . Emezi has once again encouraged us to embrace a fuller spectrum of human experience." —The Washington Post

"This affecting novel of self-invention . . . poses searching questions about gender and acceptance." —The New Yorker

"Instead of getting flattened by death, Vivek becomes more vivid on each page. He glows like the sun, impossible to look at directly yet utterly charismatic. I missed him when the novel was done." —NPR

"One of the most highly acclaimed novels of 2020." —Newsweek

"Powerful . . . [a] slim book that contains as wide a range of experience as any saga — a little bit like Vivek's brief yet gloriously expansive life."  —Los Angeles Times

"One of the best books of 2020. . . . a vivid, propulsive experience. . . . about freedom and our capacity to imagine what it's like to be someone else, or perhaps, more so, what it's like to experience them as they are." — Goop

"A testament to Emezi's immense literary prowess." —Elle

"Brilliant . . . [A] beautifully tragic story of self-determined wellness, peculiar belonging, communal acceptance, and pursuing what one wants from love . . . this book is a liminal force that determines, in its own tricky way, the path to a life worth knowing." –Oluwantomisin Oredein, The Christian Century

"Equal parts heartwarming and emotionally shattering, the life and death of Vivek Oji is truly unforgettable." —Teen Vogue

"Emezi has a gift for prose that is often as visceral, tender and heartbreaking as what it describes. . . . While the novel sets out to solve the mystery of Oji's death, what gives it power is how it uncovers the story of a person shielded by the peace of self-acceptance against the pain of the world. Here is proof of what good fiction does best: it is an antidote to invisibility."  —The Guardian

"Emezi's tender prose deftly depicts the inner lives of Vivek, Osita and those around them. . . . While the mystery surrounding Vivek's death is finally revealed towards the end of this spellbinding mystery, what proves most satisfying is all that is learnt in the search for truth."  —Financial Times 

"Emezi is a beacon of literary genius… in Emezi's skilled hands, the mosaic of love, pain, community, family, trauma, and beauty, that make the crown to which Vivek is the bloody jewel, is crafted into an unforgettable and deeply moving story." —Lambda Literary

"A robust literary triumph. . . . A sensitively drawn, achingly beautiful portrayal of the boundaries of personal, gender and societal identities."  —Chicago Review of Books 

"While there are many books that stay with us long after we put them down,The Death of Vivek Oji is as permanent as a tattoo." —Paper Mag

"Equal parts brilliant and heartbreaking as readers are taken on a journey to discover the hidden parts of Vivek's life and the mystery surrounding his death." —Marie Claire 

"[One] of our greatest living writers, Akwaeke Emezi is back . . . . a story of chosen family, discovery, love, pain, grief, and how colonialism infects individuals and nations." —Shondaland 

"Electrifying . . . The Death of Vivek Oji is a masterful contemplation on gender identity and fluidity, the heavy weight of shame, and the importance of having friends and family who accept you rather than attempt to 'fix' you." — Salon

"Propulsive and resonant. . . . Emezi is a dazzling literary talent whose works cut to the quick of the spiritual self." —Esquire 

"Although Akwaeke Emezi introduces us to Vivek Oji in death[,] it is his life that will resonate with readers, long after they've turned this book's final page." — Refinery29

"A work of elegant musicality and ingenuity [that draws] the reader into a world of memories, talismans, photographs, spirits, and intimacies." —Myriam Gurba, Zora 

"A masterful winding and unwinding of the tethers of love, shame, identity, intimacy, and violence. . . . The story takes us into the intimate worlds of each character, with chapters moving fluidly between consciousness and the voice that sees all of them moving and making choices. . . . [The Death of Vivek Oji] made me want to live." —Man Repeller

"The Death of Vivek Oji is an alchemy of personal family story and untouchable myth. It circles itself, like a shark preparing to take down its prey; reader, you will be disarmed." —LitHub

"An astonishing book . . . With warmth and great detail, Emezi explores the complicated friction of cultural clashes and the loss of youthful innocence." —Stylist

"A deep, tender look at a family unraveling around the tragic and early loss of someone they loved but never understood. . . . beautifully captures an ordinary family in all its loving, hurtful, messy glory." —Shelf Awareness 

"Emezi offers a richly textured depiction of a middle-class community in Nigeria . . . Vividly written and deeply affecting." —Kirkus Reviews (starred review)

Praise for Akwaeke Emezi:

"Dazzling." —Los Angeles Times

 "Extraordinarily powerful." —Edwidge Danticat, The New Yorker

"Remarkable and daring." —The New York Times Book Review

"The arrival of a major talent." —San Francisco Chronicle

"Akwaeke Emezi parts the seas of the self."  —Vanity Fair

 "Like watching the beginning of something big." —Vox
Riverhead Books, 9780525541622, 256pp.
Publication Date: May 25, 2021
About the Author
Akwaeke Emezi (they/them) is the author of the New York Times bestseller The Death of Vivek Oji, which was shortlisted for the Dylan Thomas Prize; Pet, a finalist for the National Book Award for Young People's Literature; and Freshwater, which was named a New York Times Notable Book and shortlisted for the PEN/Hemingway Award, the New York Public Library Young Lions Fiction Award, the Lambda Literary Award, and the Center for Fiction's First Novel Prize. Selected as a 5 Under 35 honoree by the National Book Foundation, they are based in liminal spaces.