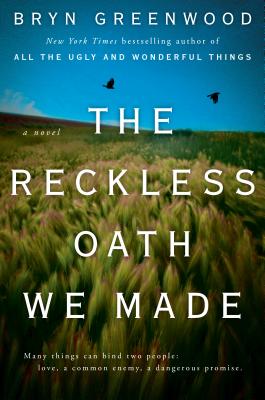 The Reckless Oath We Made
Hardcover

* Individual store prices may vary.
Other Editions of This Title:
Digital Audiobook (8/19/2019)
Paperback (8/25/2020)
Library Binding, Large Print (2/12/2020)
Description
A new provocative love story from the New York Times bestselling author of All the Ugly and Wonderful Things.
 
"The story of Zee and Gentry is the reason we read." —Brunonia Barry
 
Their journey will break them—or save them.
 
A moving and complicated love story for our time, The Reckless Oath We Made redefines what it means to be heroic. Zee has never admitted to needing anybody. But she needs Gentry. Her tough exterior shelters a heart that's loyal to the point of self-destruction, while autistic Gentry wears his heart on his sleeve, including his desire to protect Zee at all costs. When an abduction tears Zee's family apart, she turns to Gentry—and sets in motion a journey and a love that will change their lives forever.
 
"[A] mind-blowing book that has left me scrambling to pick up the pieces of my brain and my shattered heart . . . Prepare to have your mind and heart expanded to their limits." —The Oklahoman
Praise For The Reckless Oath We Made…
"Leave it to Bryn Greenwood to find loyalty and love in a world that seems devoid of both....Captivating, complex, and relentless, the story of Zee and Gentry is the reason we read, the chance to take a journey we'd never dare in real life, one that changes our perspective forever." —Brunonia Barry, author of The Lace Reader
 
"You'll love Zee, who fights for the people she loves with every ounce of strength she has. . . . Zee's life is no fairy tale, but there's something moving about the way she lets Gentry live in his version of one . . . [and how] she turns out to be the hero of her own story." —The Washington Post

"Unforgettable...Greenwood depicts an unconventional romance with honesty and tenderness. [This] upside-down contemporary fairy tale captivates with its wonderfully inventive storytelling and its compassionately drawn, flawed characters." —Kirkus Reviews (starred review)

"Greenwood's quirky, page-turning love story…is mesmerizing from its opening pages to resonant end."—BookPage (starred review)

"Themes of chivalry, loyalty, family, and personal responsibility, along with a recognition that people don't need to be perfect to be worthy of love, make this latest from Greenwood. . . a good fit for those looking for gritty contemporary realism in their romance novels."—Library Journal

"The inventiveness of the plot is nicely matched by the richness of the characters, as the unlikely duo of Zee and Gentry prepares for the battle of their lives."—Booklist

"A gorgeously-written hypnotic novel....Greenwood is an enormously talented writer, whose stunning prose and uniquely gritty and sympathetic characters completely captivated me." —Jillian Cantor, author of Margot
 
"Lyrical yet gritty. . . Greenwood is an exquisite storyteller, using multiple narratives to effortlessly bring to life characters that are complex, flawed, generous, and utterly human, and Gentry and Zee's tender, unusual romance is drawn in sweetly delicate strokes. Readers will be enchanted by this compassionate, winning novel."—Publishers Weekly

"Wry, vivid. . . The story draws together themes of desperate poverty, the complicated bonds of family, mental illness and unlikely (but no less deep) love. Like Zee herself, Greenwood's fourth novel is sharp, unexpected and undeniably powerful." —ShelfAwareness

"Greenwood's characters are flawed and marvelous . . . A stick-to-your-bones read." —Lawrence Public Library

"[A] mind-blowing book that has left me scrambling to pick up the pieces of my brain, my shattered heart and all the gooey bits of my feelings in order to submit a review on deadline. Although it is unlike anything I've ever read, it is probably the best novel I will read this year." —The Oklahoman

"A love story about two total misfits that will challenge you. Perfect for book clubs." —PopSugar

"An improbable alliance and an unlikely hero will capture your heart. You won't be able to put down this mesmerizing novel." —Liz Fenton & Lisa Steinke, bestselling authors of The Good Widow

"This novel is one to reread and treasure. I loved every word." —Barbara Claypole White, author of The Perfect Son
 
"A truly unforgettable tale that redefines what it means to be heroic. Your inner phoenix will roar!" —Therese Walsh, author of The Moon Sisters
G.P. Putnam's Sons, 9780525541844, 448pp.
Publication Date: August 20, 2019
About the Author
Bryn Greenwood is a fourth-generation Kansan, one of seven sisters, and the daughter of a mostly reformed drug dealer. She earned a MA in Creative Writing from Kansas State University and continues to work in academia as an administrator. She is the New York Times bestselling author of the novels All the Ugly and Wonderful Things, Last Will, and Lie Lay Lain. She lives in Lawrence, Kansas.
or
Not Currently Available for Direct Purchase