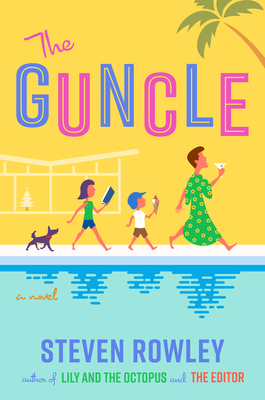 The Guncle
Hardcover

* Individual store prices may vary.
Description
From the bestselling author of Lily and the Octopus and The Editor comes a warm and deeply funny novel about a once-famous gay sitcom star whose unexpected family tragedy leaves him with his niece and nephew for the summer.

Patrick, or Gay Uncle Patrick (GUP, for short), has always loved his niece, Maisie, and nephew, Grant. That is, he loves spending time with them when they come out to Palm Springs for weeklong visits, or when he heads home to Connecticut for the holidays. But in terms of caretaking and relating to two children, no matter how adorable, Patrick is honestly a bit out of his league.

So when tragedy strikes and Maisie and Grant lose their mother and Patrick's brother has a health crisis of his own, Patrick finds himself suddenly taking on the role of primary guardian. Despite having a set of "Guncle Rules" ready to go, Patrick has no idea what to expect, having spent years barely holding on after the loss of his great love, a somewhat-stalled career, and a lifestyle not-so-suited to a six- and a nine-year-old. Quickly realizing that parenting--even if temporary--isn't solved with treats and jokes, Patrick's eyes are opened to a new sense of responsibility, and the realization that, sometimes, even being larger than life means you're unfailingly human.

With the humor and heart we've come to expect from bestselling author Steven Rowley, The Guncle is a moving tribute to the power of love, patience, and family in even the most trying of times.
Praise For The Guncle…
One of O, The Oprah Magazine's "32 LGBTQ Books That Will Change the Literary Landscape in 2021" 

"A laugh-out-loud heartwarmer." –O, The Oprah Magazine

"A joyous Auntie Mame spritz! A reading pleasure; pour yourself a tall glass and enjoy, preferably poolside. You deserve it!" –Andrew Sean Greer, winner of the 2018 Pulitzer Prize for Less

"Patrick, the hero of Steven Rowley's effervescent, utterly charming, and affecting novel, is the dearest friend you haven't met yet. You'll root for his two adorable charges as they navigate a terrible loss, and for Patrick's own heart to make a long-overdue comeback. A cleverly subversive story about what makes a family." –Christopher Castellani, author of Leading Men 

"The Guncle is super funny, charming, and tender. Love, loss, and Palm Springs are the perfect ingredients for a delightful cocktail." –Gary Janetti, author of Do You Mind If I Cancel? 

"Steven Rowley has triumphed again with his new novel The Guncle, an exuberant but tender story about life, death, family, and love. Rowley's protagonist is a modern-day Auntie Mame with every bit of that unflappable flapper's sharp wit and fabulous wisdom. This book is a dazzling banquet of laughter and insight; with it Rowley has proven himself to be one of the great comic novelists of our time." –Camille Perri, author of The Assistants and When Katie Met Cassidy

"Patrick is a famous bon vivant, caftan-wearing gay uncle with a fabulous house in Palm Springs. He's an unlikely family member to help his niece and nephew work through their feelings of raw grief after their mother dies, but it turns out he's exactly who the kids need—just as he needs them to help him address his own, less recent loss. Steven Rowley's assured and moving page-turner is studded with laugh-out-loud humor and moments of profound feeling and insight. This book hit every note on my emotional register, and I savored it like an Aperol drunk poolside with friends on a hot, desert day." –Christina Clancy, author of The Second Home

"Delightful, sharp, and very funny, The Guncle is the cocktail equivalent of the fourth sip of your martini while you sit poolside at sunset. I loved lingering in this world (and loved reading the dialogue out loud). A novel as much about family and friendship as it is about style and sass, it's a divine mix of Terms of Endearment and The Birdcage." –Timothy Schaffert, author of The Perfume Thief and The Swan Gondola
G.P. Putnam's Sons, 9780525542285, 336pp.
Publication Date: May 25, 2021
About the Author
Steven Rowley is the author of The Editor and the national bestseller Lily and the Octopus, which has been translated into nineteen languages. He has worked as a freelance writer, newspaper columnist, and screenwriter. Originally from Portland, Maine, Rowley is a graduate of Emerson College. He lives in Palm Springs, CA.