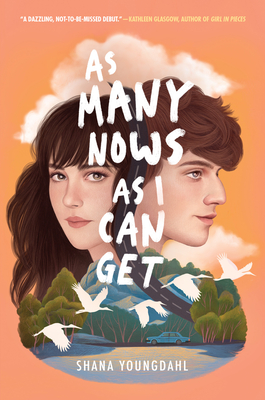 As Many Nows as I Can Get (Hardcover)
Dial Books, 9780525553854, 432pp.
Publication Date: August 20, 2019
* Individual store prices may vary.
Description
A timely, searing, and unconventional romance from an urgent new voice in young adult fiction

"A dazzling, not-to-be-missed debut." --Kathleen Glasgow, author of Girl in Pieces

In one impulsive moment the summer before they leave for college, overachievers Scarlett and David plunge into an irresistible swirl of romance, particle physics, and questionable decisions.

Scarlett and David have known each other all their lives in small-town Graceville, Colorado, where David is just another mountain in the background, until, one day, he is suddenly so much more than part of the landscape. Magnetic, spontaneous, David is a gravitational force. And Scarlett, pragmatic, wry, eye on the future, welcomes the whirlwind he brings even as she resists it.

Moving between the present and the past, this is the story of a seemingly grounded girl who's pulled into a lightning-strike romance with an electric-charged boy, and the enormity of the aftermath. Smart, bold, and unconventionally romantic, Shana Youngdahl's debut explores grief, guilt, and reconciling who you think you need to be with the person you've been all along. It's an aching, transporting reminder that between the past that shapes us and the unknowable future, we have only the present to forgive ourselves and forge ahead.

"A story you won't forget." --Huntley Fitzpatrick, author of My Life Next Door
"Mystery...Heartbreak...Hope...Readers will not be able to put this one down."--SLJ
"Vivid" --Seventeen.com
"You'll speed read through [it]" --PopSugar
"John Green-like, intelligent and peppered with witty repartee" --Booklist
"Heartbreaking, exquisitely crafted" --Estelle Laure, author of This Raging Light
"Deeply authentic...Marvelously complex...Readers shouldn't miss [it]" --Kirkus, starred review
"A complex, compassionately written love story" --PW
"Perfect." --Book Page
About the Author
Shana Youngdahl is a poet and author who teaches writing at the University of Maine at Farmington and directs the Longfellow Young Writers' Workshop. One of her greatest joys is helping people embrace the stories they need to tell. Shana lives with her husband, two daughters, and two cats in Maine. As Many Nows as I Can Get is her debut novel.
Praise For As Many Nows as I Can Get…
"A daring, inventive story about love and loss and longing, reminding us that every choice can be a new chance. A dazzling, not-to-be-missed debut." —Kathleen Glasgow, author of Girl in Pieces

"Vivid." —Seventeen.com

"You'll speed read through [it]." —PopSugar

"Real relationships, timeless loss, and a story you won't forget." —Huntley Fitzpatrick, author of My Life Next Door

"Good plot twists and surprising emotional connections . . . The writing is John Green–like, intelligent and peppered with witty repartee. Recommended." —Booklist

★ "Grief, addiction, first loves, and traveling an unplanned road are among the many themes explored in this debut novel. . . . Heartfelt yet often sardonic . . . deeply authentic . . . [and] marvelously complex . . . [A] smart, poignant story that . . . readers shouldn't miss." —Kirkus (starred review)

"If you like HBO's Euphoria? You should give this a try." —Culturess

"Mystery . . . Heartbreak . . . Hope . . . Readers will not be able to put this one down." —SLJ

"A complex, compassionately written love story." —Publishers Weekly

"This heartbreaking, exquisitely crafted story captures the moments of intersection between choice and regret, the circular nature of grief, and everything that is nuanced about being a person." —Estelle Laure, author of This Raging Light

"YA literature, some say, is about the moments when one state of being changes to another. In its structure and its story, As Many Nows as I Can Get is a perfect example of this sometimes bumpy, sometimes poignant transition." —BookPage