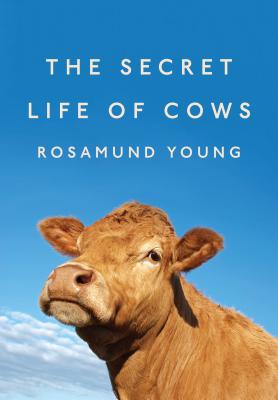 The Secret Life of Cows
Hardcover

* Individual store prices may vary.
Other Editions of This Title:
Digital Audiobook (6/11/2018)
Paperback (7/7/2020)
Paperback (4/1/2005)
Description
"Within a day of receiving this book, I had consumed it... Absorbing, moving, and compulsively readable."—Lydia Davis

In this affectionate, heart-warming chronicle, Rosamund Young distills a lifetime of organic farming wisdom, describing the surprising personalities of her cows and other animals

At her famous Kite's Nest Farm in Worcestershire, England, the cows (as well as sheep, hens, and pigs) all roam free. They make their own choices about rearing, grazing, and housing. Left to be themselves, the cows exhibit temperaments and interests as diverse as our own. "Fat Hat" prefers men to women; "Chippy Minton" refuses to sleep with muddy legs and always reports to the barn for grooming before bed; "Jake" has a thing for sniffing the carbon monoxide fumes of the Land Rover exhaust pipe; and "Gemima" greets all humans with an angry shake of the head and is fiercely independent.

An organic farmer for decades, Young has an unaffected and homely voice. Her prose brims with genuine devotion to the wellbeing of animals. Most of us never apprehend the various inner lives animals possess, least of all those that we might eat. But Young has spent countless hours observing how these creatures love, play games, and form life-long friendships. She imparts hard-won wisdom about the both moral and real-world benefits of organic farming. (If preserving the dignity of animals isn't a good enough reason for you, consider how badly factory farming stunts the growth of animals, producing unhealthy and tasteless food.)

This gorgeously-illustrated book, which includes an original introduction by the legendary British playwright Alan Bennett, is the summation of a life's work, and a delightful and moving tribute to the deep richness of animal sentience.
Praise For The Secret Life of Cows…
"Clever… [Young] affectionately details veterinary crises, inter-bovine bonds, and the quirks of Ditch-Hog, Charolais Charlotte, and other residents of her family's farm, in Worcestershire. She makes a passionate case against high-yield farming and in favor of a personalized approach." –The New Yorker

"This little book is a charmer." —People Magazine

"Rosamund Young's The Secret Life of Cows deserves its sudden reputation as a first-hand account of unutterable charm… Young describes her own work as simply a string of anecdotes and observations grouped around certain themes (example: 'Bovine friendships are seldom casual'), but the musings reveal things far more profound… The extraordinary sensitivity she exhibits towards their idiosyncrasies puts our understanding of the minds of cattle onto a completely different plane—an anecdotal accompaniment to the scientific work that scientists like Temple Grandin have already done… Young's personal approach gets the message across gently, but no less urgently. Spending a few hours in their company…will certainly teach you a loving lesson about animal dignity, and the value of kindness." —Vogue.com
 
"The Secret Life of Cows succeeds in showing that cows are thoughtful beings with individual personalities… There's great insight, too, born of long experience." —NPR.org
 
"Young's animal stories are truly charming and quietly convincing of the great value of a more natural form of farming." –Booklist

"Reflecting on over 30 years as a cattle farmer in Worcestershire, England, Young muses on her herd members' inner lives and shares best practices for keeping them happy and healthy... Contemplative and idyllic... Young's assertion that 'all animals are individuals' is certainly supported by these entertaining and tender stories." –Publishers Weekly

"A lovely, thoughtful little book about the intelligence of cows." —James Rebanks, New York Times bestselling author of The Shepherd's Life

"Within a day of receiving this book, I had consumed it. It is engrossing and informative, full of charming stories as it makes the case for regarding animals as differentiated individuals... An absorbing, moving, and compulsively readable addition to one's shelf of enlightened animal literature." —Lydia Davis, winner of the Man Booker International Prize

"I loved Rosamund Young's The Secret Life of Cows. It's a plea for us to appreciate the complex inner lives of our inquisitive, loving, bovine friends, whom we arguably exploit more than any other creature on Earth—from what we wear on our feet, via our Sunday roast, to what we pour on our granola. It also makes the great point that we should not judge animal intelligence in relation to our own." —Matt Haig, bestselling author of Reasons to Stay Alive and How to Stop Time

"A charming and surprising tale that reveals how little we know of cows." —Tim Flannery, New York Times bestselling author of The Weather Makers

"British farmer Young shows how she has continued her family's farming tradition, a moral, observant, and personal way of farming that predates the 'organic' trend or even the use of the term… A pleasant book about the joys of close observation." –Kirkus Reviews

"A small classic. But while her book is gently humorous, it is not a spoof. Cows really are diverse characters with eventful inner lives... Drawing on decades of experience, Young has a serious message concerning non-intensive, compassionate farming." —Financial Times

"Young recounts tales of bovine love and loss to 'rehumanise' cattle in the era of money-driven factory farms. Her prose is curiously moving. I felt myself welling up a little at Young's account of being 'wrenched' from a deep sleep on a cold February night by a moo of absolute determination. It was Araminta, a mother calling out for her sickly son. This touching book will have you looking at Friesians in the field - and even a nice bit of rib-eye steak - completely differently." —The Times (UK)

"Illuminating ... Her small, but perfectly formed, volume weaves entertaining anecdotes and profound insights harvested from a lifetime of caring for cows... A charming manifesto." —Sunday Telegraph (UK)


"Her insight is unexpectedly charming and fascinating - so much so that she has channeled everything she has learned about these creatures into a wonderfully evocative and enlightening book... Many amusing anecdotes which illustrate the warmth of feeling between the family and their individual animals... Touching... A wonderful and heartwarming story." —Mail on Sunday (UK)

"A delightful, spry and neatly crafted book... An account of a deeply observant life, and a portrait of umpteen generations of pedigree cows. A powerful pastoral meditation on animal husbandry, one for which Young should be congratulated and championed. Her writing issues a moral challenge to us all." —The Sunday Times (UK)
Penguin Press, 9780525557319, 160pp.
Publication Date: June 12, 2018
About the Author
Kite's Nest Farm is on the edge of The Cotswold escarpment. It is run by Rosamund Young, her brother Richard, and her partner Gareth. Nature is left to itself as much as possible and the animals receive exceptional kindness and consideration. Kite's Nest Farm produces beef and lamb from 100% grass-fed animals which are butchered and sold in the farm shop.
or
Not Currently Available for Direct Purchase