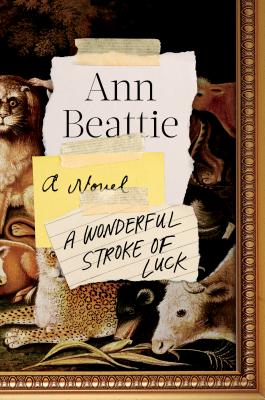 A Wonderful Stroke of Luck
A Novel
Hardcover

* Individual store prices may vary.
Other Editions of This Title:
Digital Audiobook (4/1/2019)
Paperback (4/7/2020)
Library Binding, Large Print (6/1/2019)
Description
Named a Most Anticipated Book of 2019 by Vulture, The Millions, The Observer, and O, The Oprah Magazine

A razor-sharp, deeply felt new novel--the twenty-first book by Ann Beattie--about the complicated relationship between a charismatic teacher and his students, and the secrets we keep from those we love

At a boarding school in New Hampshire, Ben joins the honor society led by Pierre LaVerdere, an enigmatic, brilliant, yet perverse, teacher who instructs his students not only about how to reason, but how to prevaricate. As the years go by, LaVerdere's covert and overt instruction lingers in his students' lives as they seek some sense of purpose or meaning. When Ben feels the pace of his life accelerating and views his intimate relationships as less and less fulfilling, there seems to be a subtext he's not able to access. And what, really, did Bailey Academy teach him?

While relationships with his stepmother and sister improve, and a move to upstate New York offers respite from his anxiety about love and work, LaVerdere's reappearance in his life disturbs his equilibrium. Everything he once thought he knew about his teacher--and himself--is called into question. Written by one of our most iconic writers, known for casting a cold eye on her generation's ambivalence and sometimes mistaken ambition, A Wonderful Stroke of Luck is a keenly observed psychological study of a man who alternates between careful driving and hazardous risk taking, as he struggles to incorporate his past into the vertiginous present.
Praise For A Wonderful Stroke of Luck: A Novel…
Praise for A Wonderful Stroke of Luck

"Even if you're not old enough to remember the thrill of reading Beattie's first-ever story to be published in The New Yorker, you'll find that the short fiction master's latest foray into long form is a marvel of wry wit and wisdom."
—O, the Oprah magazine

"Ms. Beattie captures the exhilarating feeling of being young and gifted and specially selected for stardom, but the bulk of her novel is about the long anticlimax that is real life. . . . This is Ms. Beattie's first novel since 2002, but readers of her short stories will be fully at home with its discursive style. . . . The effect is a radical decentering that comes near to conveying the essential disorientation of experience." 
—Sam Sacks, The Wall Street Journal

"Every sentence shines with wit, originality, and sharp observations."
—The Boston Globe

"Ann Beattie's 21st book proves to be her best. A Wonderful Stroke of Luck shows a complicated relationship between a brilliant teacher and his boarding school students. His influence on them—and their secrets—continues as they become adults."
—Good Housekeeping (Best Books of 2019)

"Given a week on a deserted island with a shelf of boarding-school novels, I'd start off with A Separate Peace, plow through Prep for the tenth time, and then end with A Wonderful Stroke of Luck, Beattie's foray into the #MeToo movement, which asks how deeply we internalize the lessons of charismatic, if vaguely nefarious, teachers. . . . A master class."
—Hillary Kelly, Vulture

"Ann Beattie's 21st book is the work of a master storyteller at the height of her talents. . . . It's a remarkable novel that feels so utterly real that it defies convention. It works the way life works, which is to say with misdirection and events that feel random but probably aren't. It calls to mind, in different ways, both Stoner and The Secret History—which are, incidentally, two of my all-time favorite novels."  
—Andrew Ervin, Los Angeles Review of Books

"I found [A Wonderful Stroke of Luck's] twists and shadows full of secrets and surprises. . . . What makes Beattie's work so interesting, to me, is its resistance to conventional, formal narrative structure. Its artistry is in its wit and its humanity, its remarkable formal verisimilitude. . . . A Wonderful Stroke Of Luck left me feeling as if I'd expanded my circle of real life acquaintances. . . .  I found myself frequently startled by the accuracy, perceptiveness, specificity, and humor of Beattie's observations."
—Rachel Lyon, Electric Literature

"Beattie's writing with its clever rhythm of observation, reflection, and speculation that disorients us even as it seems to be moving us forward. . . . A Wonderful Stroke of Luck puts us in its well-meaning but hapless protagonist's position—moving ahead, not necessarily getting anywhere, but graced along the way with moments that occasionally confer their own meaning."
—Minneapolis Star Tribune

"How do our charismatic teachers set the stage for the rest of our lives? That's one of the questions that Ann Beattie tackles in this novel. When a former New England boarding school student named Ben looks back on his childhood, he starts to question the motives of his superstar teacher. Later on, his teacher gets in contact, and Ben has to grapple with his legacy."
—The Millions (a Most Anticipated Book of 2019)

"I would read anything by Beattie."
—Lila Shapiro, Vulture (a Most Anticipated Book of 2019)

"An intellectually rich book with a razor-sharp sense of irony. . . . Mesmerizingly elegant. . . . Beautiful to read."
—Vox

"[Beattie's] elegantly sculpted tale is both wrenchingly sad and ultimately enigmatic: as usual."
—Kirkus Reviews (starred review)

"Gimlet-eyed Beattie has created a stunningly unnerving and provocative tale spiked with keen cultural allusions and drollery. This jarring dissection of privilege and anxiety, gender expectations, lust, ludicrous predicaments, defensive selfishness, moral confusion, and numbing loneliness projects a matrix of angst somewhat countered by the solace and sustenance found in a quiet life far from the grasping, hurried, hostile world. . . . Beattie's literary reign continues apace, thanks to her stealthily eviscerating insights and disquieting wit."
—Booklist (starred review)

"Beattie details with precision the ambiguities and self-deceptions of Ben and the other teenagers, and shows compassion as she tracks the missteps of a generation shaped by the 9/11 attack."
—Jane Ciabattari, BBC Culture
 
"A deep and interesting novel."
—Cosmo.com
 
"The novel has the mesmeric quality of remembering late youth, its chaos and loose ends, the sweet taste of being free to make bad decisions, the astringency of their potential consequences."
—Public Books

"Beattie's latest novel . . . is riven with hope and humor. . . . [A] postmodernist Greek tragedy. . . . Laugh-out-loud humorous. . . . Beattie [has] a keen ear for not only what is said but also what is left unsaid, often with tragic consequences."
—BookPage

Praise for Ann Beattie

"Unshakably intelligent, deep-hearted. . . . One feels amazed at the confidence, steadiness, and quality of [Beattie's] writing." —Lorrie Moore, The New York Times Book Review on Park City
 
"Beattie's wry voice, intimate narration, and tart characterization remain instantly recognizable." —Christopher Cox, The Paris Review's Art of Fiction interview
 
"As much as anyone's in the past fifty years . . . Ann Beattie's lifework defines what the short story can do, the extent of human life it can encompass." —Jonathan Lethem on The New Yorker Stories
 
"Full of echoes and resonant fractures, and so beguiling in its eerie simplicity. I read it twice." —Miranda July on Walks with Men
 
"A very funny book. . . . If Jane Austen had been crossed with Oscar Wilde and re-crossed with early Evelyn Waugh, and the result plonked down among the semi-beautiful people of late 20th century media-fringe America . . . the outcome might have been something like this." —Margaret Atwood, The Chicago Sun Times on Love Always
 
"Ann Beattie yet again reveals herself as one of literature's most liberating figures."
—Howard Norman, The Washington Post on The Accomplished Guest
 
"[Beattie] punctures her characters' pretensions and jadedness with an economy and effortless dialogue that writers have been trying to emulate for three decades, though few, if any, have matched her seamless combination of biting wit and mordant humor, precise irony and consummate cool." —The New York Times Book Review editors on The New Yorker Stories, a Top 10 Book of 2010
Viking, 9780525557340, 288pp.
Publication Date: April 2, 2019
About the Author
Ann Beattie has published twenty-one books and lives with her husband, the painter Lincoln Perry, in Maine. She is a recipient of the PEN/Malamud Award for achievement in the short story and a member of the American Academy of Arts and Letters and of the American Academy of Arts and Sciences.
Coverage from NPR
or
Not Currently Available for Direct Purchase