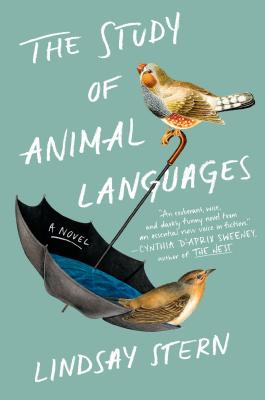 The Study of Animal Languages
A Novel
Hardcover

* Individual store prices may vary.
Other Editions of This Title:
Digital Audiobook (2/18/2019)
Paperback (2/18/2020)
Description
"An unabashedly smart and affecting portrait of the strains of a marriage." —Ayana Mathis, author of The Twelve Tribes of Hattie 

Meet Ivan and Prue: a married couple - both experts in language and communication - who nevertheless cannot seem to communicate with each other

Ivan is a tightly wound philosophy professor whose reverence for logic and order governs not only his academic interests, but also his closest relationships. His wife, Prue, is quite the opposite: a pioneer in the emerging field of biolinguistics, she is bold and vibrant, full of life and feeling. Thus far, they have managed to weather their differences. But lately, an odd distance has settled in between them. Might it have something to do with the arrival of the college's dashing but insufferable new writer-in-residence, whose novel Prue always seems to be reading?

Into this delicate moment barrels Ivan's unstable father-in-law, Frank, in town to hear Prue deliver a lecture on birdsong that is set to cement her tenure application. But the talk doesn't go as planned, unleashing a series of crises that force Ivan to finally confront the problems in his marriage, and to begin to fight - at last - for what he holds dear.

A dazzlingly insightful and entertaining novel about the limitations of language, the fragility of love, and the ways we misunderstand each other and ourselves, The Study of Animal Languages marks the debut of a brilliant new voice in fiction.
Praise For The Study of Animal Languages: A Novel…
"Lindsay Stern's astute new novel . . . brilliantly captures the fragility of our emotional bonds, but also their ability to weather difficult terrain." —Nylon

"Delightful." —The New York Post 

"At a time when communication failures seem to have reached an all-time high, [The Study of Animal Languages is] a reminder that even experts are human, and that we're all just speaking one awfully confusing animal language." —Vanity Fair, "The Books We're Looking Forward to in 2019"

"A warm, satisfying novel." —Forbes, "Five Campus Novels You Need to Read This Summer" 

"Read immediately." —Bust Magazine 

"An intimate look at love, language, and their limits." —LitHub, "Most Anticipated Books of 2019"

"[A] fresh take on the unraveling of a relationship and the fragility of our egos." —Electric Lit 

"[A] smart, entertaining and highly readable novel, one that should appeal to a diverse audience."—New York Journal of Books 

"Paging fans of Lisa Halliday's Asymmetry: The Study of Animal Languages is a thought-provoking and surefooted debut that balances questions of morality with an affecting emotional arc . . . Lively and compelling." —BookTrib

"A cerebral cross between Dr. Dolittle and The Good Place . . . Whether you worship Kierkegaard or the Kardashians, The Study of Animal Languages will give you a lot to think about." —HelloGiggles

"Sharp and witty." —Into the Void

"Brainy [and] thought-provoking . . . and a harbinger of a bright future for Stern as an author." —The Missourian

"Stern has skillfully provided a true understanding of how missteps and mistakes can lead to clarity, honesty, and relief—the happiest ending of all." —Washington Independent Review of Books

"A wise, meditative novel. Though both of the protagonists communicate expertly in their various fields, their dialogue with each other is hopelessly inarticulate, and Stern mines this (and numerous other minutia of love and marriage) with the sure-footed eloquence of an old hand." —Read It Forward

"Thought-provoking . . . A taut, brainy tale that tracks the breakdown of an academic couple's marriage while dissecting differences between language and communication, knowledge and truth, madness and inspiration." —Publishers Weekly 

"[An] intelligent first novel…The many discussions of communication, animal and human alike, add depth to [Stern's] depictions of relationships." —Booklist 

"An exuberant, wise, and darkly funny novel about love, talent, ambition, envy, and the bungled ways we try to connect and care for each other." —Cynthia D'Aprix Sweeney, author of The Nest 

"Finely wrought, marvelously dramatic, riveting—a debut of stunning maturity." —Ayana Mathis, author of The Twelve Tribes of Hattie

"Artful and astute, funny and unnerving, The Study of Animal Languages brilliantly captures how easily we can mistake our impressions of the world, and the models we make of them, for the world itself. A knockout." —Paul Harding, author of Tinkers

"A fascinating, original meditation on a human relationship and the non-human world from a very talented new writer. Quietly provocative." —Jeff VanderMeer, author of The Southern Reach Trilogy

"Calls to mind the sly humor of Ishiguro and Nabokov. I loved this novel." —Elizabeth McKenzie, author of The Portable Veblen

"The rare novel of academia that has as much in its heart as it does on its mind. Remarkably lucid and eloquent, it highlights the difficulty of communication not only between species but between individuals. Reading it, you wonder whether, like the birds, we're all just whistling tunes at each other, but also the opposite—whether, like us, the birds are sharing disquisitions of the soul." —Kevin Brockmeier, author of The Brief History of the Dead and A Few Seconds of Radiant Films

"Written with fearless emotional precision . . . I'd say that this novel was an auspicious debut were it not for the fact that Stern seems to have appeared fully formed as a writer, alert to our weaknesses, our moral missteps and the ways in which the mind and the heart so often work at cross-purposes." —Marisa Silver, author of Mary Coin and Little Nothing

"Magnificent . . . Not only will The Study of Animal Languages make a reader's mind race with fascinating thoughts, but it mesmerizes with addictive storytelling. Lindsay Stern has Nabokov's trinity of attributes that distinguish the greatest novelists: storyteller, teacher, and enchanter." —Benjamin Hale, author of The Evolution of Bruno Littlemore
 
"With Ivan as our troubled (and troubling) guide, we ask where all our certainties have gone—those fond ideals we hope to find in love, marriage, and family. A hard question, and yet the beauty and solace of this wonderful novel is that everything is finally affirmed, line by line, in the music of Stern's lean and lucid prose." —Charles D'Ambrosio, author of The Dead Fish Museum and Loitering

NAMED ONE OF THE MOST ANTICIPATED BOOKS OF 2019 BY VANITY FAIR, SOUTHERN LIVING, AND LITHUB

NAMED ONE OF THE MOST ANTICIPATED BOOKS OF FEBRUARY 2019 BY NYLON AND BUSTLE
Viking, 9780525557432, 240pp.
Publication Date: February 19, 2019
About the Author
Lindsay Stern is a graduate of the Iowa Writers' Workshop and the recipient of a Watson Fellowship and an Amy Award from Poets & Writers magazine. She is currently pursuing a PhD in comparative literature at Yale University. The Study of Animal Languages is her first novel.
or
Not Currently Available for Direct Purchase