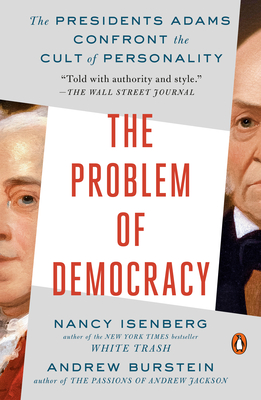 The Problem of Democracy
The Presidents Adams Confront the Cult of Personality
Paperback

* Individual store prices may vary.
Other Editions of This Title:
Digital Audiobook (4/15/2019)
Paperback, Large Print (5/14/2019)
Hardcover (4/16/2019)
Description
"Told with authority and style. . . Crisply summarizing the Adamses' legacy, the authors stress principle over partisanship."--The Wall Street Journal

How the father and son presidents foresaw the rise of the cult of personality and fought those who sought to abuse the weaknesses inherent in our democracy.

Until now, no one has properly dissected the intertwined lives of the second and sixth (father and son) presidents. John and John Quincy Adams were brilliant, prickly politicians and arguably the most independently minded among leaders of the founding generation. Distrustful of blind allegiance to a political party, they brought a healthy skepticism of a brand-new system of government to the country's first 50 years. They were unpopular for their fears of the potential for demagoguery lurking in democracy, and--in a twist that predicted the turn of twenty-first century politics--they warned against, but were unable to stop, the seductive appeal of political celebrities Thomas Jefferson and Andrew Jackson.

In a bold recasting of the Adamses' historical roles, The Problem of Democracy is a major critique of the ways in which their prophetic warnings have been systematically ignored over the centuries. It's also an intimate family drama that brings out the torment and personal hurt caused by the gritty conduct of early American politics. Burstein and Isenberg make sense of the presidents' somewhat iconoclastic, highly creative engagement with America's political and social realities. By taking the temperature of American democracy, from its heated origins through multiple upheavals, the authors reveal the dangers and weaknesses that have been present since the beginning. They provide a clear-eyed look at a decoy democracy that masks the reality of elite rule while remaining open, since the days of George Washington, to a very undemocratic result in the formation of a cult surrounding the person of an elected leader.
Praise For The Problem of Democracy: The Presidents Adams Confront the Cult of Personality…
"Although the current occupant of the White House is nowhere mentioned by name in this book, his prodigious shadow looms large. The trends that so distressed the Adamses in the nation's early years have intensified to a degree they could scarcely have imagined, thanks to virulent social media, the injection of vast sums of money into American campaigns, a politicized judiciary and rising economic inequality. We can only be grateful that father and son were spared this vision of their worst fears coming true."—The New York Times Book Review

"Ambitious and beautifully written...This book offers an abundance of riches. It is both biography and family history of two brilliant men who were deeply concerned about the long-range prospects of their country...Historians Nancy Isenberg and Andrew Burstein show us how the presidents Adams' healthy skepticism about human nature and the fragility of government have caused them to be misunderstood and underappreciated."—BookPage

"[The Adamses'] stubborn, idealistic approaches to government left a lasting imprint on institutions that are being routinely tested and challenged 200 years later."—NPR

"The Problem of Democracy is the first dual biography of the presidents Adams. Their entwined stories are told with authority and style by co-authors Andrew Burstein, a prolific historian of the early republic, and Nancy Isenberg, biographer of Aaron Burr and author of White Trash (2016), a pioneering examination of class in America. As ambitious as their protagonists, Mr. Burstein and Ms. Isenberg offer a frankly revisionist "lesson in myth busting," portraying their subjects both as latter-day Ciceros and as victims of the "cult of personality" they blame for distorting modern-day elections as well as historical estimates of presidential performance."—The Wall Street Journal
 
"[A]n informative, often moving, account of the intimate relationship between John and John Quincy Adams…Isenberg and Burstein make a compelling case that the Adamses' ideas, policies and leadership deserve our attention. As a guide to, if not a model for, addressing the flaws in our democratic processes, including the power of parties and the role celebrity plays in our political culture."—Pittsburgh Post Gazette

"Fascinating...Isenberg and Burstein find an eerie prescience in the warnings of the Adams presidents, who cautioned that democracy would be ruled by those with the "deepest purse" and that democracy's great risk was demagoguery...[The Problem of Democracy] is also keenly astute about political theory, politics of the day, and the twisted roots of American democracy."—The National Book Review

"A top-notch dual biography...An unsettling yet well-presented argument that the failures of John and John Quincy Adams illustrate a disturbing feature of American politics."—Kirkus Reviews (starred review)

"In this daring, lucid, and provocative book, Nancy Isenberg and Andrew Burstein challenge founding myths to reveal democracy as an incomplete, contested, and often distorted ideal.  By exploring the failed presidencies and probing ideas of John and John Quincy Adams, The Problem of Democracy exposes the deep roots of contemporary demagogues and their polarizing deceptions."—Alan Taylor, author of American Revolutions: A Continental History, 1750-1804

"Who better knows the byways between the Revolution and the 1840s, who else could address the politics and the personalities of both John and John Quincy Adamses with such wisdom and verve?  Better than any previous Adams chroniclers, they have identified the essential theme that persisted through both men's lives: one which concerns us now more than ever." —David Waldstreicher, editor of The Diaries of John Quincy Adams, 1779-1848



Praise for White Trash:

A New York Times Notable and Critics' Top Book
Longlisted for the PEN/John Kenneth Galbraith Award for Nonfiction
NPR's Book Concierge Guide To 2016's Great Reads
A Washington Post Notable Nonfiction Book

"Formidable and truth-dealing…necessary."—The New York Times

"This eye-opening investigation into our country's entrenched social hierarchy is acutely relevant."—O, The Oprah Magazine

"A gritty and sprawling assault on…American mythmaking."—Washington Post

"An eloquent synthesis of the country's history of class stratification."—The Boston Globe 

"A bracing reminder of the persistent contempt for the white underclass."—The Atlantic 

"[White Trash] sheds bright light on a long history of demagogic national politicking, beginning with Jackson. It makes Donald Trump seem far less unprecedented than today's pundits proclaim."—Slate

"Isenberg . . . has written an important call for Americans to treat class with the same care that they now treat race…Her work may well help that focus lead to progress."—Time  

"With her strong academic background and accessible voice, Isenberg takes pains to reveal classism's deep-seated roots."—Entertainment Weekly

"Carefully researched…deeply relevant."—The Christian Science Monitor 


Praise for Madison and Jefferson:
 
"A monumental account of a fifty-year political partnership… a dual biography of uncommon merit… a superb book that greatly deepens our understanding." —Kirkus Reviews
 
"A distinguished work, combining deep research, a pleasing narrative and an abundance of fresh insights." —Dallas Morning News


Penguin Books, 9780525557524, 576pp.
Publication Date: April 14, 2020
About the Author
Nancy Isenberg is the T. Harry Williams Professor of American History at Louisiana State University, and the author of the New York Times bestseller White Trash: The 400-Year Untold History of Class in America, and two award-winning books, Fallen Founder: The Life of Aaron Burr and Sex and Citizenship in Antebellum America. She is the coauthor, with Andrew Burstein, of Madison and Jefferson.

Andrew Burstein is the Charles P. Manship Professor of History at Louisiana State University and the author of ten previous books on early American politics and culture. These include The Passions of Andrew Jackson, Jefferson's Secrets, and Democracy's Muse. He and Nancy Isenberg have coauthored regular pieces for national news outlets.
or
Not Currently Available for Direct Purchase