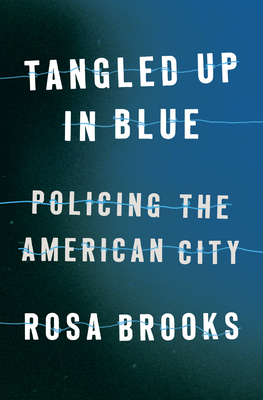 Tangled Up in Blue
Policing the American City
Hardcover

* Individual store prices may vary.
Other Editions of This Title:
Digital Audiobook (2/8/2021)
Paperback (2/8/2022)
Description
Named one of the best nonfiction books of the year by The Washington Post

"Tangled Up in Blue is a wonderfully insightful book that provides a lens to critically analyze urban policing and a road map for how our most dispossessed citizens may better relate to those sworn to protect and serve." —The Washington Post
 
"Remarkable . . . Brooks has produced an engaging page-turner that also outlines many broadly applicable lessons and sensible policy reforms." —Foreign Affairs

Journalist and law professor Rosa Brooks goes beyond the "blue wall of silence" in this radical inside examination of American policing

In her forties, with two children, a spouse, a dog, a mortgage, and a full-time job as a tenured law professor at Georgetown University, Rosa Brooks decided to become a cop. A liberal academic and journalist with an enduring interest in law's troubled relationship with violence, Brooks wanted the kind of insider experience that would help her understand how police officers make sense of their world—and whether that world can be changed. In 2015, against the advice of everyone she knew, she applied to become a sworn, armed reserve police officer with the Washington, DC, Metropolitan Police Department.

Then as now, police violence was constantly in the news. The Black Lives Matter movement was gaining momentum, protests wracked America's cities, and each day brought more stories of cruel, corrupt cops, police violence, and the racial disparities that mar our criminal justice system. Lines were being drawn, and people were taking sides. But as Brooks made her way through the police academy and began work as a patrol officer in the poorest, most crime-ridden neighborhoods of the nation's capital, she found a reality far more complex than the headlines suggested.

In Tangled Up in Blue, Brooks recounts her experiences inside the usually closed world of policing. From street shootings and domestic violence calls to the behind-the-scenes police work during Donald Trump's 2016 presidential inauguration, Brooks presents a revelatory account of what it's like inside the "blue wall of silence." She issues an urgent call for new laws and institutions, and argues that in a nation increasingly divided by race, class, ethnicity, geography, and ideology, a truly transformative approach to policing requires us to move beyond sound bites, slogans, and stereotypes. An explosive and groundbreaking investigation, Tangled Up in Blue complicates matters rather than simplifies them, and gives pause both to those who think police can do no wrong—and those who think they can do no right.
Praise For Tangled Up in Blue: Policing the American City…
"Brooks has an anthropologist's ear for the language of policing, jumping from the reports full of passive-voice bureaucratese to the darkly humorous, profanity-laden shoptalk. She zips from hilarious descriptions . . . to bone-dry observations. . . . [Brooks's] style recalls the work of immersion journalists like George Plimpton, Ted Conover and Barbara Ehrenreich—who happens to be Brooks's mother. Brooks makes this part of the story, nesting in a book on policing a beautifully written mini-memoir about growing up the daughter of a famous activist and writer, who disdains the police but also values a certain toughness." —New York Times Book Review

"Tangled Up in Blue is a wonderfully insightful book that provides a lens to critically analyze urban policing and a road map for how our most dispossessed citizens may better relate to those sworn to protect and serve." —The Washington Post

"Rosa Brooks's Tangled Up in Blue: Policing the American City promises without question to be the cop memoir for the late 2010s and early 2020s. An accomplished scholar, journalist, and author who has moved in the loftiest legal, nonprofit, and foreign policy circles, Brooks brings a distinctive perspective to the police memoir genre, which boasts few women's voices to begin with . . . But Brooks's book is also about more than just policing as an institution, or even her own experiences as a cop: It is a deeply personal family memoir, and a meditation on questions of race, class, gender, and family inheritances." —New Republic
 
"Remarkable . . . Brooks has produced an engaging page-turner that also outlines many broadly applicable lessons and sensible policy reforms." —Foreign Affairs

"Through evocative storytelling coupled with research and analysis. . . Brooks discusses the complex intersections of race and socioeconomic status in interactions between civilians and police while highlighting the often blunt enforcement of laws. A thoughtful, piercing read, Tangled Up in Blue creates nuanced portrayals of her fellow officers, the members of the community they served, and the people affected by the criminal justice system in the United States." —Booklist

"Delivers a nuanced and revealing chronicle of her experiences training to be a reserve police officer in Washington, D.C. . . . [Brooks] vividly sketches her patrol partners and the D.C. residents they encounter, and highlights problems caused by mass incarceration, racial discrimination, and lawmakers turning 'trivial forms of misbehavior' into jailable offenses. . . . This immersive, illuminating, and timely account takes a meaningful step toward bridging the gap between what American society asks of police and what they're trained to deliver." —Publishers Weekly (starred review)
 
"A thoughtful book that offers abundant material to rile up—and edify—Blue Lives Matter and Defund the Police advocates alike." —Kirkus

"Drawing from years of monthly twenty-four-hour duty—and immersion journalism—Brooks guides us past two barbed-wire-encircled arguments ('the police are racist and unnecessary' and 'get rid of a few bad apples and all's fine') to a radically better way of staying safe. A brilliant, important, timely book and gobble-up read." —Arlie Russell Hochschild, author of Strangers in Their Own Land: Anger and Mourning on the American Right

"Tangled Up in Blue is a tour de police force that is disconcerting, elegiac, and mad funny, frequently all on the same page. With wicked intelligence, sparkling writing, and boundless empathy, Rosa Brooks tells cop stories out of school that will inspire and enrage everyone from woke activists to the 'blue lives matter' crew. Nine-one-one to my fellow citizens—proceed to read this book immediately." —Paul Butler, author of Chokehold: Policing Black Men
 
"At significant personal and professional risk, Rosa Brooks put herself 'at the edge of inside' to see and feel the perspective of a cop on the street, without losing her academic and professional understanding of the constitutional role of policing in a democratic society. The stories lay bare the imperfect, and sometimes touching humanity of front-line officers and the despair of the people who are trapped in a cycle of poverty, poor decisions, and a criminal justice system designed for everything but justice. Her generous candor in sharing her personal story resonated deeply with my own personal experience as a daughter, sister, wife, and mother trying to navigate a profession that isn't always welcoming to women, especially women with strong ideas about challenging the status quo." —Sue Rahr, executive director of the Washington State Criminal Justice Training Commission, executive fellow at the National Police Foundation, and former sheriff of King County, WA

"I challenge you to find another book about policing that is more objective. Brooks comes across neither as pro-police nor anti-police—a feat all the more impressive and important in our polarized country. Brooks brings you into the station house and out to the streets, showing how policing is both far more mundane, and far more profound, than it appears in 'reality' cop shows. Her perspective is fresh and nuanced, illuminating aspects of policing I'd never before considered (and I've been considering policing for over two decades)." —Christy Lopez, former deputy chief in the Special Litigation Section of the Civil Rights Division at the U.S. Department of Justice and primary drafter of the Ferguson Report
 
"It's so rare for such a smart, thoughtful person to put on a police uniform, patrol America's streets, and relate what it feels like with insight and authenticity. Getting American policing right requires understanding how it's experienced, and Rosa Brooks brings readers as close as they can get without taking the oath themselves." —Brandon del Pozo, chief of police (ret.), Burlington, VT, and former New York City police officer
 
"Some books are timely; Some are timeless. With Rosa Brook's ability to place her first-hand experiences with the challenges local police & their neighbors face into a larger context of troubled policing history, Tangled Up in Blue just might be both." —Patrick Skinner, officer with the Savannah Police Department, and former CIA operations officer
Penguin Press, 9780525557852, 384pp.
Publication Date: February 9, 2021
About the Author
Rosa Brooks is a law professor at Georgetown University and founder of Georgetown's Innovative Policing Program. From 2016 to 2020, she served as a reserve police officer with the Washington, DC, Metropolitan Police Department. She has worked previously at the Defense Department, the State Department, and for several international human rights organizations. Her articles and essays have appeared in The New York Times, The Washington Post, The Atlantic, and The Wall Street Journal, and she spent four years as a weekly opinion columnist for the Los Angeles Times and another four as a columnist for Foreign Policy. Her most recent book, How Everything Became War and the Military Became Everything, was a New York Times Notable Book of 2016; it was also shortlisted for the Lionel Gelber Prize and named one of the five best books of the year by the Council on Foreign Relations.
or
Not Currently Available for Direct Purchase