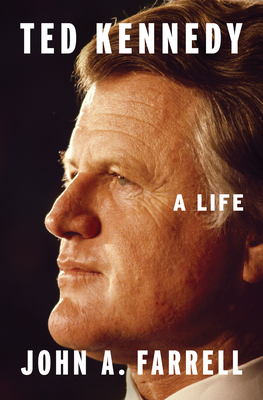 Ted Kennedy
A Life
Hardcover

* Individual store prices may vary.
Other Editions of This Title:
Digital Audiobook (10/24/2022)
Description
LONGLISTED FOR THE 2022 NATIONAL BOOK AWARD FOR NONFICTION

An enthralling and ground-breaking new biography of one of modern America's most fascinating and consequential political figures, drawing on important new sources, by an award-winning biographer who covered Kennedy closely for many years

John A. Farrell's magnificent biography of Edward M. Kennedy is the first single-volume life of the great figure since his death. Farrell's long acquaintance with the Kennedy universe and the acclaim accorded his previous books—including his New York Times bestselling biography of Richard Nixon, a finalist for the Pulitzer Prize—helped garner him access to a remarkable range of new sources, including segments of Kennedy's personal diary and his private confessions to members of his family in the days that followed the accident on Chappaquiddick. Farrell is, without question, one of America's greatest political biographers and a storyteller of deep wisdom and empathy. His book does full justice to this famously epic and turbulent life of almost unimaginable tragedy and triumph.

As the fourth son of the close-knit but fiercely competitive Kennedy clan, Ted was the runt of the litter. Expelled from Harvard University for cheating, he was a fun-loving playboy who nevertheless served his brothers loyally and effectively. It was easy to take Ted lightly, and many did. But when he was elected to the United States Senate at the age of thirty to fill his brother Jack's seat, something unexpected happened: he found his home and his calling there. Over time, Ted Kennedy would build arguably the most significant senatorial career in American history.

His life was buffeted by heartbreak: the violent deaths of his three older brothers, his own terrible plane crash, his children's bouts with cancer, and the hideous self-inflicted wounds of Chappaquiddick and stretches of drinking and womanizing that caused irreparable damage to an already fragile first marriage. Those wounds scarred Ted deeply but also tempered his character, and, eventually, he embarked on a run as legislator, party elder, and paterfamilias of the Kennedy family that would change America for the better. John A. Farrell brings us the man as he was, in strength and weakness, his profound but complicated inheritance and his vital legacy, as only a great biographer can do. Without the story this book tells, no understanding of modern America can be complete.
Praise For Ted Kennedy: A Life…
Longlisted for the National Book Award, 2022

"More than just a personal profile, Farrell's book revisits the origins of policy debates that still divide the country . . . [It] is a character study of the ways the personal and the political can overlap and conflict . . . Farrell mined historical archives from North Carolina to Kansas to California and many points in between. The result of his research is nearly 600 pages—not counting an extensive index and collection of source notes—that burst with detail." —Los Angeles Times

"Farrell is not afraid to examine complicated aspects of Kennedy's life, which makes this biography worth the time of any reader interested in our nation's political history. . . . A must-read for anyone interested in the politics of our era, and in understanding a complex figure whose policy achievements were as numerous as his vices." —The Associated Press

"A life so consequential, and by turns tragic and triumphant . . . With right-wing reaction and authoritarianism on the rise, with congressional Republicans cowed from cutting deals with Democrats . . . what better time to look at the legacy of the deal-making senator who embodied both liberal idealism and pragmatism." —Jackie Calmes, The Boston Globe

"Farrell's concise, revelatory biography emerges as the definitive single volume . . . Farrell's narrative feels fresh and indelible." —Oprah Daily

"This promises to be a definitive and important biography of the late senator. Farrell, a Pulitzer finalist for his biography of Richard Nixon, brings a deep and broad understanding of the era, along with new research findings—including sections of Kennedy's personal diaries—to paint a rounded portrait of a gifted, complex, and sometimes tortured man." —The Boston Globe

"In his magnificent, engrossing biography of Ted Kennedy, Farrell captures the full arc of the longtime Massachusetts senator's evolution, from his 'silken, Darwinian' childhood to essential patriarch of his family dynasty." —The National Book Review

"Engrossing narrative . . . An exemplary study of a life of public service with more than its share of tragedies and controversies." —Kirkus (starred review)

"Masterful account . . . The book shines in its vivid accounts of backroom political dealmaking, as Farrell enlivens his exhaustive research and expert analysis with a novelist's pacing. The result is the definitive one-volume biography of a consequential American lawmaker." —Publishers Weekly (starred review)

"With hundreds of books published about the Kennedy dynasty, it may seem that there is nothing new to be learned, yet Farrell's focused and canny research produced a fresh, multifaceted portrait of a man conflicted by history, stalked by demons, and dedicated to ideals. Equitable and discerning, Farrell's nuanced biography is a valuable addition to the Kennedy canon." —Booklist (starred review)

"Given the volumes that have been written about Ted Kennedy, his family and his legacy it is quite reasonable to think there is nothing you could read that would deepen your view about this legend of a human being. Yet John Farrell's epic account puts the lie to that. It's all here—the triumphs, the unspeakable tragedies, the self-inflicted wounds, and the abiding feeling Kennedy had every day that whatever he stood and fought for would eventually outweigh the cloud of fate that followed him across all the years. This might be the best, most honest assessment ever written about the life of a man marked for greatness and grief in equal measure." —Mike Barnicle

"A stunning achievement by a masterful biographer. Ted Kennedy emerges from the shadows of Kennedy family lore to take center stage at last. John Farrell's prodigiously researched, elegantly written biography offers readers a rounded, no-holds-barred portrait of a flawed, troubled, gifted man of many parts: son, brother, husband, father, politician, statesman, senator, failed presidential candidate, and power broker, stalked from childhood by tragedy and heartbreak, some of it self-inflicted, whose legacy may, in time, equal, if not surpass, that of his brothers." —David Nasaw, author of The Patriarch and The Last Million

"John Farrell has given us a gripping account of a complex life, one that is inseparable from the complex life of the nation. Farrell goes well beyond the Kennedy myth to give us the man in full—his great achievements, his terrible mistakes, his complicated psychology." —Louisa Thomas, author of Louisa

"We should all be glad that John A. Farrell spent decades thinking about Teddy Kennedy before deciding to write: he has the wisdom to see him in full. He gets it all. I love this book." —Lawrence O'Donnell, author of Playing with Fire
Penguin Press, 9780525558071, 752pp.
Publication Date: October 25, 2022
About the Author
John A. Farrell is the author of Richard Nixon: The Life, which won the PEN/Jacqueline Bograd Weld Award for Biography and the New-York Historical Society Barbara and David Zalaznick Book Prize in American History. It was a finalist for the Pulitzer Prize in 2018. In 2001, he published Tip O'Neill and the Democratic Century, which won the D. B. Hardeman Prize for the best book on Congress. His book Clarence Darrow: Attorney for the Damned won the Los Angeles Times Book Prize for Biography in 2011. He has also earned a George Polk award, the Gerald R. Ford prize, and White House Correspondents honors for his coverage of the presidency.