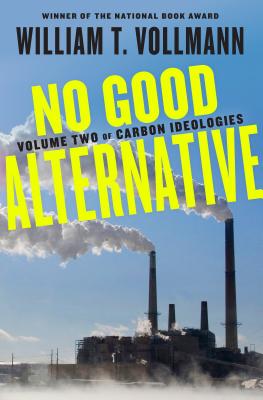 No Good Alternative
Volume Two of Carbon Ideologies
Hardcover

* Individual store prices may vary.
Other Editions of This Title:
Digital Audiobook (8/13/2018)
Paperback (7/2/2019)
Description
"The most honest book about climate change yet." —The Atlantic

"The Infinite Jest of climate books." —The Baffler

An eye-opening look at the consequences of coal mining and oil and natural gas production—the second of a two volume work by award-winning author William T. Vollmann on the ideologies of energy production and the causes of climate change

The second volume of William T. Vollmann's epic book about the factors and human actions that have led to global warming begins in the coal fields of West Virginia and Eastern Kentucky, where "America's best friend" is not merely a fuel, but a "heritage." Over the course of four years Vollmann finds hollowed out towns with coal-polluted streams and acidified drinking water; makes covert visits to mountaintop removal mines; and offers documented accounts of unpaid fines for federal health and safety violations and of miners who died because their bosses cut corners to make more money.

To write about natural gas, Vollmann journeys to Greeley, Colorado, where he interviews anti-fracking activists, a city planner, and a homeowner with serious health issues from fracking. Turning to oil production, he speaks with, among others, the former CEO of Conoco and a vice president of the Bank of Oklahoma in charge of energy loans, and conducts furtive roadside interviews of guest workers performing oil-related contract labor in the United Arab Emirates.

As with its predecessor, No Immediate Danger, this volume seeks to understand and listen, not to lay blame--except in a few corporate and political cases where outrage is clearly due. Vollmann is a carbon burner just like the rest of us; he describes and quantifies his own power use, then looks around him, trying to explain to the future why it was that we went against scientific consensus, continually increasing the demand for electric power and insisting that we had no good alternative.
Praise For No Good Alternative: Volume Two of Carbon Ideologies…
Praise for No Good Alternative:

"Carbon Ideologies is an almanac of global energy use . . . a travelogue to natural landscapes riven by energy production . . . a compassionate work of anthropology that tries to make sense of man's inability to weigh future cataclysm against short-term comfort . . . one of the most honest books yet written on climate change." —Nathaniel Rich, The Atlantic

"[Vollmann] packs voice and passion into his examination of what we are doing to the earth, taking aim at coal, oil and natural gas and filling his book with interviews with people whose lives have been disrupted by those industries. Vollmann's intended readers, he says, are those in the devastated future." —The New York Times Book Review 

"In the face of complex, contested data, Vollmann is a diligent and perceptive guide. He's also deeply mindful of those who've been sacrificed in the name of profits and political expediency. Amid the Trump administration's rollbacks of environment protections, these are incontestably important books." —The San Francisco Chronicle

"Vollmann's many fans . . . will not be disappointed . . . he packs research and voice into his impassioned works . . . Reading these two books did have an effect on me; I became even more conscious of the resources I waste in my own life." —John Schwartz, The New York Times Book Review

"One of the enjoyable things about this massive work is the way Vollmann employs irony, and that bluntest of irony called sarcasm, throughout the volume. He can be quite humorous. You might even call this the Infinite Jest of climate books . . . there's something admirable, even noble, about the sheer time and effort—and sheer humanity—that went into these volumes." —The Baffler

"Equal parts gonzo journalism, hand-wringing confessional, and one hot mess . . . the books document Vollmann's quest to understand how capitalism, consumerism, and fossil fuels are ruining the planet." —Sierra

"The best part of the books [are] the conversations Vollmann had during his travels, the sensitive histories he gives of the places he visited, and the moral impressions those conversations and places have made on him. It's these parts that made Carbon Ideologies a unique, lasting, definitive contribution to the global warming literature." —The Humanist

"An elegy to our damned epoch that's also a work of enlightenment and education . . . the book is a performance of the vexations involved in trying to understand our energy reality . . . [Vollmann's] project—not unlike that of his historical fiction—is to show with utmost fidelity what it was like to be a human involved in terrible things." —The Los Angeles Review of Books

"Vollmann portrays individuals who have endured intimidation to speak out against the 'callous villainies' of fuel corporations.  Unflinching, exacting, and forthright, he brings abiding respect, empathy, and tenderness to this endeavor . . .  Invaluable, enlightening, and heartrending testimony to how enmeshed we all are in the carbon-industrial complex and accelerated climate change." —ALA Booklist



Viking, 9780525558491, 688pp.
Publication Date: June 5, 2018
About the Author
William T. Vollmann is the author of ten novels, including Europe Central, which won the National Book Award. He has also written four collections of stories, including The Atlas, which won the PEN Center USA Award for fiction, a memoir, and six works of nonfiction, including Rising Up and Rising Down and Imperial, both of which were finalists for the National Book Critics Circle Award. His journalism and fiction have been published in the New Yorker, Harpers, Esquire, Granta, and many other publications.
or
Not Currently Available for Direct Purchase