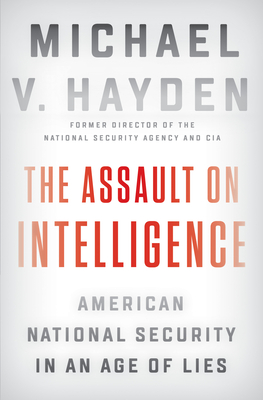 The Assault on Intelligence
American National Security in an Age of Lies
Hardcover

* Individual store prices may vary.
Other Editions of This Title:
Digital Audiobook (4/30/2018)
Paperback (5/7/2019)
Description
A blistering critique of the forces threatening the American intelligence community, beginning with the President of the United States himself, in a time when that community's work has never been harder or more important

In the face of a President who lobs accusations without facts, evidence, or logic, truth tellers are under attack. Meanwhile, the world order is teetering on the brink. North Korea is on the verge of having a nuclear weapon that could reach all of the United States, Russians have mastered a new form of information warfare that undercuts democracy, and the role of China in the global community remains unclear. There will always be value to experience and expertise, devotion to facts, humility in the face of complexity, and a respect for ideas, but in this moment they seem more important, and more endangered, than they've ever been. American Intelligence--the ultimate truth teller--has a responsibility in a post-truth world beyond merely warning of external dangers, and in The Assault on Intelligence, General Michael Hayden takes up that urgent work with profound passion, insight and authority.

It is a sobering vision. The American intelligence community is more at risk than is commonly understood, for every good reason. Civil war or societal collapse is not necessarily imminent or inevitable, but our democracy's core structures, processes, and attitudes are under great stress. Many of the premises on which we have based our understanding of governance are now challenged, eroded, or simply gone. And we have a President in office who responds to overwhelming evidence from the intelligence community that the Russians are, by all acceptable standards of cyber conflict, in a state of outright war against us, not by leading a strong response, but by shooting the messenger.

There are fundamental changes afoot in the world and in this country. The Assault on Intelligence shows us what they are, reveals how crippled we've become in our capacity to address them, and points toward a series of effective responses. Because when we lose our intelligence, literally and figuratively, democracy dies.
Praise For The Assault on Intelligence: American National Security in an Age of Lies…
"For a longtime spook, Hayden is a breezy and direct writer. He reduces complex issues of cyber and information warfare to essentials, and his polemic is leavened with humor and sympathy. He is at his best, though, when he shifts to a purely analytical tone. He coolly forecasts the direction of America under Trump, explains the intelligence that foreign governments are likely to collect from the president's Twitter feed and describes the benefits Russia drew from the June 2016 Trump Tower meeting between Kremlin-connected Russian attorneys and senior Trump campaign officials." — The New York Times 

"The more important, absorbing and disturbing aspect of Hayden's book is the analysis from his professional perspective of what Trump and Trumpism mean for the intelligence community. It is sober, nuanced and, quite frankly, scary as hell." - Mark Galeotti, Washington Post
Penguin Press, 9780525558583, 304pp.
Publication Date: May 1, 2018
About the Author
Michael Hayden is a retired United States Air Force four-star general and former Director of the National Security Agency, Principal Deputy Director of National Intelligence, and Director of the Central Intelligence Agency. He is currently a principal at the Chertoff Group, a security consultancy founded by former Homeland Security Secretary Michael Chertoff. Hayden also serves as a Distinguished Visiting Professor at George Mason University's Schar School of Policy and Government and is the founder of the Hayden Center for Intelligence, Policy, and International Security there. He is the author of the New York Times bestseller Playing to the Edge.
Coverage from NPR