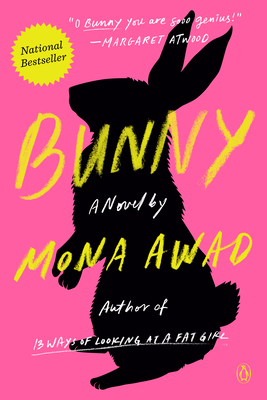 Bunny
A Novel
Paperback

* Individual store prices may vary.
Other Editions of This Title:
Digital Audiobook (6/10/2019)
Hardcover (6/11/2019)
MP3 CD (7/23/2019)
Compact Disc (7/23/2019)
June 2019 Indie Next List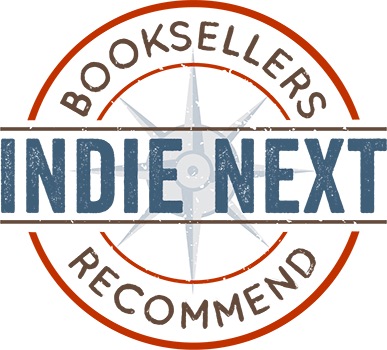 "Mona Awad tells a harrowing story of a writer trying to overcome her writer's block while simultaneously refusing to look deeper into herself or acknowledge her own needs or desires. This lack of self-knowledge leads her to a friendship with a group of young MFA students who are always 'workshopping'…with disastrous consequences. The writing feels cinematic at times, moody and illustrative. Home, identity, love (both romantic and platonic), inner (and outer) demons, and academic elitism all play a part in this spectacle of creation and destruction. Awad creates a kind of magic that changes with the wind, a contemporary Prometheus tale."
— Katrina Feraco, The Toadstool Bookshop - Keene, Keene, NH
View the List
Description
"Jon Swift + Witches of Eastwick + Kelly 'Get In Trouble' Link + Mean Girls + Creative Writing Degree Hell! No punches pulled, no hilarities dodged, no meme unmangled! O Bunny you are sooo genius!" —Margaret Atwood, via Twitter

"A wild, audacious and ultimately unforgettable novel." —Michael Schaub, Los Angeles Times 

"Awad is a stone-cold genius." —Ann Bauer, The Washington Post

The Vegetarian meets Heathers in this darkly funny, seductively strange novel from the acclaimed author of 13 Ways of Looking at a Fat Girl

"We were just these innocent girls in the night trying to make something beautiful. We nearly died. We very nearly did, didn't we?"

Samantha Heather Mackey couldn't be more of an outsider in her small, highly selective MFA program at New England's Warren University. A scholarship student who prefers the company of her dark imagination to that of most people, she is utterly repelled by the rest of her fiction writing cohort--a clique of unbearably twee rich girls who call each other "Bunny," and seem to move and speak as one.

But everything changes when Samantha receives an invitation to the Bunnies' fabled "Smut Salon," and finds herself inexplicably drawn to their front door--ditching her only friend, Ava, in the process. As Samantha plunges deeper and deeper into the Bunnies' sinister yet saccharine world, beginning to take part in the ritualistic off-campus "Workshop" where they conjure their monstrous creations, the edges of reality begin to blur. Soon, her friendships with Ava and the Bunnies will be brought into deadly collision. 

The spellbinding new novel from one of our most fearless chroniclers of the female experience, Bunny is a down-the-rabbit-hole tale of loneliness and belonging, friendship and desire, and the fantastic and terrible power of the imagination.


Named a Best Book of 2019 by TIME, Vogue, Electric Literature, and The New York Public Library
Praise For Bunny: A Novel…
"Very funny and very sharp...An extremely readable page-turner." —NPR's "Weekend Edition"

"[One of] the most cerebral and compulsively readable books of the season...This compelling novel about a mysterious grad school clique draws a bit of inspiration from Mean Girls or Heathers...before long, the novel takes a turn into the surreal, applying the logic of a horror movie to its incisive exploration of cruelty between young women." —Vanity Fair

"It's creepy and it's kooky, mysterious and spooky, and you will not be able to put it down." —The Washington Post

"A surreal, darkly funny take on art, power, and female friendships." —Entertainment Weekly

"Exquisitely precise [and] funny as hell.'" —The Boston Globe

"Like one of those razors marketed to women: you know, pink but still GD dangerous." —Elle

"To call this a dark comedy undersells the richness of its message, and to say it's a satire misses its realism. Bunny is so sharp it will leave you bloody." —Vulture

"The weirdest novel you'll read this year...in the best way possible…With hints of Heathers and Mean Girls, I read Bunny in one night and was genuinely bummed when it was over." —Mehera Bonner, Cosmopolitan

"[A] dizzying tale of misandry, class anxiety, and psychological torment . . . Fans of sinister girl gangs, take heart!" —Harper's Bazaar

"A dark, twisted novel that sharply interrogates women's relationships to one another and to art, academia, and class—it's the kind of book that leaves a taste in your mouth, the taste of blood. Who knew that would taste so good?" —Nylon

"With notes of Scream Queens and Heathers, Bunny takes readers into a twisted, terrifying cabal." —Newsweek

"[Bunny] quickly ascends to a Heathers level of camp without losing its grip on emotional reality . . . the struggle, shame, and frustration of making art rings true . . . enjoyable, insightful [and] compulsively readable." —Ploughshares 

"Tall, dark and culty." —TheSkimm

"[A] riotous, pitch-black novel . . . [Awad's] sheer panache powers you through the hilarious, hallucinogenic freakery." —The Daily Mail 

"The Secret History meets Heathers with a dash of Mean Girls. You're gonna love it." —HelloGiggles

"[A] clever, contemplative, truly absurd campus novel that manages to strike to the truth of things with a hot blade of magic." —LitHub 

"Awad's prose is compulsively readable, and Samantha's voice sticks in one's head....With this book, no axe or spell is needed: whatever ritual Awad did, Bunny came out just right." —Ploughshares

"[Awad] has a wicked sense of humor . . . The energy in her writing is truly infectious, and it's a lot of fun to go with her down the rabbit hole." —Washington Independent Review of Books

"Bunny is the lovechild of Otessa Moshfegh's Eileen and Donna Tartt's The Secret History after a chance meeting at a midnight showing of Heathers . . . Dark but hilarious, quirky yet insightful, and at times just flat out weird, Bunny is the perfect anti-beach read for those of us who spend summer dreading the outside, opting to stay in burning scented candles with our curtains drawn and our white noise machine set to 'thunder storm.'" —Napa Valley Register

"[A] riveting and often funny tale about the dark side of female seduction." —Pittsburgh Post-Gazette

"Social acceptance, female friendship, the coming-of-age process . . . it's all ripe for the discussion here." —Bustle

"Astonishingly self-assured...Awad's writing is somehow both gorgeous and gritty as she explores creativity, art and the universal desire to belong." —BookPage

"A viciously funny bloodbath . . . Awad gleefully pumps up the novel's nightmarish quality until the boundary between perception and reality has all but dissolved completely. It's clear that Awad is having fun here—the proof is in the gore—and her delight is contagious . . . Wickedly sharp . . . A near-perfect realization of a singular vision." —Kirkus, STARRED REVIEW
 
"Outstanding . . . highly addictive, darkly comedic . . . Awad will have readers racing to find out how it all ends—and they won't be disappointed once the story reaches its wild finale. This is an enchanting and stunningly bizarre novel." —Publishers Weekly, STARRED REVIEW
 
"Sharp and utterly bonkers; think Heathers gone to grad school." —Booklist

"[A] dark story that defies categorization." —Library Journal

"Mona Awad's precision is only matched by her wit as she mounts one of the most pristine, delightful attacks on popular girls since Clueless. Bunny made me cackle and nod in terrified recognition. You will be glued to your cashmere blanket." —Lena Dunham, author of Not That Kind of Girl

"The Secret History meets Jennifer's Body. This brilliant, sharp, weird book skewers the heightened rhetoric of obsessive female friendship in a way I don't think I've ever seen before. I loved it and I couldn't put it down." —Kristen Roupenian, author of "Cat Person" and You Know You Want This 
 
"Hilarious and subversive, magical and knife-sharp. This novel—a send-up of academia, an astute exploration of class in creative circles, and an ode to the uncanny power of art—confirms Mona Awad as one of our great chroniclers of what it means to be alive right now. Bunny is a stunner." —Laura van den Berg, author of The Third Hotel
 
"It is not an exaggeration to say that I devoured Bunny—teeth, fur, claws and all. Mona Awad has written a truly delectable novel that is equal parts wit, fancy, and wickedness. Unafraid to challenge some sacrosanct notions about women artists, female friendship, and writing, her book is a compulsively readable testament to the sheer creative force of loneliness and longing." —Sarah Shun-lien Bynum, author of Miss Hempel Chronicles
Penguin Books, 9780525559757, 320pp.
Publication Date: June 9, 2020
About the Author
Mona Awad is the author of 13 Ways of Looking at a Fat Girl, a finalist for the Scotiabank Giller Prize that won the Colorado Book Award, the Amazon Canada First Novel Award, and an Honorable Mention from the Arab American Book Awards. The recipient of an MFA in Fiction from Brown University and a Ph.D. in English and Creative Writing from the University of Denver, she has published work in Time, VICE, Electric Literature, McSweeney's, Los Angeles Review of Books, and elsewhere.