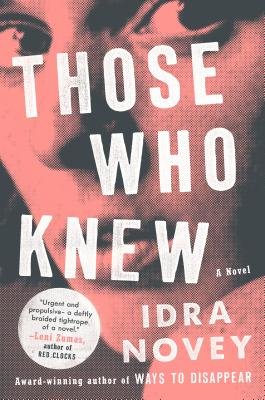 Those Who Knew
A Novel
Hardcover

* Individual store prices may vary.
Other Editions of This Title:
Digital Audiobook (11/5/2018)
Paperback (11/5/2019)
Library Binding, Large Print (3/13/2019)
November 2018 Indie Next List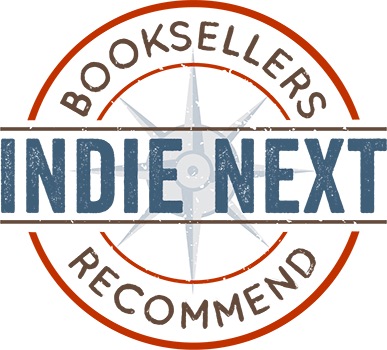 "This book packs a punch. While slender, every sentence, every word, is well-chosen and thought-provoking. However, as intellectually stimulating as it is, it's still accessible and enjoyable. Every chapter, though small, gives you a snapshot of who a character is and drives the plot along. I picked this book up on a whim and from the very first page I couldn't put it down. I can't recommend this book enough!"
— Erin Gold, pages: a bookstore, Manhattan Beach, CA
View the List
Description
Named a BEST BOOK OF THE YEAR by * NPR * Esquire * O, The Oprah Magazine * Real Simple * BBC * PopSugar * Bustle * Kirkus Reviews * Lit Hub

"A gripping, astute, and deeply humane political thriller." —The Boston Globe

"Mesmerizing [and] uncannily prescient."—Los Angeles Times

A taut, timely novel about what a powerful politician thinks he can get away with and the group of misfits who finally bring him down, from the award-winning author of Ways to Disappear.

On an unnamed island country ten years after the collapse of a U.S.-supported regime, Lena suspects the powerful senator she was involved with back in her student activist days is taking advantage of a young woman who's been introducing him at rallies. When the young woman ends up dead, Lena revisits her own fraught history with the senator and the violent incident that ended their relationship.

Why didn't Lena speak up then, and will her family's support of the former regime still impact her credibility? What if her hunch about this young woman's death is wrong?

What follows is a riveting exploration of the cost of staying silent and the mixed rewards of speaking up in a profoundly divided country. Those Who Knew confirms Novey's place as an essential new voice in American fiction.
Praise For Those Who Knew: A Novel…
Named a must-read book by * TIME * The Washington Post * Entertainment Weekly * O, The Oprah Magazine * New York Magazine * Vulture * BBC * Esquire * NPR * Nylon * Refinery29 * The Huffington Post * New York Observer * The Millions * Chicago Review of Books * Poets & Writers * The Rumpus * LitHub * Bustle * Book Bub * Read It Forward * Kirkus Reviews * The AV Club * Domino 

A New York Times Editors' Choice

"A gripping, astute, and deeply humane political thriller. . . . Glancing backward at history and forward at legacy, this is a novel about what happens when good people witness evil and say nothing. But it's a hopeful novel, too."
—The Boston Globe
 
"Mesmerizing . . . uncannily prescient . . . the rare novel that challenges its readers to consider what their silence is costing us."
—Los Angeles Times

"Set in an unnamed island nation and featuring a corrupt politician with a history of sexual assault, Novey's taut dystopian thriller bristles with dark energy, evoking a world beset by problems unnervingly like our own."
—The New York Times 

"A classic murder-mystery trope ignites this clever, sometimes chilling novel. . . . Hyper-relevant in a landscape shaped by the #MeToo movement. Its core questions resound: Will there be a reckoning with the misogyny of powerful men? Can their victims overthrow not just individuals but the system that upholds them?"
—The New Yorker

"Deftly encompasses a sweeping time frame and impressive range of points of view . . . Novey wants to draw out the prejudices, fears, and desires that are bound up with political impulses—to see whether an individual can ever untangle those knots."
—The New Republic

"Evocative . . . Timely and cleverly crafted."
—People
 
"By turns brutal, funny, and tender . . . During what are arguably our own Terrible Years, with truth and justice blurred nearly every day, Those Who Knew is as urgent as a ticking time bomb."
—O, The Oprah Magazine
 
"Idra Novey's novel Those Who Knew, about a corrupt senator who's gotten away with serious crimes for years, speaks so directly, so intensely to our ongoing reckoning with cultural misogyny . . . propulsive, with a real sense of rolling tragedy."
—Entertainment Weekly

"Novey—a poet and translator as well as a novelist—is a skillful wordsmith with descriptions that are poetic yet never overwrought . . . Those Who Knew is not only an important book about silence and its consequences, but also a sheer pleasure to read." 
—The Washington Post
 
"A fitting parable for the way many among us have been forced to grapple with revelations that the people we respect and admire might be guilty of ugly acts . . . Written in sharp prose, Those Who Knew keys into a prime lesson from our cultural reckoning with exploitation and abuse . . . Relevant and engrossing, this is a page-turning drama that tackles an essential moral dilemma."
—TIME 

"Those Who Knew has the structure and concision of a three-act drama . . . an explosive, moral Molotov cocktail . . . engaging, deeply humane."
—NPR

"Immersive and fragmented, with details that, by turns, are hazy and indelible. In tracing the origins of open secrets to their flawed, incomplete resolutions, [Novey shows] how fiction can illuminate the lingering effects of sexual misconduct."
—The Atlantic

"The explosive novel everyone should be reading this fall."  
—New York Observer

"A bold and timely novel."
—BBC

"Compelling . . . Novey, a writer, poet and translator, began work on the book long before the #MeToo movement, but her examination of power, misogyny, and complicity often feels uncannily salient."
—The Wall Street Journal

"In this provocative, beautifully written novel, Idra Novey explores timely issues—the cost of speaking up versus the cost of staying silent—with an insight and clarity that are altogether timeless."
—Nylon 

"Those Who Knew is the book you need in a culture that routinely hears—and ignores—public figures' historical treatment of women. In addition to being timely, it's simply superb." 
—Refinery29

"Utterly, painfully, of our time . . . Novey reveals the extent of our connections to one another, and the true reach of a person's actions—how they can ripple out so much farther than they'd imagined."
—Buzzfeed

"Those Who Knew is engaging and elusive . . . It's a dreamy, enchanting, and sometimes terrifying novel about resistance, long-held traumas, and identity."
—LitHub

"The second novel by the poet-translator, whose debut, Ways to Disappear, put her on a short list of boundary-busting young mystery authors, works in a dash of dystopia, untangling the dark history of a progressive senator ten years after the fall of a dictatorship." 
—New York 

"Propulsive . . . chillingly timely."
—Vulture

"A novel that feels simultaneously timely and timeless."
—The Seattle Times

"Novey's characters are forever picking at their privileges, seeing them not simply as rhetorical admissions but as dangerous things . . . Novey's breadth of insight, her ability to hold gender, class, racial and geopolitical privilege in her sights simultaneously . . . conjures riveting reading."
—Huffington Post

"One of the most poignant books published this year, Idra Novey's Those Who Knew traces the crimes committed by a powerful man in a time of political upheaval on a fictional island that feels all too real. Named a must-read book by the likes of Vulture, HuffPost, and O, the Oprah Magazine, Those Who Knew undoubtedly belongs on your bookshelf this season."
—MyDomaine

"Poet-turned-novelist Idra Novey's new book is set on an unnamed island country 10 years after the collapse of a U.S.-supported regime. Lena suspects that a powerful senator she used to be involved with is taking advantage of another young woman—and when that woman turns up dead, Lena must revisit her turbulent relationship with the senator."
—Bustle

"Novey evokes a grand scale. She at once traces the political ups and downs of a fictional nation and contrasts it with both certain real-world events in the United States . . . But Those Who Knew isn't simply about politics: it's about how people, and all of their flaws, help shape politics for good and for ill."
—Vol1Brooklyn
 
"Those Who Knew doesn't slot neatly into the framework of a #MeToo story. Novey explores power dynamics on the level of nation and generation, as well as between the sexes . . . She is a keen observer of power's effects on those who hold it."
—Pacific Standard 

"One cannot read this book without thinking of the current 'Me Too' movement and of the scandals associated with people in power. Readers will be glued to the page."
—The Missourian

"Those Who Knew speaks with uncommon prescience to the swirl around us. Novey writes, with acuity and depth, about questions of silence, power, and complicity. The universe she has created is imagined, and all too real." 
—Rebecca Traister, author of All the Single Ladies 

"There's an urgent timeliness to this story of the crimes committed by a powerful man, but Idra Novey's riveting, formally brilliant novel transcends any particular moment. Those Who Knew is a devastating inquiry into the way lofty ideals can serve as cover for brutal impulses, the way struggles for control of the body politic wreak havoc on actual bodies. Most of all, it's an indictment, at once fierce and compassionate, of the collective silence that implicates us all in irrevocable wrongs."
—Garth Greenwell, author of What Belongs to You
 
"Genius. That's what I kept thinking as I read this novel that somehow combines an invented island, a political bookstore, fragments of a stage production, and a story that's at once a damning critique of craven self-interest and a tale about our inescapable connectedness. Idra Novey has written an irreverent, magical, perfect puzzle of a book."
—Cristina Henriquez, author of The Book of Unknown Americans
 
"Those Who Knew is a beautiful novel about that which we cannot deny, in ourselves or others, and the price we are too often willing to pay for what we think is like freedom."
—Alexander Chee, author of Queen of the Night

"Novey's writing is so singularly vibrant . . . Dreamy and jarring and exceedingly topical."
—Kirkus Reviews (starred review)

"Propulsive . . . Novey's storytelling is taut and her diction sharp . . . The book [has a] striking sense of momentum. Add in a slight and intriguing sense of the supernatural, and the result is a provocative novel that has the feel of a thriller."
—Publishers Weekly

"The personal is political in this new novel from Novey. . . . By concentrating on the interconnected and very personal stories of each [character], Novey negotiates the surreal reality of an aging port city that is both victim and beneficiary of globalization. . . . Highly recommended."
—Library Journal

"Riveting . . . Novey's prescient novel explores the cost of speaking up—and the sometimes larger cost of staying silent."
—BookPage

"Tight and captivating . . . Novey exercises her considerable talents in crafting lush, riveting threads, which she braids into a spectacular crime novel."
—Shelf Awareness

"Novey creates a landscape in which her characters may represent, or sometimes hide, their nation, class, or station in life. Yet her women overcome such barriers and join together, revealing what they know in order to effect change . . . a modern parable."
—Booklist
 
Viking, 9780525560432, 256pp.
Publication Date: November 6, 2018
About the Author
Idra Novey is the award-winning author of the novel Ways to Disappear. Her work has been translated into ten languages and she's translated numerous authors from Spanish and Portuguese, most recently Clarice Lispector. She lives in Brooklyn with her family.
or
Not Currently Available for Direct Purchase