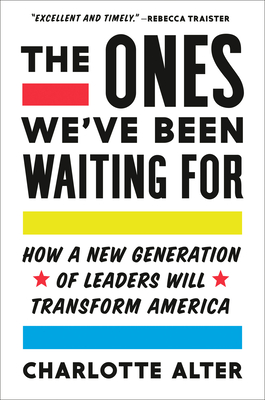 The Ones We've Been Waiting For
How a New Generation of Leaders Will Transform America
Hardcover

* Individual store prices may vary.
Other Editions of This Title:
Digital Audiobook (2/17/2020)
Paperback (5/18/2021)
Description
An optimistic look at the future of American leadership by a brilliant young reporter

A new generation is stepping up. There are now twenty-six millennials in Congress--a fivefold increase gained in the 2018 midterms alone. They are governing Midwestern cities and college towns, running for city councils, and serving in state legislatures. They are acting urgently on climate change (because they are going to live it); they care deeply about student debt (because they have it); they are utilizing big tech but still want to regulate it (because they understand how it works). In The Ones We've Been Waiting For, TIME correspondent Charlotte Alter defines the class of young leaders who are remaking the nation--how grappling with 9/11 as teens, serving in Iraq and Afghanistan, occupying Wall Street and protesting with Black Lives Matter, and shouldering their way into a financially rigged political system has shaped the people who will govern the future.

Through the experiences of millennial leaders--from progressive firebrand Alexandria Ocasio-Cortez to Democratic presidential hopeful Pete Buttigieg to Republican up-and-comer Elise Stefanik--Charlotte Alter gives the big-picture look at how this generation governs differently than their elders, and how they may drag us out of our current political despair. Millennials have already revolutionized technology, commerce, and media and have powered the major social movements of our time. Now government is ripe for disruption. The Ones We've Been Waiting For is a hopeful glimpse into a bright new generation of political leaders, and what America might look like when they are in charge.
Praise For The Ones We've Been Waiting For: How a New Generation of Leaders Will Transform America…
"[Alter] does an excellent job detailing—with persuasive data—what has shaped and motivated this young generation so far… Thanks to [her] timely book we can have a better understanding of why an entire generation was set back and what's driving it now."—New York Times Book Review

"When it comes to political prescience today, TIME magazine writer Charlotte Alter is arguably peerless… Each of Alter's chosen ones emerges as an individual with his or her own history and path. The result is a more nuanced picture of a generation than previously reported."—Los Angeles Times

"These stories are all buoyed by Alter's sharp writing and engaging voice. She is by turns sarcastic, funny and sincere, but always conversational… Alter's book will come as a tonic to millennials who have grown weary of boomers' well-worn complaints about them. That's because The Ones We've Been Waiting For takes millennials seriously — and likewise takes seriously older generations' responsibility for millennial woes, such as economic insecurity. To Alter, social media and complaints about student debt aren't symptoms of an infantilized generation. They are simply facts of millennial life and are entering political office along with all the new millennials who ascend to power — boomers' complaints be damned."—The Washington Post

"Alter is an exceptional storyteller...this nuanced & comprehensive guide does an admirable job illuminating the next generation of political leaders & the issues that drive them."
—Publisher's Weekly

"The Ones We've Been Waiting For is an excellent and timely look at the young leaders who are at the gates, and a lesson in what we have to learn from them. If you're curious about what the future looks like, this book is a thorough, thoughtful place to start."
—Rebecca Traister, New York Times Bestselling Author of Good and Mad and All the Single Ladies

"For anyone who has dismissed millennials or who cares about our country's future, Charlotte Alter has written a riveting, essential book. In bringing to vivid life the young upstarts who will ultimately inherit our democracy, Alter has inadvertently given us another vital young voice that will shape our political future: Hers."
—Amy Chozick, New York Times bestselling author of Chasing Hillary

"Just when we need it, a new generational wave is poised to sweep away the aging politicians who are part of a divisive and dysfunctional system.  In this valuable and richly reported book, Charlotte Alter weaves together the tale of ten millennials who are disrupting our stale politics.  By the end you'll smile and say to yourself, there's hope."
—Walter Isaacson, New York Times bestselling author of Leonardo da Vinci and Steve Jobs
 
"Millennials are pissed off and burnt out and ready for change—and The Ones We've Been Waiting For brilliantly profiles the leaders of our own generation who will make it happen. These leaders have been influenced (and radicalized) by pivotal millennial experiences, whether witnessing 9/11 as a young adult or taking out staggering amounts of student debt—which is part of what makes the book feel so relatable, infuriating, and hopeful, all at once."
—Anne Helen Petersen, author of Too Fat Too Slutty Too Loud
Viking, 9780525561507, 368pp.
Publication Date: February 18, 2020
About the Author
Charlotte Alter is a Senior Correspondent for TIME, covering the 2016, 2018, and 2020 campaigns, youth social movements, and women in politics. Her work has also appeared in The New York Times, The Wall Street Journal and The Wall Street Journal.
or
Not Currently Available for Direct Purchase