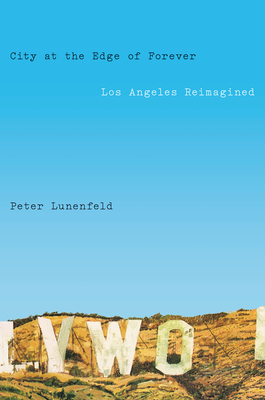 City at the Edge of Forever
Los Angeles Reimagined
Hardcover

* Individual store prices may vary.
Other Editions of This Title:
Digital Audiobook (8/10/2020)
Paperback (8/10/2021)
Description
An engaging account of the uniquely creative spirit and bustling cultural ecology of contemporary Los Angeles

How did Los Angeles start the 20th century as a dusty frontier town and end up a century later as one of the globe's supercities - with unparalleled cultural, economic, and technological reach? In City at the Edge of Forever, Peter Lunenfeld constructs an urban portrait, layer by layer, from serendipitous affinities, historical anomalies, and uncanny correspondences. In its pages, modernist architecture and lifestyle capitalism come together via a surfer girl named Gidget; Joan Didion's yellow Corvette is the brainchild of a car-crazy Japanese-American kid interned at Manzanar; and the music of the Manson Family segues into the birth of sci-fi fandom.

One of the book's innovations is to brand Los Angeles as the alchemical city. Earth became real estate when the Yankees took control in the nineteenth century. Fire fueled the city's early explosive growth as the Southland's oil fields supplied the inexhaustible demands of drivers and their cars. Air defined the area from WWII to the end of the Cold War, with aeronautics and aerospace dominating the region's industries. Water is now the key element, and Southern California's ports are the largest in the western hemisphere. What alchemists identify as the ethereal fifth element, or quintessence, this book positions as the glamour of Hollywood, a spell that sustains the city but also needs to be broken in order to understand Los Angeles now.

Lunenfeld weaves together the city's art, architecture, and design, juxtaposes its entertainment and literary histories, and moves from restaurant kitchens to recording studios to ultra-secret research and development labs. In the process, he reimagines Los Angeles as simultaneously an exemplar and cautionary tale for the 21st century.
Praise For City at the Edge of Forever: Los Angeles Reimagined…
Praise for City at the Edge of Forever:

"[City at the Edge of Forever has] compassion for those traditionally airbrushed out of the picture . . . [and] lots of delightfully shunpike Southern California lore . . . [Lunenfeld's] bracingly original account of the generational leap from '50s dads in the military to their rock-star kids—among them Jim Morrison and Gram Parsons—will more than reward a masked expedition to the bookstore." —The New York Times Book Review

"Serious fun . . . richly textured and engaging . . . an often intellectually rigorous exploration – with explosive bits of insight and erudition." —The Los Angeles Times
 
"A book that's dense with information but quick-paced and filled with an eclectic cast of Angelenos whose stories are less often considered." —The San Jose Mercury News

"Richly detailed and evocatively written, this highly original account unearths L.A. stories 'more complex [and] contradictory . . . than anything that ever made it to the screen.' Readers will be spellbound." —Publishers Weekly (starred)

"This is a luminous, engrossing book. Lunenfeld evokes all of the texture and complexity of Los Angeles in a wholly original way -- as both a real place and an imagined place, central to the American psyche." —Susan Orlean, author of The Library Book

"Here is a title to be added to the list of great meditations on Los Angeles. City at the Edge of Forever is a book about southern California but it is also a book about all of us, about how fringes become mainstream, how politics morphs into culture, and how culture mutates uncontrollably under the American sun." —Thomas Frank, author of What's the Matter with Kansas?

"There's long been this great vast instrument called Los Angeles, or more precisely the sprawlingly various history of Los Angeles, but in Peter Lunenfeld it has found a vividly fresh new interpreter: Lunenfeld's loopily jazzy improvisations are bracing in their own right, but completely revelatory as well. Who knew history could be made to shimmy and sing like this?" —Lawrence Weschler, author of Seeing is Forgetting the Name of the Thing One Sees and Mr Wilson's Cabinet of Wonder

"For many years, I called Peter Lunenfeld the caffeine of Los Angeles. With this book, he has assembled a witty, graceful history of LA's folk myths, introducing us to demi and quasi celebrities—to outliers and insiders alike—while masterfully chronicling the anxieties behind the folklore." —Norman M. Klein, author of The History of Forgetting: Los Angeles and the Erasure of Memory
Viking, 9780525561934, 336pp.
Publication Date: August 11, 2020
About the Author
Peter Lunenfeld is vice chair of UCLA's Design Media Arts department, and a faculty member in the Urban and Digital Humanities programs. He has published award-winning essays and several books with the MIT Press about the ways in which art, design, and technology intertwine. He has lived in Southern California for over thirty years.
or
Not Currently Available for Direct Purchase