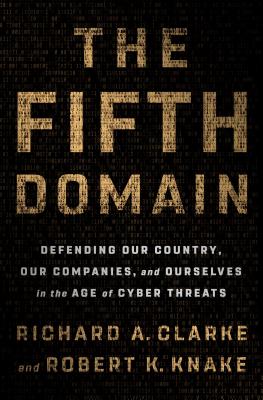 The Fifth Domain
Defending Our Country, Our Companies, and Ourselves in the Age of Cyber Threats
Hardcover

* Individual store prices may vary.
Other Editions of This Title:
Digital Audiobook (7/15/2019)
Paperback (9/15/2020)
Description
An urgent new warning from two bestselling security experts--and a gripping inside look at how governments, firms, and ordinary citizens can confront and contain the tyrants, hackers, and criminals bent on turning the digital realm into a war zone.

"In the battle raging between offense and defense in cyberspace, Clarke and Knake have some important ideas about how we can avoid cyberwar for our country, prevent cybercrime against our companies, and in doing so, reduce resentment, division, and instability at home and abroad."--Bill Clinton

There is much to fear in the dark corners of cyberspace. From well-covered stories like the Stuxnet attack which helped slow Iran's nuclear program, to lesser-known tales like EternalBlue, the 2017 cyber battle that closed hospitals in Britain and froze shipping crates in Germany in midair, we have entered an age in which online threats carry real-world consequences. But we do not have to let autocrats and criminals run amok in the digital realm. We now know a great deal about how to make cyberspace far less dangerous--and about how to defend our security, economy, democracy, and privacy from cyber attack.

This is a book about the realm in which nobody should ever want to fight a war: the fifth domain, the Pentagon's term for cyberspace. Our guides are two of America's top cybersecurity experts, seasoned practitioners who are as familiar with the White House Situation Room as they are with Fortune 500 boardrooms. Richard A. Clarke and Robert K. Knake offer a vivid, engrossing tour of the often unfamiliar terrain of cyberspace, introducing us to the scientists, executives, and public servants who have learned through hard experience how government agencies and private firms can fend off cyber threats.

Clarke and Knake take us inside quantum-computing labs racing to develop cyber superweapons; bring us into the boardrooms of the many firms that have been hacked and the few that have not; and walk us through the corridors of the U.S. intelligence community with officials working to defend America's elections from foreign malice. With a focus on solutions over scaremongering, they make a compelling case for "cyber resilience"--building systems that can resist most attacks, raising the costs on cyber criminals and the autocrats who often lurk behind them, and avoiding the trap of overreaction to digital attacks.

Above all, Clarke and Knake show us how to keep the fifth domain a humming engine of economic growth and human progress by not giving in to those who would turn it into a wasteland of conflict. Backed by decades of high-level experience in the White House and the private sector, The Fifth Domain delivers a riveting, agenda-setting insider look at what works in the struggle to avoid cyberwar.
Praise For The Fifth Domain: Defending Our Country, Our Companies, and Ourselves in the Age of Cyber Threats…
"A sobering but hopeful exploration of defenses against the weaponization of the internet . . . Clarke and Knake, drawing on interviews with experts, explain cybersecurity's intricacies in a lucid, engaging manner that avoids the alarmism that often surrounds the subject. The result is a fine survey that will interest policy makers, executives, and ordinary readers alike."—Publishers Weekly
 
"Clarke and Knake, both of whom logged time inside the cybersecurity arms of presidential administrations, have much to say about the ways in which governments and companies have tried to make themselves safe from the legions of hackers out there, from your ordinary black hats to agents of Russia, China, Iran, North Korea, and other entities. . . . The authors counsel reassuringly [that] as companies finally make the transition to more secure systems of transmission, encryption, and data storage, there is hope that the threats of old will one day be a footnote. . . . Largely of interest to policymakers and security experts, though with much for the Wired crowd as well." —Kirkus Reviews

"In the battle raging between offense and defense in cyberspace, Clarke and Knake have some important ideas about how we can avoid cyberwar for our country, prevent cybercrime against our companies, and in doing so, reduce resentment, division, and instability at home and abroad."—Bill Clinton
 
"Cyberspace is the battlefield of the future. Our national security is dependent on whether we wake up and recognize the nature of this threat. In The Fifth Domain, Richard Clarke and Robert Knake are issuing a strong wake-up call. As they conclude, 'what is missing is national consensus, will, and priority setting.' If we fail to take the necessary steps to defend ourselves, we may lose not just the battle but the war." —Leon Panetta

"In The Fifth Domain, two of America's top cybersecurity experts reach a surprising and encouraging conclusion: it is within our power to manage cyber threats. Clarke and Knake offer a wealth of practical and achievable ideas for how the U.S. government, American companies, and private citizens can deter and thwart attacks."—Susan Rice

Penguin Press, 9780525561965, 352pp.
Publication Date: July 16, 2019
About the Author
Richard A. Clarke is one of the world's leading experts on security, cyberspace, and terrorism. He served in the U.S. government for thirty years, including as White House counterterrorism coordinator under Presidents Bill Clinton and George W. Bush, and became the first White House official placed in charge of U.S. cybersecurity policy. He is the author of eight books (four works of nonfiction and four novels), including the number-one national bestseller Against All Enemies: Inside America's War on Terror.

Robert K. Knake is a senior fellow at the Council on Foreign Relations, a senior research scientist at Northeastern University, and an adviser to startups, investment firms, and Fortune 500 companies. Knake served from 2011-15 in the Obama White House as director for cybersecurity policy at the National Security Council. He is the co-author (with Clarke) of the New York Times bestseller Cyber War.
or
Not Currently Available for Direct Purchase