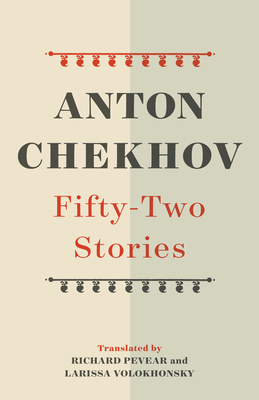 Fifty-Two Stories (Vintage Classics)
Paperback

* Individual store prices may vary.
Other Editions of This Title:
Digital Audiobook (4/13/2020)
Hardcover (4/14/2020)
Description
From the celebrated, award-winning translators of Anna Karenina and The Brothers Karamazov: a lavish volume of stories by one of the most influential short fiction writers of all time
 
Anton Chekhov left an indelible impact on every literary form in which he wrote, but none more so than short fiction. Now, renowned translators Richard Pevear and Larissa Volokhonsky give us their renderings of fifty-two Chekhov stories. These stories, which span the complete arc of his career, reveal the extraordinary variety and unexpectedness of his work, from the farcically comic to the darkly complex, showing that there is no one single type of "Chekhov story." They are populated by a remarkable range of characters who come from all parts of Russia and all walks of life, including landowners, peasants, soldiers, farmers, teachers, students, hunters, shepherds, mistresses, wives, and children. Taken together, they demonstrate how Chekhov democratized the form.
 
Included in this volume are tales translated into English for the first time, including "Reading" and "An Educated Blockhead." Early stories such as "Joy," "Anguish," and "A Little Joke" sit alongside such later works as "The Siren," "Big Volodya and Little Volodya," "In the Cart," and "About Love." In its range, in its narrative artistry, and in its perceptive probing of the human condition, this collection promises profound delight.
Praise For Fifty-Two Stories (Vintage Classics)…
"A first-rate collection. . . . Pevear and Volokhonsky select stories—happily, one for each week of the year—that express that devotion to realism, even if sometimes broadly satirically. . . . Encounters between young and old, rich and poor, country and city people mark these stories. . . . It's a marvel of imagination. A welcome gathering of work, some not often anthologized, by an unrivaled master of the short story form." —Kirkus Reviews (starred review)

Praise for the translations of Richard Pevear and Larissa Volokhonsky
 
"The premier Russian-to-English translators of the era." —David Remnick, The New Yorker
 
"The reinventors of the classic Russian novel for our times." —PEN/Book-of-the-Month Club Translation Prize Citation
 
The Complete Short Novels
Anton Chekhov
"If the institution of Russian literature as a cultural force in the English-speaking world has survived and thrived against all odds in the culturally disparate 21st century, it is due mainly to the efforts of Richard Pevear and Larissa Volokhonsky." —PopMatters
 
"A welcome gathering of the great storywriter's atypical longer works. . . . Invaluable. . . . A heartening confirmation of the matchless skill and humanity of one of the true masters." —Kirkus Reviews
 
The Brothers Karamazov
Fyodor Dostoevsky
"One finally gets the musical whole of Dostoevsky's original." —The New York Times Book Review
 
Crime and Punishment
Fyodor Dostoevsky
"Reaches as close to Dostoevsky's Russian as is possible in English . . . The original's force and frightening immediacy is captured." —Chicago Tribune
 
Demons
Fyodor Dostoevsky
"The merit . . . resides in the technical virtuosity of the translators . . . They capture the feverishly intense, personal explosions of activity and emotion that manifest themselves in Russian life." —The New York Times Book Review
 
War and Peace
Leo Tolstoy
"An extraordinary achievement . . . Wonderfully fresh and readable . . . The English-speaking world is indebted to these two magnificent translators." —The New York Review of Books
 
"A major new translation . . . [which] brings us the palpability [of Tolstoy's characters] as perhaps never before. . . . Pevear and Volokhonsky's new translation gives us new access to the spirit and order of the book." —The New Yorker
 
"Shimmering. . . . [It] offers an opportunity to see this great classic afresh, to approach it not as a monument but rather as a deeply touching story about our contradictory human hearts." —The Washington Post
 
"Tolstoy's War and Peace has often been put in a league with Homer's epic poems; it seems to me that the same might be said for Pevear and Volokhonsky's translation of his great novel. . . . Their efforts convey a much closer equivalent in English to the experience of reading the original." —New England Review
 
 

 
Vintage, 9780525562382, 528pp.
Publication Date: January 19, 2021
About the Author
Anton Chekhov was born in 1860 in southern Russia. The grandson of a serf, he became a physician, paying for his education by selling satirical and humorous sketches to the newspapers. He soon turned to serious short stories, winning the Pushkin Prize in 1887, and went on to write plays, including Uncle Vanya, The Seagull, Three Sisters, and The Cherry Orchard, and novellas, including The Steppe and The Duel. He died of tuberculosis in 1904.
 
Together, RICHARD PEVEAR and LARISSA VOLOKHONSKY have translated works by Chekhov, Dostoevsky, Tolstoy, Gogol, Bulgakov, Leskov, and Pasternak. They were twice awarded the PEN/Book-of-the-Month Club Translation Prize (for Dostoevsky's The Brothers Karamazov and Tolstoy's Anna Karenina). They are married and live in France.