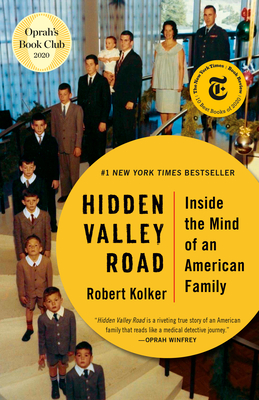 Hidden Valley Road
Inside the Mind of an American Family
Paperback

* Individual store prices may vary.
Other Editions of This Title:
Digital Audiobook (4/6/2020)
Hardcover (4/7/2020)
Paperback, Large Print (5/12/2020)
Description
#1 NEW YORK TIMES BESTSELLER • OPRAH'S BOOK CLUB PICK • ONE OF GQ's TOP 50 BOOKS OF LITERARY JOURNALISM IN THE 21st CENTURY • The heartrending story of a midcentury American family with twelve children, six of them diagnosed with schizophrenia, that became science's great hope in the quest to understand the disease.

"Reads like a medical detective journey and sheds light on a topic so many of us face: mental illness." —Oprah Winfrey

Don and Mimi Galvin seemed to be living the American dream. After World War II, Don's work with the Air Force brought them to Colorado, where their twelve children perfectly spanned the baby boom: the oldest born in 1945, the youngest in 1965. In those years, there was an established script for a family like the Galvins--aspiration, hard work, upward mobility, domestic harmony--and they worked hard to play their parts. But behind the scenes was a different story: psychological breakdown, sudden shocking violence, hidden abuse. By the mid-1970s, six of the ten Galvin boys, one after another, were diagnosed as schizophrenic. How could all this happen to one family?

What took place inside the house on Hidden Valley Road was so extraordinary that the Galvins became one of the first families to be studied by the National Institute of Mental Health. Their story offers a shadow history of the science of schizophrenia, from the era of institutionalization, lobotomy, and the schizophrenogenic mother to the search for genetic markers for the disease, always amid profound disagreements about the nature of the illness itself. And unbeknownst to the Galvins, samples of their DNA informed decades of genetic research that continues today, offering paths to treatment, prediction, and even eradication of the disease for future generations.

With clarity and compassion, bestselling and award-winning author Robert Kolker uncovers one family's unforgettable legacy of suffering, love, and hope.
Praise For Hidden Valley Road: Inside the Mind of an American Family…
ONE OF THE NEW YORK TIMES TOP TEN BOOKS OF THE YEAR
ONE OF THE WALL STREET JOURNAL TOP TEN BOOKS OF THE YEAR
PEOPLE'S #1 BEST BOOK OF THE YEAR
Named a BEST BOOK OF THE YEAR by The New York Times, The Washington Post, NPR, TIME, Slate, Smithsonian, The New York Post, and Amazon 

"Hidden Valley Road is a riveting true story of an American family that reads like a medical detective journey and sheds light on a topic so many of us face: mental illness."
—Oprah Winfrey

"A feat of empathy and narrative journalism."
—Jennifer Szalai, The New York Times
 
"Magisterial . . . A weave of gripping reportage and scientific detective story . . . Hidden Valley Road is destined to become a classic of narrative nonfiction."
—Hamilton Cain, Minneapolis Star Tribune
 
"The curse of the Galvin family is the stuff of Greek tragedy. Kolker tells their story with great compassion, burrowing inside the particular delusions and hospitalizations of each brother while chronicling the family's increasingly desperate search for help. But Hidden Valley Road is more than a narrative of despair, and some of the most compelling chapters come from its other half, as a medical mystery."
—Sam Dolnick, The New York Times Book Review

"At once deeply compassionate and chilling."
—Karen Iris Tucker, Washington Post
 
"Hidden Valley Road vividly conveys not only the inner experience of schizophrenia but its effects on the families whose members are afflicted . . . With the skill of a great novelist, Mr. Kolker brings every member of the family to life."
—Richard J. McNally, Wall Street Journal

"True-crime fanatics, this one's for you. . . mind-blowing."
—Cosmopolitan, Best Non-Fiction Books of 2020

"A marvel of reportage, research, and style, Hidden Valley Road raises the bar on what is possible in narrative nonfiction. Robert Kolker dives into the exceptional story of one family besieged by humanity's most mysterious malady. Kolker writes about the Galvin family with elegance and insight while weaving together the decades long quest to understand the genetics of schizophrenia, somehow creating a story that is as haunting and intriguing as a great gothic novel. This book is a triumph, an unforgettable story that you should read right now."
—Susannah Cahalan, author of Brain on Fire and The Great Pretender

"Hidden Valley Road contains everything: scientific intrigue, meticulous reporting, startling revelations, and, most of all, a profound sense of humanity. It is that rare book that can be read again and again."
—David Grann, author of Killers of the Flower Moon
 
"An extraordinary case study and tour de force of reporting."
—Sylvia Nasar, author of A Beautiful Mind
 
"This broad-ranging, highly readable, and deeply unsettling book tells the story of a family beset with schizophrenia, and in doing so provides meaningful insights into the devastation caused by the disease. It is, equally, a study of the multiple ways in which familial denial can exacerbate the inherent pain of mental illness, and of the courage required both of those who are themselves diagnosed with it and of those who choose to help and support them."
—Andrew Solomon, author of Far From the Tree

"This book tore my heart out. It is a revelation—about the history of mental health treatment, about trauma, foremost about family—and a more-than-worthy follow-up to Robert Kolker's brilliant Lost Girls."
—Megan Abbott, Edgar Award-winning author of Dare Me and Give Me Your Hand
 
"In a narrative that is at once gripping and humane, Kolker tells an ultimately hopeful story of one family's small victories and the slow progress of research that may someday benefit millions."
—Marin Sardy, author of The Edge of Every Day

"A sweeping yet profoundly intimate story of one family's breathtaking challenges with schizophrenia and humanity's long history of misbegotten efforts to make sense of, and treat, the condition. Like The Immortal Life of Henrietta Lacks, this masterfully researched and utterly engrossing book shines a light on individuals who were foundational to medical study—and subjected to questionable ethics. Your heart will break, your sympathies will swell, and the Galvins will stay with you forever."
—Rachel Simon, author of Riding the Bus with My Sister

"A stunning, riveting chronicle crackling with intelligence and empathy . . . Kolker tackles this extraordinarily complex story so brilliantly and effectively that readers will be swept away. An exceptional, unforgettable, and significant work that must not be missed."
—Booklist, starred review
 
"Riveting and disquieting . . . Kolker deftly follows the psychiatric, chemical, and biological theories proposed to explain schizophrenia and the various treatments foisted upon the brothers. Most poignantly, he portrays the impact on the unafflicted children of the brothers' illness, an oppressive emotional atmosphere, and the family's festering secrets . . . A family portrait of astounding depth and empathy."
—Kirkus Reviews, starred review
 
"A powerful look at schizophrenia and the quest to understand it . . . A taut and often heartbreaking narrative . . . A haunting and memorable look at the impact of mental illness on multiple generations."
—Publishers Weekly, starred review
Anchor, 9780525562641, 400pp.
Publication Date: March 2, 2021
About the Author
ROBERT KOLKER is the New York Times bestselling author of Lost Girls, named one of the New York Times's 100 Notable Books and one of Publishers Weekly's Top Ten Books of 2013. As a journalist, his work has appeared in New York magazine, Bloomberg Businessweek, The New York Times Magazine, Wired, GQ, O Magazine, and Men's Journal. He is a National Magazine Award finalist and a recipient of the 2011 Harry Frank Guggenheim Award for Excellence in Criminal Justice Reporting from the John Jay College of Criminal Justice in New York.