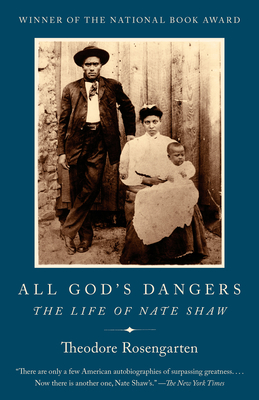 All God's Dangers
The Life of Nate Shaw
Paperback

* Individual store prices may vary.
Other Editions of This Title:
Digital Audiobook (8/26/2014)
MP3 CD (8/27/2014)
Compact Disc (8/27/2014)
MP3 CD (8/27/2014)
Compact Disc (8/27/2014)
Description
Nate Shaw's father was born under slavery. Nate Shaw was born into a bondage that was only a little gentler. At the age of nine, he was picking cotton for thirty-five cents an hour. At the age of forty-seven, he faced down a crowd of white deputies who had come to confiscate a neighbor's crop. His defiance cost him twelve years in prison. This triumphant autobiography, assembled from the eighty-four-year-old Shaw's oral reminiscences, is the plain-spoken story of an "over-average" man who witnessed wrenching changes in the lives of Southern black people—and whose unassuming courage helped bring those changes about.
Praise For All God's Dangers: The Life of Nate Shaw…
"There are only a few American autobiographies of surpassing greatness. . . . Now there is another one, Nate Shaw's." —The New York Times

"Extraordinarily rich and compelling . . . possesses the same luminous power we associate with Faulkner . . . the same marvelous idiom, the same wry, sardonic humor . . . [ it] will stun the listener-reader, hold him in its grip, and never really quite let go of him?" —The Washington Post

"Eloquent and revelatory. When, finally, this big book is put down, one feels exhilarated. This is an anthem to human endurance." —Studs Terkel, New Republic

"Nineteen seventy-four was a good year for nonfiction writing in America. Robert A. Caro's monumental biography of Robert Moses, The Power Broker, came out. So did Bob Woodward and Carl Bernstein's All the President's Men. So did Working, by Studs Terkel, and Robert M. Pirsig's Zen and the Art of Motorcycle Maintenance. Each was a finalist for the National Book Award. Yet the winner in general nonfiction—the category was then called contemporary affairs—was All God's Dangers: The Life of Nate Shaw, an oral history of an illiterate black Alabama sharecropper. . . . It is superb—both serious history and a serious pleasure, a story that reads as if Huddie Ledbetter spoke it while W. E. B. Du Bois took dictation. . . . All God's Dangers . . . deserves a place in the front rank of American autobiographies." —Dwight Garner, The New York Times
 
"In moments of joy or grief, [Shaw] is capable of a sort of poetry. . . . Every page of this book is resonant with Shaw's intelligence, with his delight in the use of the mind. And this is a conscious delight: 'I've learned many a thing that's profitable to me, and I've learned a heap that ain't profitable, but to learn anything at all is a blessin'.'" —Wendell Berry, The Nation
 
"The authentic voice of a warm, brave, and decent individual. . . . A pleasure to read. . . . Shaw's observations on the life and people around him, clothed in wonderfully expressive language, are fresh and clear." —H. W. Bragdon, Christian Science Monitor
 
"Astonishing . . . Nate Shaw was a formidable bearer of memories. . . . Miraculously, this man's wrenching tale sings of life's pleasures: honest work, the rhythm of the seasons, the love of relatives and friends, the stubborn persistence of hope when it should have vanished. . . . All God's Dangers is most valuable for its picture of pure courage." —Paul Gray, Time
 
"A triumph of ideas and historical content as well of expression and style." —Randall Jarrell, Harvard Educational Review
 
"Tremendous . . . a testimony of human nobility . . . the record of a heroic man with a phenomenal memory and a life experience of a kind of seldom set down in print . . . a person of extraordinary stature, industrious, brave, prudent, and magnanimous. . . . One emerges from these hundreds of pages wiser, sadder, and better because of them. A unique triumph!" —Alfred C. Ames, Chicago Tribune Book World
 
"Awesome and powerful. . . . A living history of nearly a century of cataclysmic change in the life of the Southerner, both black and white. . . . Nate Shaw spans our history from slavery to Selma, and he can evoke each age with an accuracy and poignancy so pure that we stand amazed." —Baltimore Sun


Vintage, 9780525562856, 608pp.
Publication Date: July 31, 2018
About the Author
Theodore Rosengarten is an independent historian whose work focuses on the lives of slaves and freedmen in the nineteenth and twentieth centuries. He is the author of Tombee: Portrait of a Cotton Planter and editor of A Portion of People: Three Hundred Years of Southern Jewish Life. Rosengarten teaches in the Jewish Studies Program and the Department of History at the College of Charleston. He has served as a senior research associate in documentary studies at Duke University and has taught previously at Harvard University and the University of South Carolina. He lives with his wife, Dale, and two sons in South Carolina.