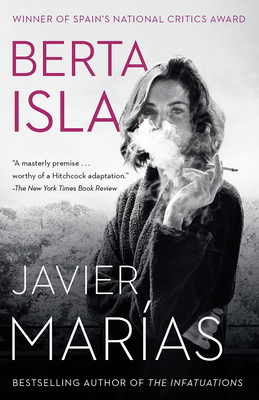 Berta Isla
A novel (Vintage International)
Paperback

* Individual store prices may vary.
Other Editions of This Title:
Digital Audiobook (8/5/2019)
Paperback, Spanish (8/6/2019)
Digital Audiobook, Spanish, Castilian (11/20/2019)
Hardcover (8/6/2019)
Description
A LIBRARY JOURNAL BEST BOOK OF THE YEAR

When Berta Isla was a schoolgirl, she decided she would marry Tomás Nevinson--the dashing half-Spanish, half-English boy in her class with an extraordinary gift for languages. But when Tomás returns to Madrid from his studies at Oxford, he is a changed man. Unbeknownst to her, he has been approached by an agent from the British intelligence services, and he has unwittingly set in motion events that will derail forever the life they had planned. 

With peerless insight into the most shadowed corners of the human soul, Marías plunges the reader into the growing chasm between Berta and Tomás and the decisions that irreversibly change the course of the couple's fate. Berta Isla is a novel of love and truth, fear and secrecy, buried identities, and the destinies we bring upon ourselves.
Praise For Berta Isla: A novel (Vintage International)…
"Marías, a celebrated Spanish author, offers up a masterly premise and plot that are worthy of a Hitchcock adaptation, and the denouement does not disappoint."—The New York Times Book Review

"Marías transforms a spy thriller into an eloquent depiction of those left behind at home in this rich novel . . .  The espionage premise is initially enticing, but the real draw is the depth of Marías's characterization. This weighty novel rewards readers with the patience for its deliberate dissection of a marriage."—Publisher's Weekly

"Deceit and arbitrary power are the dynamos of this dense, compelling novel by one of Europe's most admired authors . . . Time reading and thinking about it will be well-spent."—The Washington Times

"Marías, who's long had a reputation as your favorite author's favorite author, has lately earned himself a growing readership in the States, and Berta Isla is certainly likely to help the cause. At first blush, Berta Isla appears to be a spy thriller in the style of John le Carré . . . Soon, however, Marías' trademark webs begin to spread, and the novel becomes an interrogation of language, relationships, and the modern condition."—Lit Hub

"A brooding tale of lives darkened by separation and deception . . . As usual, Marías propels his philosophical debates with the urgency of a thriller, including a bravura plot twist . . . Skilled and provocative, as always."—Kirkus Reviews
 
"Marías succeeds in creating his own fictional world . . . He continues to validate his well-deserved global reputation."—Lawrence Olszewski, Library Journal [starred]

"Marías's signature prose . . . through which the narrative flows smoothly, engulfing the reader. Marías has been touted as a contender for the Nobel Prize in Literature, this novel illustrates why."—Booklist [starred]

UK Reviews

"Uncommonly powerful, endlessly inventive . . . Part spy thriller, part murder mystery, part cerebral caper." —Matt Rowland Hill, Literary Review

"An unexpected approach to the espionage-thriller formula, mixing marital intrigue with a history lesson of late 20th-century conflict . . . [Also] a dialled-up drama of early motherhood . . . A twisty, thought-provoking tale that puts notions of truth and morality under pitiless scrutiny."—Anthony Cummins, The Observer
 
"Full of humour and intelligence . . . More sinuous and satisfying than many of its precursors . . . Ranks as Marías's best novel in years."—Daniel Gascón, Times Literary Supplement
 
"A novel by Javier Marías, as his millions of readers know, is never what it purports to be. Spain's most eminent novelist, Nobel laureate in waiting, translated into more than 40 languages, Marías likes to play with existential ideas. [His] stories are always interwoven with deliberations on truth, morality, deceit and the impossibility of knowing one another, with side trips through literature and history . . . Berta Isla has many of the master's signature preoccupations . . . The elegant translation is alive to every nuance . . . Berta, the desolate wife, is the heart of the story; her first-person narrative eloquently occupies the bulk of the novel . . . A complex, emotionally torn character, she evolves and matures, and her intimate story carries the book."—Lee Langley, The Spectator
 
"Elegant . . . Persuasively vivid . . . Marías knows that espionage depends on lies and weasely versions of the truth; that sometimes the false stories used to bait the enemy are as important as James Bond heroics. George Smiley is perhaps a better model for the twilight realm in which Marías's characters live . . . This is an enthralling work . . . Powerful and indelible."—Rosemary Goring, Herald Scotland
Vintage, 9780525563129, 496pp.
Publication Date: July 7, 2020
About the Author
JAVIER MARÍAS was born in Madrid in 1951. He has published fifteen novels, including The Infatuations and A Heart So White, as well as three collections of short stories and several volumes of essays. His work has been translated into forty-four languages, has sold more than eight and a half million copies worldwide, and has won a dazzling array of international literary awards, including the prestigious International IMPAC Dublin Literary Award and the Prix Femina Étranger. Translated from the Spanish by Margaret Jull Costa.
or
Not Currently Available for Direct Purchase