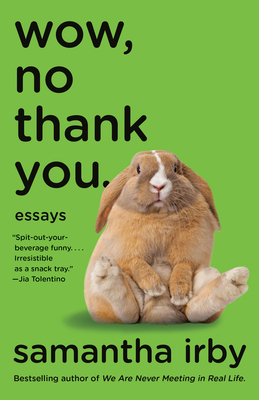 Wow, No Thank You.
Essays
Paperback

* Individual store prices may vary.
Other Editions of This Title:
Digital Audiobook (3/30/2020)
Digital Audiobook (3/30/2020)
Description
Winner of 2021 Lambda Literary Award for Bisexual Nonfiction • #1 NEW YORK TIMES BESTSELLER • From Samantha Irby, beloved author of We Are Never Meeting in Real Life, a rip-roaring, edgy and unabashedly raunchy new collection of hilarious essays.

"Stay-up-all-night, miss-your-subway-stop, spit-out-your-beverage funny.... irresistible as a snack tray, as intimately pleasurable as an Irish goodbye." —Jia Tolentino

Irby is forty, and increasingly uncomfortable in her own skin despite what Inspirational Instagram Infographics have promised her. She has left her job as a receptionist at a veterinary clinic, has published successful books and has been friendzoned by Hollywood, left Chicago, and moved into a house with a garden that requires repairs and know-how with her wife in a Blue town in the middle of a Red state where she now hosts book clubs and makes mason jar salads. This is the bourgeois life of a Hallmark Channel dream. She goes on bad dates with new friends, spends weeks in Los Angeles taking meetings with "tv executives slash amateur astrologers" while being a "cheese fry-eating slightly damp Midwest person," "with neck pain and no cartilage in [her] knees," who still hides past due bills under her pillow.

The essays in this collection draw on the raw, hilarious particulars of Irby's new life. Wow, No Thank You. is Irby at her most unflinching, riotous, and relatable.
Praise For Wow, No Thank You.: Essays…
A Most Anticipated Book according to: 

*Elle * Oprah Magazine * Vulture * New York Times * PureWow * AV CLub * Time Magazine * Entertainment Weekly * PureWow * Buzzfeed * The Observer * Bustle * Huffington Post * The Millions * Parade * Electric Literature * Bustle * Lithub * BookRiot * Bitch * Washington Independent * The Rumpus * and more * 

"As fitting a response to 2020 as I can imagine... Wildly, seditiously funny.... Read Irby because she knows what it means to live with a fair amount of panic and largely indoors.... She might be our great bard of quarantine—with an unimpeachable daytime pajama look.... This is her voice: deadpan, confiding, companionable.... [Her] three collections, which span a decade, ought to be read together, with this latest as a coda, striking its valedictory note." 
—Parul Sehgal, The New York Times
 
"Samantha Irby's Wow, No Thank You is a gift that everyone should give themselves and each other. She writes with such wisdom about our culture and such honesty about herself. And nobody—but nobody—is funnier. Every time I read Irby, I feel freer."
—Glennon Doyle, Hello Sunshine
 
"America's most talented comic writer."
—The New Republic
 
"Hilarious, fascinating."
—Gretchen Rubin
 
"Funny and sharp—it's a frighteningly precise look at the cultural landscape. I can only read one essay at a time—not just because I'm distracted, but so as to savour Irby's wit and wisdom."
—Candice Carty-Williams, The Guardian
 
"There is no greater truth teller out there these days than Samantha Irby."
—The Advocate, Women of the Year
 
"Irby is still just one of the funniest writers out there; this is her new essay collection. There's a line where she's at the club and someone confuses her for Roxane Gay, and I was just laughing so hard that I was having trouble breathing."
—Kevin Nguyen, Buzzfeed, 15 Great New Books
 
"Samantha Irby has an ideal comic voice for this particular moment in time: a little casual, fairly raunchy and always hilarious. Her musings on everything from marriage to bodily functions are eminently digestible even when the food she chooses to eat is not."
—Wall Street Journal
 
"Wow, No Thank You, is a spicy cocktail that will intoxicate readers—a few fingers of Dorothy Parker and a splash of comedian Wanda Sykes, as bracing and delicious as a cosmopolitan.... If zingers were money, [Irby]'d be a zillionaire.... A pop-culture pleasure of the moment, suitable for tucking in a time capsule as the world hurtles into an uncertain future."
—The Nashville Scene
 
"The wit is accompanied by wisdom throughout; and, in a plague year, there's added resonance to Samantha's themes of making peace with the body and how not to feel alone."
—LA Review of Books
 
"I have been laughing so hard, I pee. This is the funniest book ever written."
—Maggie, The Book Slut
 
"Honestly it feels like Samantha Irby's latest collection of essays arrived just in time so that we can distract and soothe ourselves with side-splitting laughter."
—Autostraddle, Queer Comfort Reads for Tough Times
 
"As if we needed more incentive to read something new from Samantha Irby."
—Writer's Bone
 
"Not every book can make you laugh out loud, but [Irby's] book does it easily, and with a self-deprecating flow."
—New City Lit
 
"Her unapologetic embrace of all caps and jokes that are so hilarious and also so true...will make you wish you were friends."
—Bustle 
 
"If there's one book/movie/TV show/anything I'd recommend to anyone right now, it's that, a body-shaking funny gem that I've already devoured more than once."
—Michael Pina, SB Nation
 
"Wow, No Thank You proves that [Irby] is America's greatest living humorist."
—Damon Young, Pittsburgh Post-Gazette

"One of our funniest essayists.... [Irby's] writing is a master class in self-deprecation and occasional imposter syndrome.... The beauty of the personal essay is the escape it offers into someone else's soul, and Irby happily makes room for any and all who wish to come on in." 
—Paste Magazine 

"The incomparable Samantha Irby offers yet another laugh-out-loud masterpiece.... The perfect read at a time when we all could use a little comic relief."
—AP 
 
"An irreverent, hilarious, and vulnerable dive into the author's brain.... For all of Irby's wit, depression over debts, and social awkwardness, there is a deep resounding warmth in her essays, too. A hard-won empathy, a stubborn acceptance of self that invites us to join her and revel in the chaos." 
—Interview 
 
"It's deeply improbable that an essay about making new friends is so delightful right now, but that's just a testament to how wildly brilliant Sam is."
—Jenna Wortham
 
"Samantha Irby has written the perfect book for this moment.... Irby can never make fun of herself enough, which is good news for us: Her misery makes for great company. She might be the funniest essayist around right now."
—EW.com

"Features more raw, LOL-y real-life stories that have become the writer's trademark. Whether she's talking about getting her period for the first time (traumatic!) or working in Hollywood, Irby brings light to literally everything."
—Cosmopolitan 
 
"While there is currently no cure for COVID-19, Samantha Irby is the antidote we all need right now. Irby has been providing relief in the form of laughter since Meaty..... The master of oscillating between heart and humor does not disappoint in her latest magnum opus."
—Paper 
 
"Her comedic antics make for the perfect escape."
—Danielle Valente, Time Out
 
"Irby's hilarious collection of essays takes stock of midlife and the bourgeois dream.... Her acerbic perspective is no less raw or raunchy than it was before domestic bliss and fame came calling."
—The Observer, *Spring's Best Books*
 
"Not fucking around when it comes to the trials and tribulations of aging and also merely existing in a human body. Irby is self-deprecating humor's overlord.... Throughout the book, Irby explores contradictions and contrasts. The mess of it all isn't meant to be repulsive; it's meant to be real.... For all its sardonic musings, it's quite a delight to read, and a quick one, too. Irby makes discomfort hilarious." 
—Autostraddle

"Samantha Irby is stay-up-all-night, miss-your-subway-stop, spit-out-your-beverage funny; she's the king of sparkling misanthropy and tender, loving dread. I await her books like I await the sweet release of sleep each evening. As always, Irby's writing is as irresistible as a snack tray, as intimately pleasurable as an Irish goodbye."
—Jia Tolentino

"The only writer who can make me laugh with abandon in public, Samantha Irby follows her breakout collection We Are Never Meeting in Real Life with high-speed treatises on everything from relentless menstruation to 'raising' her stepchildren and the stress of making friends in adulthood. Her signature irreverence is intact, of course, but it can't mask the heart she leaves bleeding on the page."
—Julia Kosin, Elle, *Best Books of 2020*

"A breakthrough voice of the previous decade, Sam Irby is poised to reign in the 2020s. Her takes on the absurdities of everyday life means that she can write about reality TV, poop, frittatas, and mental-health meds with equal aplomb.... It's been a joy to watch her build the strange confidence that comes from being comfortable with her own insecurity, a feat that few writers get to achieve."
—Maris Kreizman, Vulture, *Books We Can't Wait to Read in 2020*
 
"Irby, the hilarious author of Meaty and We Are Never Meeting in Real Life, is bitterly funny on the peculiarities of aging, marriage and life in the Midwest."
—The New York Times, *New Books to Watch for in March* 
 
"You may have fallen in love with Samantha Irby through one of her memoirs. Or her essays. Or her blog. Get ready to embarrass yourself on the subway by laughing out loud, because Samantha Irby is back with another essay collection. Wow, No Thank You is a hilarious, no-holds-barred, look at life that will have you shaking your head in agreement."
—PopSugar, *Best New Books of Spring*
 
"Think of the full-disclosure, tell-all convos you have with your closest friends, typed up and presented to the world in book-form. Personally, I could never—but I'm counting down the days until I can read this."
—StyleCaster, *Best Books of 2020*
 
"[Samantha Irby] is my favorite author, and I'm obsessed with her. She just the funniest observer of life."
—Lindy West, Seattle Times
 
"No one utilizes hyperbole quite like three-time author Samantha Irby, who can make the most microscopic of indignities feel like atrocities and turn the smallest of details about her favorite show or song into resonant revelations.... To laugh at Irby's retelling of her move to Michigan or a middle-aged girls' night out is to laugh off our own fears of change; to worry about her place in a blue town in a red state is to consider a larger clash of cultures. You might never meet her in real life, but reading Wow, No Thank You. provides the most extensive look at Irby's life yet."
—A.V. Club, *New Books to Read in March*
 
"Whether she's writing about living with her wife in a small midwestern town or her relationship with her body, Irby isn't afraid to get candid and share her own insecurities. In doing so, she crafts smart takes on popular social trends, poking fun at how they are changing the way we think and live."
—Time Magazine, *Best Books of March 2020*
 
"Samantha Irby is back! After writing one of the best TV episodes of 2019 and giving us one of the funniest newsletters, which is currently running daily satirical episodes of Judge Mathis, Irby is dropping the mic again with Wow, No Thank You.... In the incredibly witty way that only she can, Irby offers up  small glimpses of in her life since becoming a household name with a hive that's willing to defend her honor at all costs."
—Bitch Magazine, *Most Anticipated of 2020*
 
"More humorous life reflections from a seasoned raconteur.... A lot of the best anecdotal material springs forth from the more embarrassing and cringeworthy moments of the author's life.... There's lots to chuckle at here, as Irby remains a winning, personality-driven, self-deprecating essayist."
—Kirkus Reviews
 
"Samantha Irby's third essay collection shows that, like the most expensive cheese, she only gets better with time.... The essays here vibrate with humor and relatability (sorry for using that word), and will be embraced with open arms by the many fans of her work (and hopefully by those who haven't discovered her yet, if there are such people)."
—Lit Hub, *Most Anticipated Books by LGBTW Authors*

"To call Irby, the author of We Are Never Meeting in Real Life, one of our culture's most hilariously scathing critics is to partially cover over the fact that a frequent target of her ire is indeed herself. The self-deprecating essayist has singular ability to examine the more cringeworthy aspects of her own life to suggest that modern womanhood has more grit than glamour. Now middle-aged and married, Irby waxes hysterical about everything from the pain of being in public without a smartphone to 'lesbian bed death.'"
—OprahMag.com, *LGBTQ Books to Read in 2020*
 
"Samantha Irby may be spending more time in LA, but she's still the same old 'cheese fry-eating slightly damp Midwest person.' (Her words, not ours.) This much is clear in her riotous new book of bad dates, worse food experiences, and general befuddlement at the world."
—Entertainment Weekly, *Most Anticipated Books of 2020*
 
"Irby is still the same bawdy, honest, self-deprecating writer. In her latest collection of essays, she walks us through topics as disparate as her beauty routine ("I just wash the parts of my body that stink, which means—now hold on to your butts—that I don't always wash my legs.") to getting a hysterectomy."
—Buzzfeed, *Most Anticipated Books of 2020*
 
"If you've never heard or read anything by Irby, do yourself a favor and head straight to Google.... Her essays are so relatable, they're healing"
—Washington Independent Review of Books, *Most Anticipated Books of 2020*

"These essays from the bestselling Irby come with an irresistible endorsement from Jia Tolentino, who says there is "truly no one like Samantha Irby for making you actually choke (on poop jokes) laughing out loud."
—R.O. Kwon, Electric Literature, *Books by Women and Nonbinary Writers of Color to Read in 2020*
 
"Samantha Irby is one of my favorite writers of all time. Her essay collections always make me laugh until I cry, and some of the more emotional moments make me cry until I laugh."
—Susie Dumond, Book Riot, *Most Anticipated LGBTQ Books of 2020*
 
"A laugh. A fart. A snort. Or some combination thereof. Be prepared to totally lose control of the noises that come out of your body while reading the latest essay collection from humor writer Samantha Irby."
—Bustle, *Most Anticipated Books of 2020*
Vintage, 9780525563488, 336pp.
Publication Date: March 31, 2020
About the Author
Samantha Irby is a writer whose work you can find on the internet. 

www.bitchesgottaeat.com
Coverage from NPR