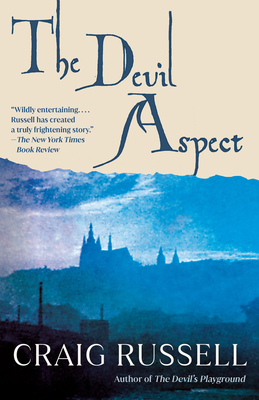 The Devil Aspect
A Novel
Paperback

* Individual store prices may vary.
Other Editions of This Title:
Digital Audiobook (3/4/2019)
Hardcover (3/5/2019)
Library Binding, Large Print (6/26/2019)
Description
Steeped in the folklore of Eastern Europe, and set in the shadow of Nazi darkness erupting just beyond the Czech border, this bone-chilling, richly imagined novel is propulsively entertaining, and impossible to put down.

Czechoslovakia, 1935: Viktor Kosárek, a newly trained psychiatrist who studied under Carl Jung, arrives at the infamous Hrad Orlu Asylum for the Criminally Insane. The facility is located in a medieval mountaintop castle surrounded by forests, on a site that is well known for concealing dark secrets going back many centuries. The asylum houses six inmates--the country's most treacherous killers--known to the terrified public as the Devil's Six. Viktor intends to use a new medical technique to prove that these patients share a common archetype of evil, a phenomenon he calls The Devil Aspect. Yet as he begins to learn the stunning secrets of these patients, he must face the unnerving possibility that these six may share a darker truth.
     Meanwhile, in Prague, fear grips the city as a phantom serial killer emerges in the dark alleys. Police investigator Lukas Smolak, desperate to locate the culprit (a copycat of Jack the Ripper), turns to Viktor and the doctors at Hrad Orlu for their expertise with the psychotic criminal mind. And Viktor finds himself wrapped up in a case more terrifying than he could have ever imagined.
Praise For The Devil Aspect: A Novel…
"[A] beguiling and gruesome new horror thriller . . . a wildly entertaining story that grabs you on Page 1 and drags you into its dark world kicking and screaming . . . Russell has created a truly frightening story, one that gets under your skin slowly, then goes deep, like the tip of a butcher knife."
--Danielle Trussoni, The New York Times Book Review

"[T]his gruesome historical thriller . . . gets under your skin slowly and then goes deep, like the tip of a butcher knife."
--The New York Times Book Review, Editor's Choice 

"A tour de force: a clever and visceral thriller with a one-two-three knockout of an ending that left me dazed. The brooding backdrop of a Czechoslovakia on the brink of World War II just adds another layer of atmosphere to an already nightmarish read."
--Lincoln Child, #1 New York Times bestselling author of Deep Storm

"Deep, dark, and twisty, The Devil Aspect will keep you up all night reading . . . With all the lights on. Russell has created a gripping masterpiece of a thriller!"
--Alex Grecian, New York Times bestselling author of The Yard

"Steeped in the chilling folklore of Eastern Europe and echoing the dread of a barbaric war to come, The Devil Aspect snatches the reader by the lapels for a thrilling, twisting trip through the darkest corridors of the human mind."
--Daniel H. Wilson, New York Times bestselling author of Robopocalypse

"[A] sensational serial killer novel . . . jaw-dropping . . . a mind-blowing story line that will appeal to fans of Caleb Carr and Thomas Harris."
--Publishers Weekly, starred review

"One of the most memorable thrillers of the year; it's also unique: the premise is strikingly original, and the mood created by the juxtaposition of the patients' memories and the real-time horrors is utterly chilling."
--Booklist, starred review

"[A] knockout . . . The Devil Aspect is the best of its kind."
--BookPage

"A seasoned writer, Russell keeps the police case moving at a good clip . . . but nothing to match the ending, which offers more twists than a Chubby Checker album. A smart, atmospheric, and entertaining read but not for the Jung and easily Freudened."
--Kirkus

"A horror story, a novel of psychological terror, or simply a mystery in a historical setting, The Devil Aspect is all three and more.  It's a novel the reader will remember and continue to think about long after that final sentence is read."
--New York Journal of Books

"Psychological horror and atmospheric Eastern European folklore come together in a chilling synthesis of for what might be the year's most fear-inducing page-turner, a new gothic thriller by Scottish author Craig Russell."
--SyFy Wire

"Seriously gothic . . . memorably haunting."
--CrimeReads, Most Anticipated Crime Books of 2019

"The Devil Aspect is a masterful blend of adjacent genres. There are shades of Alan Moore and Eddie Campbell's Jack the Ripper graphic novel From Hell and a dash of F. Paul Wilson's The Keep and Mark Frost's The List of Seven . . . Russell finds the Devil in the details—and really makes him work."
--Criminal Element

"A rich and ridiculously entertaining brew . . . that unravels with plenty of shocks, twists and horror."
--The Digital Fix

"An astonishing virtuoso piece of gothic horror writing. . . utterly immersive, authentically complex and completely propulsive . . .  a must read for all fans of literary fiction, great crime and horror writing . . . that will more than hold its own alongside Dracula, Jekyll and Hyde and Frankenstein."
--Live and Deadly

"The Devil Aspect is definitely one of the books to read this year!"
--Fantasy Hotlist

"A kaleidoscopic mélange of myth, history, politics, bigotry, psychology, romance, crime, mystery, and sublime horror with each aspect taking turns directing the action, fighting for attention, toying with readers as they struggle to anticipate the shattering denouement."
--Rougeski Reads
Anchor, 9780525564782, 432pp.
Publication Date: January 21, 2020
About the Author
Craig Russell is an award-winning Scottish author who makes his American debut with The Devil Aspect. His books have been translated into twenty-five languages. A former police officer, he lives in Perthshire, Scotland, with his wife and children.