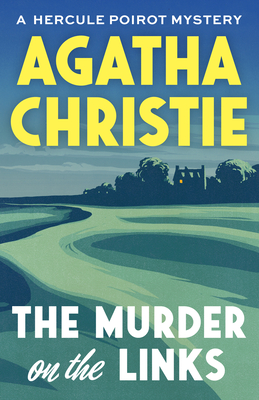 The Murder on the Links
A Hercule Poirot Mystery
Paperback

* Individual store prices may vary.
Other Editions of This Title:
Paperback (7/7/2020)
Paperback (1/4/2020)
Paperback (12/30/2020)
Paperback (1/16/2019)
Paperback (7/20/2019)
Paperback (1/26/2021)
Paperback (1/1/2019)
Paperback (5/13/2019)
Paperback (3/1/1923)
Paperback (10/4/2019)
Paperback (6/19/2019)
Paperback (1/11/2020)
Paperback (12/11/2020)
Hardcover (3/1/1923)
Description
Beloved detective Hercule Poirot made his second appearance in this tale of murder, blackmail, and forbidden love.

Hercule Poirot rushes to France in response to an urgent and cryptic plea from a client. But the Belgian detective arrives just too late: the man who had summoned him is found dead on a golf course, stabbed in the back with a letter opener and wearing an ill-fitting coat with a mysterious love letter in its pocket.

Strange circumstances multiply, culminating in the discovery of a second body stabbed with the same murder weapon. While the local authorities pursue the false leads suggested by the evidence, Poirot relies instead upon his famous "little grey cells" to cut through the confusion and untangle a story of blackmail, forbidden love, and a long-buried secret.
Praise For The Murder on the Links: A Hercule Poirot Mystery…
"Christie's books are so much more than great puzzles. Each of her novels demonstrates a profound understanding of people–how they think, feel and behave–all delivered in her crisp, elegant, addictively readable style." —The Guardian  

"Agatha Christie created the modern murder mystery." —The New Yorker

"Christie wrote brilliantly compact, stylized and efficient mysteries. . . . The genre in its lean classic English form fit her like a cat burglar's thin black glove." —John Updike
Vintage, 9780525565086, 240pp.
Publication Date: April 30, 2019
About the Author
AGATHA CHRISTIE (1890-1976) was born in Devon, England. She wrote more than seventy books and 150 short stories, as well as works for stage and screen. Her novel And Then There Were None is considered the world's bestselling mystery novel, and her play The Mousetrap is the longest-running play in London theater history.