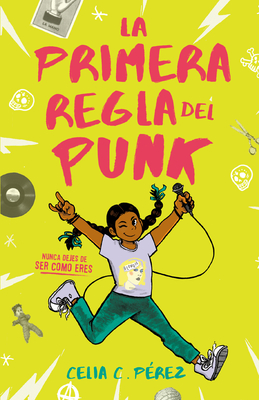 La primera regla del punk / The First Rule of Punk
Paperback

* Individual store prices may vary.
Description
Un libro de honor del premio Pura Belpré, 2018

La primera regla del punk es una conmovedora exploracion de la amistad, la busqueda de uno mismo, y el aprender a "rockear" como si nadie te esta mirando. 

No hay atajos para navegar el primer día de clases en una nueva escuela – no se arregla con cinta gafer como lo harías con tu par de tenis Chuck Taylor. La adolecente Malú, (María Luisa, si quieres irritarla), logra molestar a la chica mandamás de Posada Middle School, romper el código de vestimenta con su vestido punk rock, y decepcionar a su madre, quien es profesora universitaria. Y todo esto en su primer día de escuela intermedia. Su padre, quien ahora vive a miles de millas de distancia, le dice que las cosas mejorarán siempre y cuando nunca olvide la primera regla del punk: ser tú mismo.

La auténtica Malú ama el rock and roll, las patinetas, las revistas de manualidades y el Soyrizo (sin cilantro, por favor). Cuando empieza a encontrar otros estudiantes inadaptados con intereses parecidos, y forma su propio grupo musical, Malú empieza a sentirse feliz. Para resguardar esa nueva felicidad, ella haría cualquier cosa, incluyendo el enfrentarse con los administradores "anti-punk" de su escuela, ¡y luchar por su derecho a expresarse!

ENGLISH DESCRIPTION

A 2018 Pura Belpré Author Honor Book

The First Rule of Punk is a wry and heartfelt exploration of friendship, finding your place, and learning to rock out like no one's watching.

There are no shortcuts to surviving your first day at a new school—you can't fix it with duct tape like you would your Chuck Taylors. On Day One, twelve-year-old Malú (María Luisa, if you want to annoy her) inadvertently upsets Posada Middle School's queen bee, violates the school's dress code with her punk rock look, and disappoints her college-professor mom in the process. Her dad, who now lives a thousand miles away, says things will get better as long as she remembers the first rule of punk: be yourself.
 
The real Malú loves rock music, skateboarding, zines, and Soyrizo (hold the cilantro, please). And when she assembles a group of like-minded misfits at school and starts a band, Malú finally begins to feel at home. She'll do anything to preserve this, which includes standing up to an anti-punk school administration to fight for her right to express herself!

Black and white illustrations and collage art throughout make The First Rule of Punk a perfect pick for fans of books like Roller Girl and online magazines like Rookie.

"Armed with a microphone and a pair of scissors, this book is all about creating something new and awesome in the world. Malú rocks!" --Victoria Jamieson, author and illustrator of the New York Times bestselling and Newbery Honor-winning Roller Girl
Praise For La primera regla del punk / The First Rule of Punk…
"Acabo de terminar de leer La primera regla del punk de Celia C. Pérez. Una historia tan refrescante y de gran corazón ... ¡Me encantó!" --John Green, en Twitter

"Conmovedor". --The New York Times

"Extremadamente familiar y creativamente inspirador, con una voz que es igual de ingeniosa y aguda". --Bustle.com

"Las chicas de color rara vez, si acaso, tienen narrativas de madurez ... La primera regla del punk cambia esto". --Bitch Media

"El debut de Pérez es tan exuberante como su heroína ... Un recordatorio de que las personas están en su mejor momento cuando no se ven obligadas a cumplir con etiquetas limpias y ordenadas". --Publisher's Weekly, reseña destacada

"Un debut encantador sobre una preadolescente reflexiva y creativa que se conecta a ambas partes de su identidad". -- Kirkus Reviews, reseña destacada

"Aquellos que disfrutan de heroínas vivaces y valientes ... abrazarán ávidamente a Malú". - School Library Journal, reseña destacada

"Armado con un microfono y un par de tijeras, este libro es sobre cómo se crea algo nuevo y chulísimo en el mundo. ¡Malú es genial!" -- Victoria Jamieson, autora e ilustradora de Roller Girl, bestseller del New York Times y ganador del Newbery Honor
Vintage Espanol, 9780525567165, 336pp.
Publication Date: July 9, 2019
About the Author
Celia C. Pérez es la galardonada autora de La primera regla del punk, un Libro de Honor del premio Pura Belpré, 2018. Celia es una antigua creadora de zines inspirada en su amor por la música punk y la escritura. Sus suministros favoritos de zine son una grapadora de brazo largo, barras de pegamento y lápices de acuarela. Nunca dejará de sacar el cilantro de su comida en los restaurantes, y tiene dos juegos de muñequitas quita-preocupaciones, porque nunca puedes tener demasiadas. Originalmente de Miami, Florida, Celia vive en Chicago con su familia, donde trabaja como bibliotecaria de una universidad comunitaria.