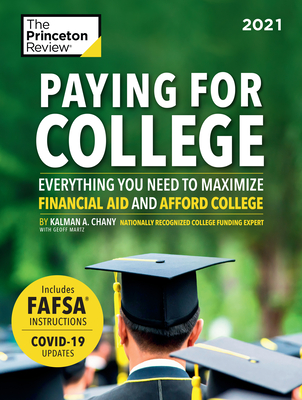 Paying for College, 2021
Everything You Need to Maximize Financial Aid and Afford College (College Admissions Guides)
Paperback

* Individual store prices may vary.
Description
A SMARTER WAY TO PAY FOR COLLEGE. Take control of your financial aid experience with this essential guide—the only annual guidebook with line-by-line instructions for completing the FAFSA aid forms!

Financing a college education is a daunting task no matter what your circumstances. With line-by-line instructions for filling out the FAFSA and consumer-friendly advice to minimize college costs, Paying for College helps you take control of your experience and:

• Maximize your financial aid eligibility
• Learn how COVID-19 and the latest tax laws affect the financing of your college education
• Explore long- and short-term strategies to reduce college costs and avoid expensive mistakes
• Complete every question on the FAFSA and CSS Profile forms to your best advantage
• Compare aid offers and learn how to appeal them if necessary 
• Plan strategically as a separated/divorced parent, blended family, or independent student


"A first-rate guide through the financial aid maze."—Lynn Brenner, Newsday

"Can save thousands in college bills."—John Wasik, Forbes
Princeton Review, 9780525570097, 368pp.
Publication Date: September 22, 2020
About the Author
KALMAN A. CHANY is the founder and president of Campus Consultants, an independent New York-based firm that has helped thousands of familiesmaximize their financial aid since 1984. He has authored articles on college funding for Parade and other publications and has appeared on ABC's Good Morning America, CBS's Evening News, CNN's Your Money, NBC's Nightly News, and NPR's Talk of the Nation.

The experts at THE PRINCETON REVIEW have been helping students, parents, and educators achieve the best results at every stage of the education process since 1981. The Princeton Review has helped millions succeed on standardized tests, and provides expert advice and instruction to help parents, teachers, students, and schools navigate the complexities of school admission. In addition to classroom courses in over 40 states and 20 countries, The Princeton Review also offers online and school-based courses, one-to-one and small-group tutoring as well as online services in both admission counseling and academic homework help.