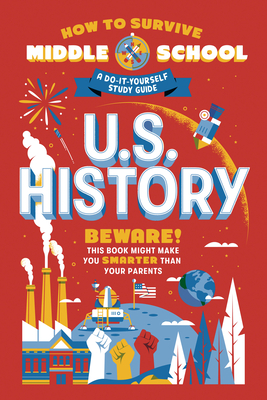 How to Survive Middle School
U.S. History: A Do-It-Yourself Study Guide (HOW TO SURVIVE MIDDLE SCHOOL books)
Paperback

* Individual store prices may vary.
Description
BEWARE—THIS BOOK MIGHT MAKE YOU SMARTER THAN YOUR PARENTS! Navigate the wilderness of middle school U.S. History with this hands-on, comprehensive study guide for 6th-8th graders!

This highly illustrated, handy field guide makes learning an adventure inside and outside of the classroom. Study with helpful illustrations, detailed tables, diagrams, and maps, essential vocabulary lists, and expert knowledge presented in a fun, bold, and easy-to-understand format.

Explore and master topics like:


Native American Peoples
European Colonies
Declaration of Independence
Civil War
Industrial Revolution
World Wars I & II
The Great Depression
The Cold War
Civil Rights
The Vietnam War
The War on Terror
and more!

The How to Survive Middle School study guides cover essential middle school subjects with interactive texts, useful study techniques, and engaging illustrations that make information stick! The included reflective questions and write-in sections foster critical thinking and problem-solving skills, helping readers become independent learners. Each book is vetted by curriculum experts to perfectly complement middle school lesson plans.

Other available subjects: World History, English, Math, and Science.

Praise For How to Survive Middle School: U.S. History: A Do-It-Yourself Study Guide (HOW TO SURVIVE MIDDLE SCHOOL books)…
Praise for the HOW TO SURVIVE MIDDLE SCHOOL series:
 
"Lively prose and an unusually broad scope." —Kirkus Reviews

"The readable text takes a breezy tone and incorporates user-friendly features…chapters are expansively inclusive and represent the viewpoints of those not always heard." —Booklist
Bright Matter Books, 9780525571445, 496pp.
Publication Date: May 3, 2022
About the Author
Rebecca Ascher-Walsh has written for outlets including The L.A. Times, Entertainment Weekly, The Wall Street Journal, and Travel & Leisure, and is the author of four books for National Geographic, including Devoted: 38 Extraordinary Tales of Love, Loyalty, and Life with Dogs. She lives in New York City with her husband and twin seventh-grade daughters.

Annie Scavelli is the Humanities Department chair and a History teacher at the Institute for Collaborative Education in Manhattan. She earned a Master's Degree in Education from Teachers College of Columbia University and a Bachelor's Degree in Anthropology from Johns Hopkins University. She currently lives in New York City.

Carpenter Collective is a graphic design and branding studio led by partners Jessica and Tad Carpenter. They focus on bringing powerful messages to life through branding, packaging, illustration, and design. They have worked with clients ranging from Target, Coca-Cola, and Macy's, to Warby Parker, Adobe, and MTV, among many others. They've earned a national reputation for creating powerful brand experiences and unique visual storytelling with a whimsical wink. See more of their work at carpentercollective.com