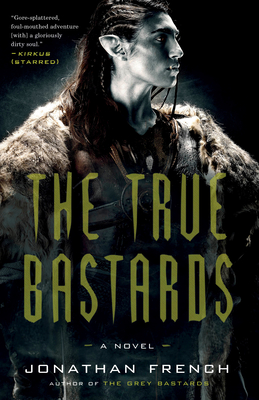 The True Bastards
A Novel (The Lot Lands #2)
Paperback

* Individual store prices may vary.
Other Editions of This Title:
Hardcover (10/8/2019)
Description
Half orc. All badass. A female chieftain in a brutal wasteland society fights to take what is hers in an action-packed, foul-mouthed fantasy adventure from the author of The Grey Bastards ("Nonstop action, though not for faint hearts."—The Wall Street Journal).
 
Fetching was once the only female rider in the Lot Lands. Now she is the proud leader of her own hoof, a band of loyal half-orcs sworn to her command.
 
But in the year since she became chief, the Lots have tested her strength to the breaking point. The Bastards are scattered, desperate, their ranks weakened by a mysterious famine, their fortress reduced to smoldering slag. And their troubles are only growing. A pack of ravening beasts circles their camp, while grasping human nobles hatch a plan that will shift the balance of power in the Lots.
 
Fetch and her comrades are still standing defiant—they're Bastards, after all—but even the toughest half-orc can take only so much; and Fetch knows they're on the verge of ruin.
 
As she strives to lead her hoof to safety and unravel the plots set against them, Fetching must journey through forbidden elven lands, overcome long-standing hatreds, battle a monstrous wizard of terrifying power—and, worst of all, delve into the dark truths of her own existence.
 
She's no stranger to fighting the world, but on this journey, sharp steel and a strong hog won't be enough. To survive these trials, she'll have to defy not just her foes but the very nature of the Lots.
 
The True Bastards is the sweeping, ambitious second entry in the Lot Lands series, an irresistibly thrilling, gritty, foul-mouthed adventure that deepens, expands—and again upends—the Bastards' unforgettable world.

Advance praise for The True Bastards

"[An] action-packed sequel . . . the story is filled with relentless action and powered by a cast of adeptly developed and emotionally appealing characters. . . . Fans will be overjoyed not only with the return of some beloved characters, but also with the novel's conclusion, which sets up the storyline for a much larger adventure to come. Imagine an outlaw biker gang of half-orcs riding giant war pigs and you've captured this saga's gloriously dirty soul."—Kirkus Reviews (starred review)
Praise For The True Bastards: A Novel (The Lot Lands #2)…
Praise for The Grey Bastards

"Nonstop action, though not for faint hearts . . . The Grey Bastards live up to their name in all respects."—The Wall Street Journal

 "Saddle up the war boar and set off on a wild, gory thrill-ride that ends in an awesome climax and begs for a sequel." —Daily Mail (UK)

 "A filthy, charismatic, and frankly excellent read."—Mark Lawrence, international bestselling author of Prince of Thorns and Red Sister

"A dirty, blood-soaked gem of a novel [that reads] like Mad Max set in Tolkien's Middle Earth . . . a fantasy masterwork."—Kirkus Reviews (starred)

"French's world-building creates exactly the kind of seamless transition from reality to fiction that makes fantasy literature compelling, informative, and just plain fun."—R.A. Salvatore, New York Times bestselling author of the Legend of Drizzt series
 
"A bloody good tale of battles, intrigue, betrayal, duty, and frickin' war pigs."—Brian McClellan, author of the Powder Mage trilogy
 
"A gritty adventure with a fantastic, foul-mouthed voice and filthy, lovable characters in a wonderfully original world." —Django Wexler, author of the Shadow Campaigns series
 
"French flips the fantasy script as the monsters become the good guys, fueling an action-packed, sneakily smart adventure."—Scott Sigler, New York Times bestselling author of Alive
 
"Refashions high-fantasy tropes into something both vibrant and highly entertaining."—Anthony Ryan, New York Times bestselling author of the Raven's Shadow trilogy
Del Rey, 9780525572480, 592pp.
Publication Date: September 29, 2020
About the Author
Jonathan French lives in Atlanta with his wife and son. He is a devoted reader of comic books, an expert thrower of oddly shaped dice, and a serial con attendee.