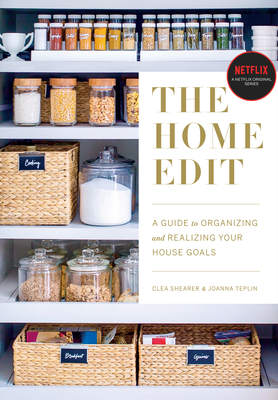 The Home Edit (Paperback)
A Guide to Organizing and Realizing Your House Goals (Includes Refrigerator Labels)
Clarkson Potter, 9780525572640, 256pp.
Publication Date: March 19, 2019
* Individual store prices may vary.
Description
NEW YORK TIMES BESTSELLER • There's decorating, and then there's organizing. From the Instagram-sensation home experts (with a serious fan club that includes Reese Witherspoon, Gwyneth Paltrow, and Mindy Kaling), here is an accessible, room-by-room guide to establishing new order in your home.

Believe this: every single space in your house has the potential to function efficiently and look great. The mishmash of summer and winter clothes in the closet? Yep. Even the dreaded junk drawer? Consider it done. And the best news: it's not hard to do—in fact, it's a lot of fun.

From the home organizers who made their orderly eye candy the method that everyone swears by comes Joanna and Clea's signature approach to decluttering. The Home Edit walks you through paring down your belongings in every room, arranging them in a stunning and easy-to-find way (hello, labels!), and maintaining the system so you don't need another do-over in six months. When you're done, you'll not only know exactly where to find things, but you'll also love the way it looks.

A masterclass and look book in one, The Home Edit is filled with bright photographs and detailed tips, from placing plastic dishware in a drawer where little hands can reach to categorizing pantry items by color (there's nothing like a little ROYGBIV to soothe the soul). Above all, it's like having your best friends at your side to help you turn the chaos into calm.

PLEASE NOTE: The paperback includes a starter set of labels for your refrigerator; the ebook and audiobook include a link to download and print the labels from a computer (you will need 8-1/2 x 11-inch clear repositionable sticker project paper, such as Avery 4397).

Featured in Glamour's 10 Books to Help You Live Your Best Life
About the Author
Stars of Hello Sunshine and Critical Content's TV show Master the Mess CLEA SHEARER and JOANNA TEPLIN founded The Home Edit with the goal of merging conventional organization and interior design. With clients all over the country, they offer both full and virtual services through their website. They have also been featured in People, House Beautiful, Architectural Digest, and on Goop, among other places and live with their families in Nashville, Tennessee.
Praise For The Home Edit: A Guide to Organizing and Realizing Your House Goals (Includes Refrigerator Labels)…
"If you ever see an incredibly organized pantry or enviably neat closet from your favorite celebrity on Instagram, it's probably the work of Clea Shearer and Joanna Teplin, co-founders of The Home Edit. These professional home organization experts live for color-coded shelves, matching baskets and labeled jars to help their A-list clients achieve organization nirvana."
--Today

The book is a master class on how to arrange even your most unattractive belongings—and spaces—in an aesthetically pleasing and easy-to-navigate way." 
--Glamour

"In their forthcoming book [Clea and Joanna] are bringing their tried-and-true decluttering methods straight from their celeb clients' closets into your home, along with step-by-step tips to help even the most organizationally-challenged among us implement and maintain their aesthetically pleasing lifestyle hacks."
--People

"Before you finish filling your cart, add in [Clea and Joanna's] new book, The Home Edit for more genius organizing ideas. Mandy Moore approves."
--Good Housekeeping

"Clea Shearer and Joanna Teplin, authors of 'The Home Edit: A Guide to Organizing and Realizing Your House Goals,' have taken a rainbow approach to organization inside the homes of celebs like Khloe Kardashian and Gwenyth Paltrow."
--Good Morning America

"With beauty-loving clients like Lauren Conrad, Shay Mitchell, and Olivia Culpo, we know that [Shearer and Teplin] were the go-to people to advise us on how to get our own [beauty] collections under control...check out their new book, The Home Edit ($17), which comes out March 19."
--Pop Sugar

"The Home Edit has grown a loyal celebrity and social media following thanks to a streamlined philosophy that's often delivered with some hilarious punch lines. Their new book is a room-by-room guide to this philosophy."
--Architectural Digest

"The Home Edit co-founders are at the top of our list when we're seeking organizational advice."
--MyDomaine

"When the stars need help with a mess, they call The Home Edit. Not to worry, though, the ladies of the business have a book coming out that will give all their tips and tricks, so you can have a Hollywood-worthy pantry as well."
--Realtor

"Just in time for everyone's 'spring cleaning goals' comes the book everyone needs! Part inspirational pep talk, part organizational how-to and part eye candy . . . The Home Edit is the real deal. " 
--Pretty Pink Tulips

"This Nashville-based duo is pulling back the curtain on how to create beautiful, clutter-free spaces . . . The Home Edit is both a practical and approachable guide for cleaner, stress-free living."
--Nashville Lifestyles

"The Home Edit is like a recipe book for reclaiming your sanity."
--Try Small Things