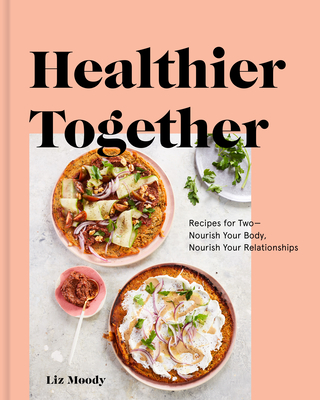 Healthier Together (Hardcover)
Recipes for Two--Nourish Your Body, Nourish Your Relationships
Clarkson Potter, 9780525573272, 240pp.
Publication Date: April 9, 2019
* Individual store prices may vary.
Description
Healthier Together is all about nourishing and cooking for your body and your soul—and the best way to accomplish that is with another person. Food writer and health blogger Liz Moody once followed trendy diets and ate solely for fuel, not for flavor. That changed when she met her soon-to-be-boyfriend and they started cooking nutrient- and vegetable-rich meals. She not only fell in love with food again, but she also discovered that setting goals and sticking to them is easier and more gratifying when paired with someone else. Mincing garlic and sautéing onions together eventually led the couple to marriage—proving that good food really is the universal connector!

These 100+ flavor-packed recipes are designed to be cooked and enjoyed by two people, plus they're all gluten-free, dairy-free, and plant-centered. They include homemade alternatives for all the foods you love to share, such as brunch, takeout, and sweet treats. Indulge in Cardamom Banana Bread Pancakes with Candied Coffee Walnuts, Cornflake "Fried" Chicken, General Tso's Cauliflower, and Chocolate Tahini Brownie Bites. Pick your partner—near or far—and get ready to get healthy.
About the Author
LIZ MOODY is the author of Glow Pops, the senior food editor at MindBodyGreen, and the creator of Sprouted Routes, the popular healthy food and lifestyle blog and Instagram account. She lives in Brooklyn, New York.