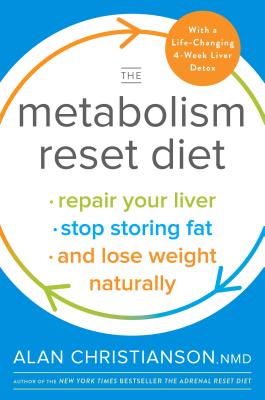 The Metabolism Reset Diet
Repair Your Liver, Stop Storing Fat, and Lose Weight Naturally
Hardcover

* Individual store prices may vary.
Other Editions of This Title:
Paperback (1/11/2022)
Description
Dr. Alan Christianson, top naturopathic physician and bestselling author of The Adrenal Reset Diet, introduces a four-week cleanse that heals damage to the liver, helping readers unlock the key to rapid weight loss and lower blood sugar.

The path to becoming naturally thin isn't as impossible as it may seem. In The Metabolism Reset Diet, you'll unlock the key to rapid, sustained weight loss and lower blood sugar with a four-week cleanse that heals your liver and gives your metabolism new life. The hidden truth is that your liver is actually the key to a healthy metabolism. When it isn't functioning properly, it loses the ability to burn fuel. An overloaded liver can only store fuel as fat, which slows your metabolism and leads to excess weight gain. Even if you cut out sugar and carbs, you can still struggle with weight loss and high blood sugar.

With Dr. Alan Christianson's clinically proven program, you'll be able to reverse damage to your liver in just four weeks. Once your liver regains its ability to manage your metabolism, you'll have fewer food cravings, steady energy levels, better digestion, and a metabolism that works optimally. This proven diet is carefully constructed to provide your liver with the nutrients it needs without over fueling, supplying your body with healthy amounts of protein, fiber, micronutrients, and phytonutrients that support liver function. Unlike so many diets that require people to stick to a difficult and restrictive plan, following a liver-friendly eating plan will ensure that your weight and energy stay steady, even if your diet changes. Complete with comprehensive guidelines, meal plans, recipes, and advice on maintenance, The Metabolism Reset Diet will help readers achieve optimal liver function to lose weight and get healthy fast.
Praise For The Metabolism Reset Diet: Repair Your Liver, Stop Storing Fat, and Lose Weight Naturally…
"Tried everything you can think of to lose weight? The problem isn't your willpower; it's your liver. You'll discover how to detox your liver in four weeks in The Metabolism Reset Diet."—JJ Virgin, CNS, New York Times bestselling author
 
"Dr. Christianson is my go-to expert when it comes to healthy liver function and natural weight loss. The Metabolism Reset Diet will empower you to take back your health!"—Dr. Izabella Wentz, New York Times bestselling author of Hashimoto's Protocol

"We take our liver for granted, but it holds the key to our metabolism. Dr. Christianson reveals the secret life of your liver and shows how you can optimize it for life in The Metabolism Reset Diet."—Sara Gottfried, M.D., New York Times bestselling author of The Hormone Cure, The Hormone Reset Diet, and Younger 

"Dr. Christianson's smart, science-based, and incredibly simple plan will change your life forever. If you're ready to transform yourself from fat, sick, and sluggish to slender, healthy, and energetic, this book has the answers you're seeking. Get ready to heal your liver, send your metabolism soaring, and feel better than you've felt in years!"—Dr. Kellyann Petrucci, New York Times bestselling author of Dr. Kellyann's Bone Broth Diet and The 10-Day Belly Slimdown

"We live in an increasingly toxic world and our livers are carrying the burden. Dr Christianson's groundbreaking work reveals the missing ingredient we've been overlooking. If you're tired of diets and programs that have failed you, it's time to hit reset. I highly recommend this book."—Dr Pedram Shojai, New York Times bestselling author of The Urban Monk

"I love that The Metabolism Reset Diet cuts through the stress of fighting with carbs, fats, and ketones and delivers a way to eat simple healthy foods and not worry anymore. In a detailed and easy to understand way, this book explains how the liver holds the key to our metabolism and how to optimize it for life."—Katie Wells, Founder of WellnessMama online and author of The Wellness Mama Cookbook

"If you want an easy-to-follow, proven plan to lose weight and keep it off, and improve your health for decades to come, you absolutely need to read this highly recommended book! In The Metabolism Reset Diet, Dr. Christianson does a superb job to shatter outdated myths related weight loss and dieting. You don't need a restrictive food plan. You don't need to spend hours at the gym. The ingredients for sustained weight loss and to turn back the clock on aging are here."—Steven Masley, MD, FAHA, FACN, FAAFP, CNS, author The Better Brain Solution 

"Dr. Christianson has done it again—he's broken the mold on the carb, ketone, and fat conversation with an easy-to-follow program that relies on the solid science of metabolism and the ancient wisdom of food as medicine. If you're frustrated because you've tried everything, I believe you're in for a pleasant surprise that will wake up your liver's innate healing capacities and move you toward the optimum health you deserve."—Aviva Romm MD, author of The Adrenal Thyroid Revolution, Director of the Women's Integrative Medicine Institute
Harmony, 9780525573449, 320pp.
Publication Date: January 29, 2019
About the Author
ALAN CHRISTIANSON, NMD, author of the New York Times bestselling book The Adrenal Reset Diet, is a naturopathic medical doctor who specializes in natural endocrinology with a focus on thyroid disorders. He founded Integrative Health, a physician group dedicated to helping people with thyroid disease and weight-loss resistance regain their health. He has been named a Top Doctor in Phoenix magazine, and has appeared on national TV shows and in numerous print media. Dr. Christianson lives in Phoenix with his wife and their two children. Visit him at DrChristianson.com.
or
Not Currently Available for Direct Purchase