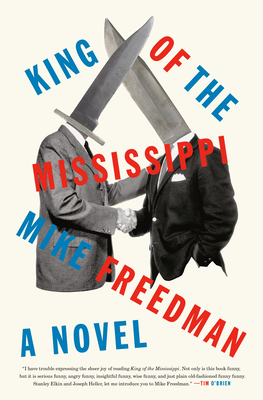 King of the Mississippi
A Novel
Hardcover

* Individual store prices may vary.
Description
A biting, hilarious literary satire of war, business, and contemporary masculinity, set in the cutthroat-but-ridiculous world of management consulting

King of the Mississippi is an incisive, uproarious dissection of contemporary male vanity and delusion, centered around a "war" for dominance of a prestigious Houston consulting firm. On one side of the conflict is Brock Wharton, an old money ex-jock whose delight in telling clients to downsize is matched only by his firm conviction that people like himself deserve to run the world. On the other is Mike Fink, a newly hired wily former soldier trying to ride his veteran status to the top of a corporate world that lionizes "the troops" without truly understanding them. Brock and Mike are mortal enemies on sight, bitterly divided not only by background and class but by diametrically opposed (yet equally delusional) visions of what it means to "be a man." And as their escalating conflict spirals out of control, it will take them all the way from the hidebound boardrooms and gladiatorial football fields of Texas to the vapid and self-serving upper echelon of Silicon Valley, to the corporatized battlefield of Iraq, all the while serving as a ruthlessly funny takedown of the vacuity and empty machismo of corporate life and alpha-male culture in modern America.

Devastatingly witty, unapologetically scathing, and ultimately surprisingly moving, King of the Mississippi marks the arrival of a unique and scintillating new voice in American fiction, one that boldly punctures the myths of American manhood like no one has since the heyday of The Bonfire of the Vanities and American Psycho.
Praise For King of the Mississippi: A Novel…
"I have trouble expressing the sheer joy of reading King of the Mississippi.  Not only is this book funny, but it is serious funny, angry funny, insightful funny, wise funny, and just plain old-fashioned funny funny.  Stanley Elkin and Joseph Heller -- let me introduce you to Mike Freedman."
—TIM O'BRIEN, National Book Award-winning author of Going After Cacciato and The Things They Carried

"Mike Freedman is a brilliant satirist. King of the Mississippi is the best comic novel since Kingsley Amis's Lucky Jim."
—PHILIPP MEYER, Pulitzer Prize finalist and author of The Son and American Rust

"Two alphas battle to be top dog at a global consultancy in this amusing satire on business, ambition, and entitlement...A solid entertainment from a writer of considerable talent and promise."
—Kirkus (starred) 

"Mike Freedman's King of the Mississippi takes us on a wild and raucous ride through the "homefront" of contemporary America and the foreign front of "over there," shredding--to hilarious and usually wincing effect--the prevailing pieties of corporate and military culture. Freedman has a keen eye for the damning detail, a quick ear for the unctuous con, which makes him an ideal satirist/realist for our highly disturbed age. Joseph Heller, Terry Southern, Hunter S. Thompson, George Saunders, say hello to the newest member of the American Jesters club."
—BEN FOUNTAIN, author of National Book Critics Circle Award-winning Billy Lynn's Long Halftime Walk
 
"In King of the Mississippi, Mike Freedman launches a surgical strike against the old school, old boy network of good ole boys: those masters of the universe who brought us Enron, Lehman Brothers, and (cough cough) President Donald Trump. Freedman's satirical takedown of white male privilege, 21st Century Kleptocracy, and our forever war is a deeply entertaining tour of duty through America's heart of darkness. From the boardroom to the battlefield, Freedman calls out the narcs and the poseurs, the warmongers who never leave the wire and have no skin in the game. King of the Mississippi is a comic cri de coeur and Mike Freedman the disarming leader of a dazzling new literary insurgency."
—AMBER DERMONT, author of the New York Times bestselling The Starboard Sea

"This hyperliterate, darkly comic skewering of modern masculinity pits the two combatants in a battle for supremacy via quasi-military tactics and uproariously funny, cringe-inducing hijinks…Freedman masterfully blends humor with thought-provoking and poignant insights. The dialogue hums and the two main characters are colorful, memorable, and thoroughly human, each on his own treacherous path toward the discovery of what it truly means to be a man."
—Booklist (starred)
 
"A towering monument to arrogance faces off against a wily underminer in Freedman's precise and pungent satire of the business world…This is sly, sharp fun."
—Publishers Weekly

"In this hysterical novel, Mike Freedman takes on the current and very serious military-civilian divide in a world-class satire from which no side emerges unscathed. Read it; laugh and learn."
—KARL MARLANTES, author of the New York Times bestselling Matterhorn and What It Is Like To Go To War
 
"The points of reference in America's literary heritage for Mike Freedman's King of the Mississippi are in some ways clear and compelling, from Twain to Heller and beyond. But in a very real way they do Freedman an injustice. Reading this book I found all the comparisons falling quickly away. He is an American original. King of the Mississippi weds dark hilarity and deep seriousness in ways that are, it seems to me, uniquely born from this apocalyptic era we have now entered. This is a remarkable novel from a truly important young American writer."
—ROBERT OLEN BUTLER, author of the Pulitzer Prize-winning A Good Scent From A Strange Mountain and Perfume River
 
"King of the Mississippi is a terrific war novel set in the aftermath of Iraq. Distinguish yourself and buy it now." 
—WINSTON GROOM, Pulitzer Prize finalist and author of Forrest Gump and El Paso
 
"Mike Freedman writes with a distinct sensibility.  His new novel King of the Mississippi throbs with humor and American exuberance."
—HA JIN, National Book Award-winning author of Waiting and The Banished Immortal

"There are echoes of Kingsley Amis and Joseph Heller in this remarkable novel, but Mike Freedman's voice is entirely his own. And a darkly funny voice it is as he wields his satire like a rapier to puncture any number of today's sacred piñatas. Mike Fink, a mythic character on the early American frontier, returns in the body of an eponymous, though metaphorical, descendant to raise holy hell in the boardrooms of America's oligarchs, and in a wild twist, on the battlefields of Iraq."
—PHILIP CAPUTO, National Book Award finalist and author of A Rumor of War and Acts of Faith

"Through the lens of Green Berets and corporate war-rooms, Mr. Freedman offers a sharp, witty look at dueling American ideologies with his novel King of the Mississippi. A deftly-woven story that questions societal notions of success and hard work, readers will recognize both their better selves and their most intimate shortcomings as Brock Wharton and Mike Fink battle for new commissions and established business as high-flying consultants from Houston, Texas. Full of laughs and hard truths, the seams of society itself are at stake and we are left with a current, comedic triumph to celebrate." 
—ROSS RITCHELL, Special Operations veteran and author of The Knife

"Mike Freedman's King of the Mississippi is a fast-paced, high-octane, scorching satire that strips bare the industrial-military-football-consulting complex. Every page sizzles with wit and erudition.  An instant classic!"
—DOUGLAS BRINKLEY
 
"Using the world of high-end management consulting as the operative metaphor, Mike Freedman weaves a jarringly humorous critique of our post-modern world, with the war veteran's post-war fate of seeing the world too clearly.  Along the way, Freedman takes literary satire to new and surprising places, perfectly suitable for our troubled times. Reminiscent to me of some of the best writing about war, this novel puts on display Freedman's considerably mature talent as a story-teller, and this is a deeply satisfying read."
—BRUCE WEIGL, Pulitzer Prize Finalist and author of Song of Napalm
 
"What happens when a real warrior meets the pseudo-warriors of business on their turf, then his? Mike Freedman knows them both from the inside, and takes us to war with hilarious and moving results."
—WILLIAM BROYLES
 
"Like a big blue catfish packed to the gills with schadenfreude and hyper-masculinity, King of the Mississippi is a savagely raucous novel in which no one is safe from a comic skewering. Along with Billy Lynn's Long Halftime Walk, it will stand the test of time as one of the best satires of the War on Terror. From Special Forces gunslingers, to high society wives, to Fortune 500 consultants, to the Bayou City where they mix, mingle, and occasionally do battle, Freedman writes with great verve and authority on the failings of military and corporate cultures alike."
—BRIAN VAN REET, author of Spoils

"King of the Mississippi is a Houston novel like no other before it: unexpected, scalpel sharp, and darkly hilarious."
—MIMI SWARTZ, author of Power Failure and Ticker
 
"This millennial novel is wild. The characters all feral, funny, and irresistibly entertaining."
—XUAN JULIANA WANG, author of Home Remedies

Hogarth, 9780525573784, 256pp.
Publication Date: July 9, 2019
About the Author
MIKE FREEDMAN was born and raised in Houston. He volunteered for the infantry after 9/11, later serving three tours in Iraq and Afghanistan in the U.S. Army Special Forces. He received his MBA from Rice University. He is the author of School Board.
or
Not Currently Available for Direct Purchase