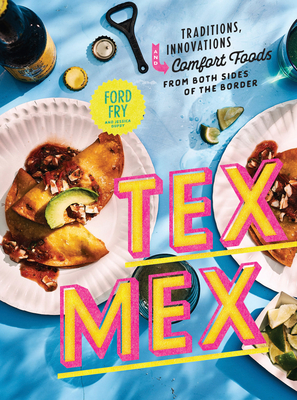 Tex-Mex Cookbook
Traditions, Innovations, and Comfort Foods from Both Sides of the Border
Hardcover

* Individual store prices may vary.
Description
Tex-Mex is more than just a flavor-packed cookbook of tried and true recipes for comfort-food favorites like nachos, fajitas, and chili—it's a way of life. 

"A revelatory book that will make you want to heartily wander the border."—Hugh Acheson

It was born in the 1940s when traditional Northern Mexican cuisine collided with the robust flavors of Texas ranchers' kitchens. Now, chef and restaurateur Ford Fry presents the definitive book on the topic with craveable recipes that are heavy on flavor and light on fuss. Peppered throughout are jump-off-the-page photographs, helpful ingredient explainers, playful histories, and important cooking tips. These melty, crispy, hot-as-heck classics include Dirty Breakfast Tacos, Grilled Shrimp Diablo, Cheese Enchiladas Con Chili Gravy, Sopaipillas with Local Honey, and more salsas than you can imagine. Pour yourself a Classic Margarita on the Rocks—don't forget to salt the rim—and get ready to satisfy the rumble in your stomach.

Praise for Tex-Mex

"Fry puts his passion into [this] approachable cookbook. . . . [Tex-Mex] offers recipes for all-time favorites like nachos, fajitas, and enchiladas, with lesser-known dishes like albondigas, and staples such as migas and campechana de mariscos." —The Atlanta Journal-Constitution

"Ford Fry's food is warm, inviting, and soulful, and his passion for all things Tex-Mex—from queso to combo plates—is contagious. If you love refried beans, salsa, enchiladas, and tacos, you'll want to cook everything in this beautiful and lively new book. I know I'll be referring to it time and time again."—Lisa Fain 

"These authors make the perfect team to capture the crave-ability of Tex-Mex. This fantastic book will lead you to discover the soul of Texas's ultimate comfort food."—Tyson Cole 

"The photos and recipes make you salivate and the stories remind you of the friends and family who you've shared a basket of warm chips and salsa with countless times before. I for one plan to enjoy this book the way it was meant to be: with a big bowl of queso dip in front of me and an ice-cold margarita in hand!"—Kevin Gillespie
Praise For Tex-Mex Cookbook: Traditions, Innovations, and Comfort Foods from Both Sides of the Border…
"In Tex-Mex, Ford takes us to the place he was born and raised to show us a visionary guide to that timeless cooking and disclosing the secrets to what I call 'the other Southern cuisine.'"—Hugh Acheson

"[Fry] knows what he's talking about. His Tex-Mex leans toward a Houston-style . . . but the recipes in Tex-Mex will be familiar to devotees of the cuisine. . . . I'd also recommend this book to homesick Texpats. Fry provides recipes for old-fashioned Texas comfort food, including a San Antonio–inspired breakfast taco salsa, drive-thru–style chicken al carbón, and a dang good flour tortilla. Those who live more than a thousand miles from the closest breakfast taco truck will soon be happily clutching a chorizo-egg-and-cheese, thanks to these recipes."—Texas Monthly

"Fry, a native Texan now living in Atlanta who runs a group of eleven restaurants, and food writer Dupuy offer up 85 recipes in this solid and enticing book. . . . Short histories of classic foods like queso and fajitas are woven throughout, as are tantalizing photos of colorful sauces and salt-rimmed margaritas. Fry and Dupuy add an exciting kick to border cuisine."—Publishers Weekly
Clarkson Potter, 9780525573869, 256pp.
Publication Date: April 23, 2019
About the Author
Houston-born FORD FRY studied at the New England Culinary Institute in Vermont before settling in Atlanta where he owns several acclaimed restaurants in both Texas and Atlanta, including the Tex-Mex spots Superica and The El Felix.

Coauthor JESSICA DUPUY is a native Texan, prominent food writer, and author of The United Tastes of Texas.