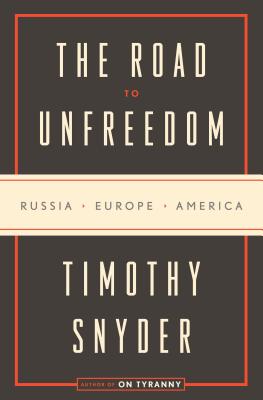 The Road to Unfreedom
Russia, Europe, America
Hardcover

* Individual store prices may vary.
Other Editions of This Title:
Digital Audiobook (4/2/2018)
Paperback (4/9/2019)
Description
NEW YORK TIMES BESTSELLER • From the author of On Tyranny comes a stunning new chronicle of the rise of authoritarianism from Russia to Europe and America.

"A brilliant analysis of our time."—Karl Ove Knausgaard, The New Yorker

With the end of the Cold War, the victory of liberal democracy seemed final. Observers declared the end of history, confident in a peaceful, globalized future. This faith was misplaced. Authoritarianism returned to Russia, as Vladimir Putin found fascist ideas that could be used to justify rule by the wealthy. In the 2010s, it has spread from east to west, aided by Russian warfare in Ukraine and cyberwar in Europe and the United States. 

Russia found allies among nationalists, oligarchs, and radicals everywhere, and its drive to dissolve Western institutions, states, and values found resonance within the West itself.  The rise of populism, the British vote against the EU, and the election of Donald Trump were all Russian goals, but their achievement reveals the vulnerability of Western societies.

In this forceful and unsparing work of contemporary history, based on vast research as well as personal reporting, Snyder goes beyond the headlines to expose the true nature of the threat to democracy and law. To understand the challenge is to see, and perhaps renew, the fundamental political virtues offered by tradition and demanded by the future. By revealing the stark choices before us--between equality or oligarchy, individuality or totality, truth and falsehood--Snyder restores our understanding of the basis of our way of life, offering a way forward in a time of terrible uncertainty.
Praise For The Road to Unfreedom: Russia, Europe, America…
A New York Times Editors' Choice
Shortlisted for the 2019 Lionel Gelber Prize

"A brilliant and disturbing analysis, which should be read by anyone wishing to understand the political crisis currently engulfing the world." —Yuval Noah Harari, author of Sapiens

"Combining topical reporting with delvings into the history of ideas and some political-philosophical musing in the author's own voice, this relatively short book covers a vast canvas. . . . A roller-coaster world calls for a news editor's skill in processing facts and a philosopher's ability to dissect ideologies. Snyder has both." —The Economist

"The Road to Unfreedom is a rich and complex book, punctuated by epigrams that cast heroic clarity upon the disturbing distance the United States has already traveled to the sinister destination in Snyder's title. If some of Snyder's assessment seems overstated or premature, he can powerfully reply: He has perceived more accurately than his critics what has already happened. He has earned the right to be heard on what may lie ahead." —David Frum, The Atlantic

"The Road to Unfreedom offers a brief, potent and carefully documented history of Vladimir Putin's consolidation of power in Russia, Russia's invasion of Ukraine, and Russian meddling in the 2016 U.S. presidential election." —The Chicago Tribune

"We are living in dangerous times, Timothy Snyder argues forcefully and eloquently in his new book. . . . To understand Putin, Snyder argues persuasively, you must understand his ideas. . . . The Road to Unfreedom is a good wake-up call." —Margaret MacMillan, The New York Times Book Review

"Deluged by ugly headlines, readers need books that force us to pause, step back and understand how America arrived at this chaotic moment. One of the best such books this year is historian Timothy Snyder's essential, penetrating look at how toxic ideas, autocratic power and fake news spread from Russia into Ukraine, Western Europe and now to the White House. At a time when the politics of apocalypse haunt American democracy, Snyder helps unpack how we got here—and, maybe, how we can get out." —Lucas Wittmann, TIME

"Snyder's horror at what has happened in Russia—and at the risks to the US and Europe—gives his writing energy and passion. He is unsparing in his indictment of Putin's Russia. . . .But he is also clear-eyed about the weaknesses of American society that have made the US vulnerable to Russian intervention and domestic populism." —Gideon Rachman, The Financial Times

"Essential reading. . . . Chilling and unignorable." —The Guardian

"Of all the books that seek to explain the current crisis of Western liberal democracy, none is more eloquent or frightening than Snyder's The Road to Unfreedom." —Foreign Affairs

"Brilliant. . . . Bleak and eloquent. . . . Snyder's account of the Trump ascendancy, and the many helping hands given from Russia, is vividly and insightfully told." —Edward Lucas, The Times (London)

Praise for Timothy Snyder's On Tyranny
 
"We are rapidly ripening for fascism. This American writer leaves us with no illusions about ourselves." —Svetlana Alexievich, Winner of the Nobel Prize in Literature
 
"A slim book that fits alongside your pocket Constitution and feels only slightly less vital. . . . Grounded in history yet imbued with the fierce urgency of what now." —Carlos Lozada, The Washington Post
 
"Snyder reasons with unparalleled clarity, throwing the past and future into sharp relief. He has written the rare kind of book that can be read in one sitting but will keep you coming back to help regain your bearings." —Masha Gessen, author of The Future Is History
 
"As Timothy Snyder explains in his fine and frightening On Tyranny, a minority party now has near-total power and is therefore understandably frightened of awakening the actual will of the people." —Adam Gopnik, The New Yorker
 
"Snyder knows this subject cold. . . . It is impossible to read aphorisms like 'post-truth is pre-fascism' and not feel a small chill about the current state of the Republic." —Daniel W. Drezner, The New York Times Book Review

"Snyder draws an unbroken line between the darkest events and personalities of the past and the ones that confront us in the here and now. . . . As he did in On Tyranny, Snyder argues that we are facing a challenge of potentially catastrophic proportions, but he refuses to despair." –Jonathan Kirsch, Jewish Journal

Crown, 9780525574460, 368pp.
Publication Date: April 3, 2018
About the Author
Timothy Snyder is the Levin Professor of History at Yale University and the author of On Tyranny, Black Earth, and Bloodlands. His work has received the literature award of the American Academy of Arts and Letters, the Hannah Arendt Prize, and the Leipzig Book Prize for European Understanding. He lives in New Haven, Connecticut.
or
Not Currently Available for Direct Purchase