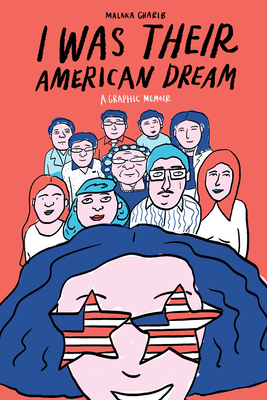 I Was Their American Dream
A Graphic Memoir
Paperback

* Individual store prices may vary.
Description
"A portrait of growing up in America, and a portrait of family, that pulls off the feat of being both intimately specific and deeply universal at the same time. I adored this book."—Jonny Sun
 
"[A] high-spirited graphical memoir . . . Gharib's wisdom about the power and limits of racial identity is evident in the way she draws."—NPR

WINNER OF THE ARAB AMERICAN BOOK AWARD • NAMED ONE OF THE BEST BOOKS OF THE YEAR BY NPR • The New York Public Library • Kirkus Reviews

I Was Their American Dream is at once a coming-of-age story and a reminder of the thousands of immigrants who come to America in search for a better life for themselves and their children. The daughter of parents with unfulfilled dreams themselves, Malaka navigated her childhood chasing her parents' ideals, learning to code-switch between her family's Filipino and Egyptian customs, adapting to white culture to fit in, crushing on skater boys, and trying to understand the tension between holding onto cultural values and trying to be an all-American kid.

Malaka Gharib's triumphant graphic memoir brings to life her teenage antics and illuminates earnest questions about identity and culture, while providing thoughtful insight into the lives of modern immigrants and the generation of millennial children they raised. Malaka's story is a heartfelt tribute to the American immigrants who have invested their future in the promise of the American dream.

Praise for I Was Their American Dream

"In this time when immigration is such a hot topic, Malaka Gharib puts an engaging human face on the issue. . . . The push and pull first-generation kids feel is portrayed with humor and love, especially humor. . . . Gharib pokes fun at all of the cultures she lives in, able to see each of them with an outsider's wry eye, while appreciating them with an insider's close experience. . . . The question of 'What are you?' has never been answered with so much charm."—Marissa Moss, New York Journal of Books

"Forthright and funny, Gharib fiercely claims her own American dream."—Booklist

"Thoughtful and relatable, this touching account should be shared across generations."– Library Journal

"This charming graphic memoir riffs on the joys and challenges of developing a unique ethnic identity."– Publishers Weekly
Praise For I Was Their American Dream: A Graphic Memoir…
"Malaka Gharib's graphic memoir I Was Their American Dream tells the story of her experience as a first-generation American of Filipino and Egyptian descent. Gharib's red-white-and-blue graphic palette serves as the perfect frame for her journey as she navigates questions of belonging, loyalty, and identity with heartwarming humor and critical wit."—Kenyon Review

"A heartwarming tribute to immigrant families and their descendants trying to live the American dream."—Kirkus Reviews

"Malaka Gharib tells the origin story of a person, somebody with hopes and fears and dreams. . . . Malaka looks to the future, to the expansive family that she has built and inherited, across continents and cultures. This memoir is as much a tribute to them as is her own coming of age story."—Jeff Daughterty, BookTrib

"With a sincere approach, this graphic memoir will bring to mind Persepolis, but it is absolutely on its own quirky wavelength."—Henry Chamberlain, Comics Grinder

"I Was Their American Dream is a pure and utter delight. With both a deft lightness and a deep poignancy, Malaka Gharib perfectly captures the feeling of growing up—of being a child of immigrants, of being a woman of color, of being thrown in the mix between cultures, of love, of family—with nostalgia, humor, and heart. Her words and illustrations are wittily observed and emotional in equal measure, able to draw a laugh and a tear over the span of a single page. I Was Their American Dream is a portrait of growing up in America, and a portrait of family, that pulls off the feat of being both intimately specific and deeply universal at the same time. I adored this book."—Jonny Sun, author and illustrator of everyone's a aliebn when ur a aliebn too and New York Times best-selling illustrator of Gmorning, Gnight! by Lin-Manuel Miranda
Clarkson Potter, 9780525575115, 160pp.
Publication Date: April 30, 2019
About the Author
MALAKA GHARIB is an artist, journalist, and writer based in Washington, D.C. She is the founder of The Runcible Spoon, a food zine, and the co-founder of the D.C. Art Book Fair. She lives in a row house with her husband Darren and her 9-year-old rice cooker.