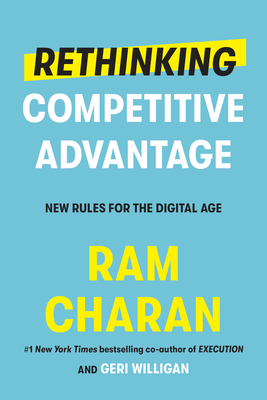 Rethinking Competitive Advantage
New Rules for the Digital Age
Hardcover

* Individual store prices may vary.
Other Editions of This Title:
Digital Audiobook (4/5/2021)
Description
How do you gain an edge in the digital world order?

"Another book for the ages from a master! . . . Particularly insightful is his emphasis on how the end-to-end individual consumer experience will separate winners from losers in our new digital age."—Fred Hassan, chairman, Caret Group; former CEO, Schering-Plough and Pharmacia

The old ways of creating competitive advantage for your business—such as building moats to ward off competitors—have become dangerous. Giants like Amazon and Alibaba are creating vast new market spaces through a deft combination of tools like machine learning and business savvy that reimagines customer experiences while generating immense shareholder value.

A handful of traditional companies, including Fidelity Investments, Walmart, and B2W, have adopted these new approaches to reinvigorate their businesses. Most, however, are stalled—and the clock is running out.
 
In this lively, accessible guide, Ram Charan, bestselling author and adviser to some of the world's top CEOs and boards, redefines competitive advantage for the digital-first era, offering a set of new rules to get ahead:

• Create an ecosystem with third-party partners to revolutionize and personalize the customer experience.
• Empower teams focused on a single task, building a "social engine" that drives constant innovation, fast execution, and customer satisfaction.
• Attract funders who understand the big picture: that beyond a certain scale, major upfront spending will turn into a cash-generation machine.

Filled with stories that peek behind the curtain of digital behemoths as well as traditional companies that have transformed their organizations, Rethinking Competitive Advantage offers concrete advice and methods to help you conceive of new market spaces and moneymaking models.

Competing against digital giants might seem daunting, if not impossible. The necessary computing power is within any company's reach. By borrowing from these digital winners' playbooks, traditional companies and upstarts alike can gain an upper hand. Whether you're in the C-suite or brainstorming the next big idea from your garage, Rethinking Competitive Advantage is the ultimate guide to creating competitive advantage today.
Praise For Rethinking Competitive Advantage: New Rules for the Digital Age…
"Rethinking Competitive Advantage is the book to redefine advantage for the digital generation. Charan lays out the new golden rules for an increasingly competitive world. His unfettered access to leaders of successful companies gives him insights that you won't find anywhere else."—Douglas L. Peterson, president and CEO, S&P Global

"Charan delivers an incredibly insightful and practical guide for leaders and practitioners. The culmination of a lifetime of winning strategies, Rethinking Competitive Advantage is brimming with solution-oriented advice….A must-read." —Bruce D. Broussard, president and CEO, Humana Inc.

"Rethinking Competitive Advantage offers more than just valuable insight into thinking digitally; any reader will learn how to organize and lead for success. Thanks as always, Ram!"—David M. Cote, former chairman and CEO, Honeywell; author of Winning Now, Winning Later

"The companies we have invested in have mostly pursued a culture of attracting exceptional people, producing efficiently, and lowering cost. Market forces have obliged us to become more adaptable, consumer focused, and innovation oriented. Charan's book Rethinking Competitive Advantage fits like a glove in helping us adjust to this new world, so much so that we are distributing it to all our top executives."—Jorge Paulo Lemann, co-founder, 3G Capital

"Winning the technological revolution isn't about technology, as Rethinking Competitive Advantage demonstrates. Charan, grand master of strategy, has written the indispensable book on the radically new rules of the digital age."—Geoff Colvin, bestselling author of Talent Is Overrated and senior editor at large, Fortune
Currency, 9780525575603, 224pp.
Publication Date: April 6, 2021
About the Author
Ram Charan is a highly acclaimed business adviser, speaker, and author, well known for his practical, real-world perspective. He was a Baker Scholar at Harvard Business School where he earned his MBA degree with distinction, as well as his DBA. Charan is the author of What the CEO Wants You to Know, Profitable Growth Is Everyone's Business, The Leadership Pipeline, and Boards at Work. His articles have appeared in Fortune and Harvard Business Review.