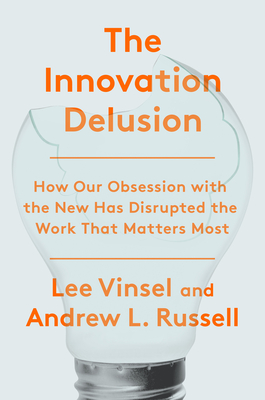 The Innovation Delusion
How Our Obsession with the New Has Disrupted the Work That Matters Most
Hardcover

* Individual store prices may vary.
Description
"Innovation" is the hottest buzzword in business. But what if our obsession with finding the next big thing has distracted us from the work that matters most?

"The most important book I've read in a long time . . . It explains so much about what is wrong with our technology, our economy, and the world, and gives a simple recipe for how to fix it: Focus on understanding what it takes for your products and services to last."—Tim O'Reilly, founder of O'Reilly Media 

It's hard to avoid innovation these days. Nearly every product gets marketed as being disruptive, whether it's genuinely a new invention or just a new toothbrush. But in this manifesto on thestate of American work, historians of technology Lee Vinsel and Andrew L. Russell argue that our way of thinking about and pursuing innovation has made us poorer, less safe, and—ironically—less innovative. 
 
Drawing on years of original research and reporting, The Innovation Delusion shows how the ideology of change for its own sake has proved a disaster. Corporations have spent millions hiring chief innovation officers while their core businesses tank. Computer science programs have drilled their students on programming and design, even though theoverwhelming majority of jobs are in IT and maintenance. In countless cities, suburban sprawl has left local governments with loads of deferred repairs that they can't afford to fix. And sometimes innovation even kills—like in 2018 when a Miami bridge hailed for its innovative design collapsed onto  a highway and killed six people.
 
In this provocative, deeply researched book, Vinsel and Russell tell the story of how we devalued the work that underpins modern life—and, in doing so, wrecked our economy and public infrastructure while lining the pockets of consultants who combine the ego of Silicon Valley with the worst of Wall Street's greed. The authors offer a compelling plan for how we can shift our focus away from the pursuit of growth at all costs, and back toward neglected activities like maintenance, care, and upkeep.
 
For anyone concerned by the crumbling state of our roads and bridges or the direction our economy is headed, The Innovation Delusion is a deeply necessary reevaluation of a trend we can still disrupt.
Praise For The Innovation Delusion: How Our Obsession with the New Has Disrupted the Work That Matters Most…
"The authors' most emphatic recommendations involve talent—and our perception of it. When we overvalue innovation, they say, we forget that the vast majority of engineers will wind up maintaining existing systems, not coming up with the next Facebook. [The] authors' emphasis on maintenance resonates, and their take-down of innovation theater feels well-deserved."—The Wall Street Journal

"These last few months [of 2020] have been costly, but they've shown us that we can, individually and collectively, change how we work more rapidly than we ever imagined; revealed the importance of essential workers and maintainers; and given us a glimpse of a future that could be radically different—more prosperous, better maintained, and more sustainable—from the world we left this spring. Vinsel and Russell have given us a modest manifesto for building that world."—Los Angeles Review of Books

"[Challenges] us to ask an urgent question: what if we invested as much in maintenance, care, and upkeep as we do in growth, change, and disruption?"—Adam Grant, "The Fall Idea Books to Teach You Something New"

"There's nothing quite like a pandemic to reveal how much a society relies on maintainers. The Innovation Delusion offers a vital wake-up call. Stirring, sobering, and brilliantly composed, this book is a must-read for everyone who longs for a radical reinvestment in what matters most."—Ruha Benjamin, professor at Princeton University and author of Race After Technology

"Lee Vinsel and Andrew L. Russell have taken on one of the tech industry's sacred cows, showing how the chase for the next big thing has harmed countless businesses, left our roads and bridges in a state of neglect, and drained support for the essential workers who keep society going. By equal turns alarming and empowering, The Innovation Delusion is a send-up of Silicon Valley's empty promises and a much needed plea for sanity in how we think about technology, profit, and work."—Dan Lyons, bestselling author of Disrupted and Lab Rats

"Vibrant, sure-footed . . . The authors guide readers with clear and contemporary examples of when deferred maintenance led to either slow or fast disaster. . . . The authors also thoroughly expose the unjust hierarchy that leaves maintenance workers at the bottom of the pay scale. . . . A refreshing, cogently argued book that will hopefully make the rounds at Facebook, Google, Apple et al."—Kirkus Reviews (starred review)

"[A] resounding call for sane business growth. Readers will come away from Vinsel and Russell's urgent and illuminating primer with a new perspective on the importance of maintenance as well as innovation in business."—Publishers Weekly (starred review)

"In this caring ode to the ordinary grit of maintenance, Lee Vinsel and Andrew Russell light a brilliant bonfire of the vanities from carefree innovation-speak. We should upkeep their message, and repair our corporations, communities, and consciousness. This book is more than a conversation starter—it's a course correction."—Guru Madhavan, Norman R. Augustine Senior Scholar and director of programs at the National Academy of Engineering, and author of Applied Minds: How Engineers Think
Currency, 9780525575689, 272pp.
Publication Date: September 8, 2020
About the Author
Lee Vinsel is a professor in the Department of Science, Technology, and Society at Virginia Tech.

Andrew L. Russell is a professor of history and the dean of the College of Arts and Sciences at SUNY Polytechnic Institute. Together, they are the founders of the Maintainers research network and conferences, and their writing on the topics of this book have appeared in The New York Times, The Atlantic, The Washington Post, and Wired.