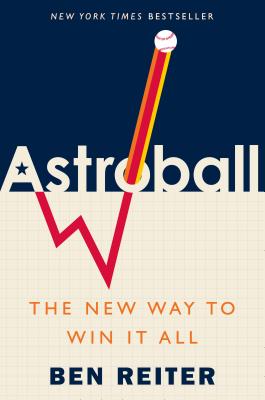 Astroball (Hardcover)
The New Way to Win It All
Crown Archetype, 9780525576648, 272pp.
Publication Date: July 10, 2018
Other Editions of This Title:
Digital Audiobook (7/9/2018)
Paperback (3/26/2019)
* Individual store prices may vary.
Description
NEW YORK TIMES BESTSELLER

When Sports Illustrated declared on the cover of a June 2014 issue that the Houston Astros would win the World Series in 2017, people thought Ben Reiter, the article's author, was crazy. The Astros were the worst baseball team in half a century, but they were more than just bad. They were an embarrassment, a club that didn't even appear to be trying to win. The cover story, combined with the specificity of Reiter's claim, met instant and nearly universal derision. But three years later, the critics were proved improbably, astonishingly wrong. How had Reiter predicted it so accurately? And, more important, how had the Astros pulled off the impossible?

Astroball is the inside story of how a gang of outsiders went beyond the stats to find a new way to win—and not just in baseball. When new Astros general manager Jeff Luhnow and his top analyst, the former rocket scientist Sig Mejdal, arrived in Houston in 2011, they had already spent more than half a decade trying to understand how human instinct and expertise could be blended with hard numbers such as on-base percentage and strikeout rate to guide their decision-making. In Houston, they had free rein to remake the club. No longer would scouts, with all their subjective, hard-to-quantify opinions, be forced into opposition with the stats guys. Instead, Luhnow and Sig wanted to correct for the biases inherent in human observation, and then roll their scouts' critical thoughts into their process. The numbers had value—but so did the gut.

The strategy paid off brilliantly, and surprisingly quickly. It pointed the Astros toward key draft picks like Carlos Correa and Alex Bregman; offered a path for developing George Springer, José Altuve, and Dallas Keuchel; and showed them how veterans like Carlos Beltrán and Justin Verlander represented the last piece in the puzzle of fielding a championship team.

Sitting at the nexus of sports, business, and innovation—and written with years of access to the team's stars and executives—Astroball is the story of the next wave of thinking in baseball and beyond, at once a remarkable underdog story and a fascinating look at the cutting edge of evaluating and optimizing human potential.
About the Author
Ben Reiter is a senior writer for Sports Illustrated, which he joined in 2004. He has written 25 cover stories for the magazine. He lives in New York City with his family.
Praise For Astroball: The New Way to Win It All…
"Reiter's superb narrative of how the team got there provides powerful insights into how organizations—not just baseball clubs—work best."
—WALL STREET JOURNAL

"Colorful... Astroball plays like a giant crossword puzzle as pieces of the team are slotted in leading up to the franchise's historic moment."
—USA TODAY

"Vivid... Reiter delivers the goods."
—BLOOMBERG BUSINESSWEEK

"Astroball is the baseball book of the year, essential for baseball executives at every level, accessible and fun for fans."
—STAR TRIBUNE

"[Astroball] will of course be of interest to sports fans and Houstonians, but the message (man + machine = success) should also resonate in business settings and the fields of medicine and education… The story isn't just that the Astros won the World Series, it's [that] the road they took getting there has value."
—HOUSTON PRESS

"What happens when Big Data analytics proves an insufficient foundation for success in business? How can the so-called 'human factor' be integrated into a framework that enhances a statistical approach? These are the questions Ben Reiter grapples with in Astroball, a persuasive study of the making and rise of the Houston Astros… Few scribes today can match Michael Lewis's ability to just plain write, whether about sports, politics, or economics. But Reiter's engaging account adeptly blends a journalist's nose for a good story, a writer's nuanced sympathy for his characters, and an industry trend-spotter's analysis of important new developments. A worthy update of Moneyball indeed."
—CLAREMONT REVIEW OF BOOKS

"Ben Reiter has written the definitive, untold story of the biggest turnaround in recent baseball history. This riveting behind-the-scenes account offers fresh insight into the executives who built the 2017 World Series champions—and the players who delivered. Astroball is Moneyball for the next generation, not just the baseball book of the year, but the business and ideas book of the year as well."
—KEN ROSENTHAL, two-time Sports Emmy winner for Outstanding Sports Reporter
 
 "Ben Reiter's incredible access to the World Series champions makes for narrative as riveting as a Game 7. But Astroball is so much more. It is a look at the future, and not just of baseball. For all the talk of computers replacing human judgment, the most complex problems are often best addressed when computers supplement human judgment, rather than supplant it. The Astros' human/algorithm partnership turned a historically bad team into a champion in six years. Other industries, take note."
—DAVID EPSTEIN, bestselling author of The Sports Gene
 
 "Reading Astroball is like being part of the Astros' Decision Sciences team or having a seat and a laptop in their Nerd Cave. Ben Reiter gives us an inside look at the state of the art of winning baseball: packed with cutting-edge technology, psychology and analytics, but allowing for the human element."
—TOM VERDUCCI, bestselling author of The Yankee Years (with Joe Torre) and The Cubs Way
 
 "This book is the definitive look at the recent history of the Houston Astros and how they became the model franchise for the present and future of MLB. Ben takes you through the evolving blueprint that delivered both a championship in the fall of 2017 and a roster built to win for years to come. Reiter called it first, on the cover of SI in 2014. I wish he would pick my stocks."
—JOE BUCK, three-time National Sportscaster of the Year and bestselling author of Lucky Bastard
 
"Astroball is a superb and unfettered look at how a championship baseball team is constructed.  Analysis and algorithms might be the new baseball card numbers but Ben gets close enough to Jeff Luhnow and his staff to understand their incredible forward thinking when it comes to the human factor. This book is readable rocket science."
—RON DARLING, former New York Mets All-Star and bestselling author of Game 7, 1986

"Astroball is Moneyball 2.0, a fascinating dissection of the processes by which the Houston Astros rose from perennial cellar dwellers to World Series champions. Ben Reiter systematically uncovers the crucial elements to success in baseball; as a fan of the game and as a major league pitcher, this book forced me to look at my sport through a wider lens. Detailing the ascension of the Astros while entertaining with colorful anecdotes, Astroball is a must-read for those looking to improve in any industry."
—CRAIG BRESLOW, twelve-year Major League pitcher