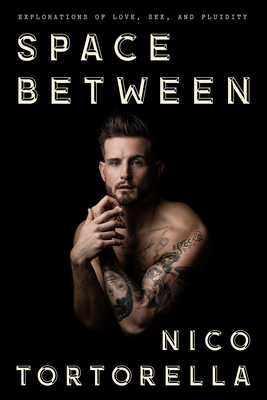 Space Between
Explorations of Love, Sex, and Fluidity
Hardcover

* Individual store prices may vary.
Other Editions of This Title:
Digital Audiobook (9/16/2019)
Description
Younger star and LGBTQIA+ advocate Nico Tortorella investigates love, sex, gender, addiction, family, fame, and fluidity through their personal story and the lens of their nonbinary identity
 
"Nico Tortorella embodies the twenty-first-century human."—RuPaul

Nico Tortorella is a seeker. Raised on a steady regimen of Ram Dass and raw food, they have always been interested in the more spiritual aspects of life. That is, until the desire for fame and fortune eclipsed their journey toward enlightenment and sent them into a downward spiral of addiction and self-destructive behavior. It wasn't until Nico dug deep and began to examine the fluidity of both their sexuality and gender identity that they became more comfortable in their own skin, got sober from alcohol, entered into an unconventional marriage with the love of their life, and fully embraced a queer lifestyle that afforded them the opportunity to explore the world outside the gender binary. It was precisely in that space between that Nico encountered the diverse community of open-minded, supportive peers they'd always dreamed of having.
 
Expanding on themes explored on their popular podcast, The Love Bomb, Nico shares the intimate details of their romantic partnerships, the dysfunction of their loud but loving Italian family, and the mingling of their feminine and masculine identities into one multidimensional, sexually fluid, nonbinary individual. Nico has become a leading voice of the fluidity movement by encouraging open dialogue and universal acceptance. Space Between is at once an education for readers, a manifesto for both the labeled and label-free generations, and a personal memoir of love, identity, and acceptance.

Praise for Space Between

"In an industry that thrives on artifice, Nico Tortorella's candid soul-searching is precious and invigorating. As with the best truth-telling, it gives language to a thirst we had forgotten, while also quenching it. This is a book about addiction, familial trauma, and gender—yes—but more so it is about living. Living is an art form that Nico does well, and this book is an argument for making meaning from the messiness that surrounds us rather than simply muting it. Nico's distinct and relatable prose tangos us past binaries, toward an intimacy beyond language."—Alok Vaid-Menon
Praise For Space Between: Explorations of Love, Sex, and Fluidity…
"Space Between is honest, insightful, and poetic. This book encourages a new dialogue around humanity, sexuality, and gender identity that has been missing from the conversation. Each page inspires the reader to reflect and challenge their own biases, while gently championing self-growth and the respect of others."—Karamo Brown
 
"Not only does Space Between answer many questions about what it means to live outside the gender binary, Nico Tortorella's memoir is the ultimate inspiration for people to fully accept themselves, no matter how challenging it can be. By sharing their voyage toward realizing their own sexuality and identity, Nico empowers LGBTQ youth and grows acceptance for the LGBTQ community."—Anthony Ramos, GLAAD
 
"Nico Tortorella's Space Between captures the zeitgeist with their groundbreaking exploration of identity, authenticity, and vulnerability. It is a beautifully written account of what it means to live a life with courage."—Darren Star
 
"Visceral . . . A candid memoir and powerful love story."—People
 
"Soul-baring, engaging . . . Space Between is hard to put down. . . . Tortorella doesn't shy away from any detail of their life, revealing every intimacy for a curious reader. . . . Perhaps the greatest victory of Space Between is for nonbinary visibility and acceptance. In their honesty and critical self-reflection, Tortorella opens a door for people outside of queer spaces—and inside some less accepting queer spaces—to understand and engage with the concept of gender nonbinary. . . . A valuable stepping stone to awareness and acceptance."—Downtown
Crown, 9780525576730, 288pp.
Publication Date: September 17, 2019
About the Author
Nico Tortorella is an actor, television personality, and author of the poetry collection all of it is you. Nico stars in the hit series Younger and is an outspoken advocate for the LGBTQIA+ community. They live in New York.
or
Not Currently Available for Direct Purchase