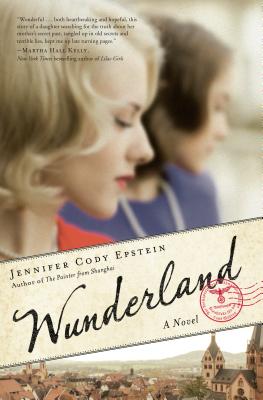 Wunderland (Hardcover)
A Novel
Crown, 9780525576907, 384pp.
Publication Date: April 23, 2019
Other Editions of This Title:
Digital Audiobook (4/22/2019)
Paperback (2/25/2020)
Library Binding, Large Print (6/12/2019)
* Individual store prices may vary.
Description
USA TODAY BESTSELLER • "Searing . . . a heartbreaking page-turner."—People (Book of the Week)

An intimate portrait of a friendship severed by history, and a sweeping saga of wartime, motherhood, and legacy by an award-winning novelist

East Village, 1989
Things had never been easy between Ava Fisher and her estranged mother Ilse. Too many questions hovered between them: Who was Ava's father? Where had Ilse been during the war? Why had she left her only child in a German orphanage during the war's final months? But now Ilse's ashes have arrived from Germany, and with them, a trove of unsent letters addressed to someone else unknown to Ava: Renate Bauer, a childhood friend. As her mother's letters unfurl a dark past, Ava spirals deep into the shocking history of a woman she never truly knew.

Berlin, 1933
As the Nazi party tightens its grip on the city, Ilse and Renate find their friendship under siege—and Ilse's increasing involvement in the Hitler Youth movement leaves them on opposing sides of the gathering storm. Then the Nuremburg Laws force Renate to confront a long-buried past, and a catastrophic betrayal is set in motion. . . . 

An unflinching exploration of Nazi Germany and its legacy, Wunderland is at once a powerful portrait of an unspeakable crime history and a page-turning contemplation of womanhood, wartime, and just how far we might go in order to belong.

Praise for Wunderland

"Engrossing . . . Epstein reveals the devastating choices these women make."—Real Simple

"Wunderland is both an engrossing family drama and a foray into a dark period of history . . . a wholly original angle to the WWII novel. You'll read it in one shivered sitting."—Refinery29

"A vividly written and stark chronicle of Nazism and its legacies."—Kirkus Reviews (starred review)

"A wealth of history turns Wunderland into a novel that's both beautiful and devastating. . . . Epstein taps into the 1930s prewar era, laying out an unsparing narrative that details tragic events and horrifying legacies . . . opening a new door that may lead to redemption and joy for future generations."—BookPage (starred review)

"[A] heartbreaking historical tour de force . . . Man's inhumanity to man—and the redemptive power of forgiveness—is on stark and effective display in Epstein's gripping novel, a devastating tale bound for bestseller lists."—Publishers Weekly (starred review)
About the Author
JENNIFER CODY EPSTEIN is the author of the international bestseller The Painter from Shanghai, and The Gods of Heavenly Punishment, and winner of the 2013 Asian Pacific Association of Librarians Honor award for outstanding fiction. She has written for The Wall Street Journal, Vogue, Self, Mademoiselle, and many others. She has an MFA in fiction from Columbia University and an MA in international affairs from the Johns Hopkins School of Advanced International Studies. She lives in Brooklyn with her husband and two daughters.
Praise For Wunderland: A Novel…
"[An] intimate, unflinching saga of friendship, womanhood, and the awful legacy of Nazi Germany."—USA Today 
 
"[An] absorbing exploration of friendship, betrayal, and coming to terms with the past."—Booklist (starred review)

"Take a fascinating inside look at the twisted world of Nazi Germany in Wunderland, Jennifer Cody Epstein's wonderful new novel. Both heartbreaking and hopeful, this story of a daughter searching for the truth about her mother's secret past, tangled up in old secrets and terrible lies, kept me up late turning pages."—Martha Hall Kelly, bestselling author of Lilac Girls
 
"E.L. Doctorow once said, 'The historian will tell you what happened. The novelist will tell you how it felt.' This is one of those magnificent books that will make you feel everything—love, loss, betrayal, redemption, and how everyday citizens could be swept up in the manic fervor of Nazi Germany. The unintended parallels to today's political climate are haunting. Reading this book is like reading tea leaves, foretelling a future we desperately want to avoid."—Jamie Ford, bestselling author of Hotel on the Corner of Bitter and Sweet and Songs of Willow Frost

"Wunderland is a beautiful and haunting and utterly magnificent novel: a wrenching tale of friendship and betrayal in Nazi Germany. It's also a page-turner that kept me reading until two in the morning one night and three in the morning the next. It's that good."—Chris Bohjalian, bestselling author of The Flight Attendant
 
"Wunderland is a sweeping, heart-stopping story. Jennifer Cody Epstein has a singular gift for bringing bygone worlds like 1930s Berlin blazingly to life, but lucky for her readers, she digs deeper. This is an unforgettable portrait of friendship and betrayal, mothers and daughters, the political forces beyond our control and the personal histories we can't shake. A rich, gripping novel."—Ellen Umansky, author of The Fortunate Ones

"Not only an original and searing investigation into the seductive and terrifying world of Hitler's national socialist movement and its aftermath, but also a suspenseful and profoundly moving story of love, hate, passion and devotion."—Joanna Hershon, author of Swimming

"Through the friendship of two teenaged girls in 1930s Germany, Wunderland depicts, in intimate and chilling detail, how fascism, racism, and xenophobia are made normal and acceptable; how ordinary people, beguiled by the siren call of nationalism, are led willingly into acts of inhumanity—and could be again, if we ignore the lessons of the past. But this novel is more than a history lesson; it's a heart-in-your-mouth page-turner that leaves you thinking about its characters, and imagining how things might have gone for them in a different world, long afterwards."—Hillary Jordan, author of Mudbound

"The title of this searing account of life in Nazi Germany alludes to Alice's Adventures—and the surreal feeling of watching what you thought was true exposed as false. . . . Inspired by the memoir of a Hitler Youth member, it's a heartbreaking page-turner."—People (Book of the Week)